At the Starbucks in Snider Plaza on a sunny Friday afternoon, Chandler Helms arrived first and Jessica Jan came shortly after her. Immediately when the SMU students saw each other, the two fashionistas launched into a conversation about new shoes and formal dresses.
"You got the shoes!" Jan said to Helms.
Helms, who sported a pair of brightly colored flats with fun designs on them, showed off her new shoes and asked Jan about which formal dress she was going to wear that night.
After a few minutes of small talk, the two got down to business. They were here to discuss their new blog "Ramen & Rosé," a lifestyle blog for young and fabulous millennials on a budget. The blog features style, food and travel sections.
It was obvious that Jan and Helms are both friendly and fun to talk to, but what was so admirable about the pair is their knowledge of fashion and their ability to shine professionally.
Many SMU students are familiar with Jan and Helms. Jan, who is well known for working at SMUstyle, is easily spotted by her spunky, unique outfits that are inspired by the different cultures of places like Asia and Europe.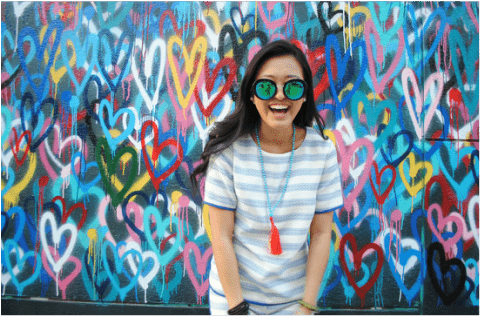 "I don't go for the basic T-shirt," Jan said.
Helms is the co-president of SMU Retail Club and is known for creating plastic purses that students can bring into Ford Stadium. She always stands out in bright, bold patterns and fun colors.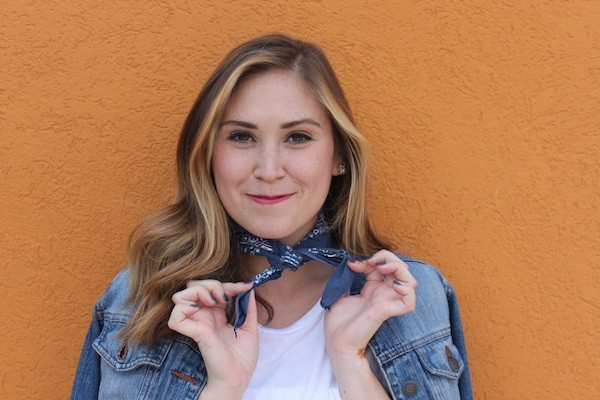 "Sometimes I really want to wear sweatpants, but I know I have four classes and a meeting and I want to represent myself and the groups I'm involved in," Helms said.
Along with fashion groups at SMU, Jan and Helms are busy preparing for graduation in the spring. Jan will be graduating with a marketing major and a double minor in communications and Chinese; Helms with a double major in fashion media and French and a minor in business.
Together, these girls make for a dynamic duo when it comes to fashion, entrepreneurship and creativity. This summer, while interning in New York City, the two launched "Ramen & Rosé," which has successfully captured the attention of SMU students and beyond.
"There has been a lot of surprising viewers," Jan said. "During the boulevards, especially Homecoming and Family Weekend, older graduate guys have come up to me asking about the blog – they want to know when we're going to start writing about guy stuff."
College students especially may not have the funds to buy couture clothing or dine at upscale restaurants, so "Ramen & Rosé" showcases outfits and food options that are trendy, but affordable.
Popular posts include their "Steal of the Week," which showcases a different product every week being sold for a low price. "Ramen & Rosé" is all about budget-friendly fashion, hence the name of the blog.
"Ramen is cheap, while Rosé is more fancy," Jan said.
"It's like you're having a nice dinner, even though you're not," Helms chimed in.
Since they met as first-years, the pair dreamed of starting some sort of project together. They didn't know what it would be, and they experimented with different things like having a YouTube channel together to making their own bracelets.
After three years of brainstorming, the duo has successfully gained fashion presence at SMU their senior year. This is an especially hard process at such a fashion-forward school, where most girls dress to impress and have a sense of the latest trends.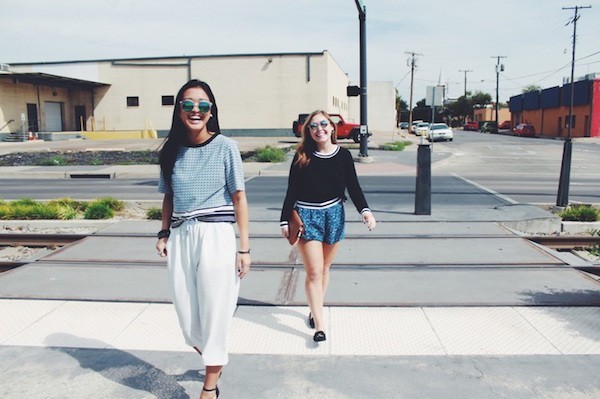 Jan and Helms both spent this past summer in Manhattan – which is where the idea of "Ramen & Rosé" came to life. The two girls learned to navigate the most expensive city in the United States on a budget, which was both challenging and exciting.
"We had to find the cheapest places to eat, take the subway and make changes to certain lifestyle things," Helms said. "We felt like we had some tips to share with people."
Once the summer ended, Jan and Helms didn't want to quit the blog. In fact, they plan to continue the blog even after they graduate. When the girls returned to SMU for the start of their senior year, they started to tailor the posts to involve Dallas, such as writing about the "7 Best Date Night Spots in Dallas" and the "Belk Fall Preview."
It makes sense that two SMU trendsetters partnered up, especially when they're as compatible as Jan and Helms.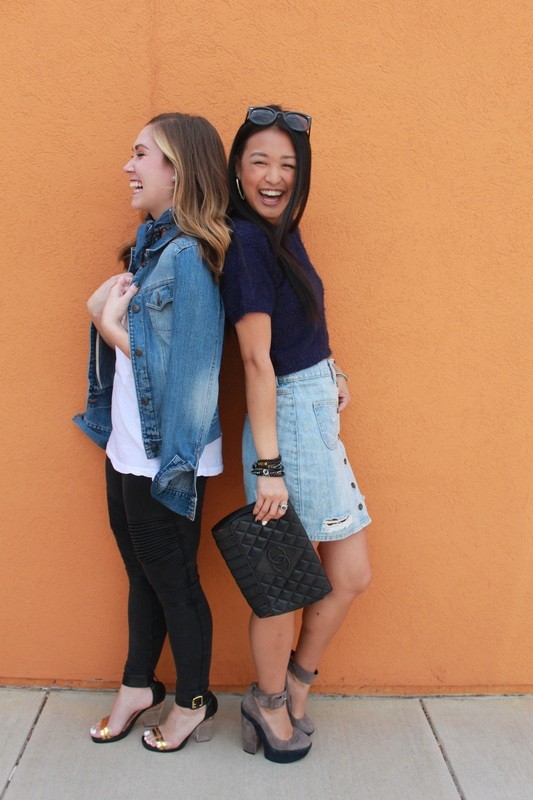 The girls have similar personalities; they're both personable and outgoing, but they have different strong suits that make them a great business pair. Jan is the one who comes up with fascinating, funky ideas, and Helms is the business-minded one who puts these ideas into motion.
The two work together so well because they can be as creative and original as the want to be and know that the other will support them.
"It can be hard at this school to find people the same level as you," Jan said. "It's nice to find someone that understands your living style, your spending style and knows that it doesn't have to be about luxury all the time."
Jan and Helms have definitely made an impact on SMU students, especially those who appreciate fashion and keeping up with trends. Throughout their years at SMU, the pair have become "go-to" style icons for SMU students.
"Honestly, Jessica is a brand," said Taylor Lewis, a senior who works with Jan at SMUstyle."Her unique but impeccable style, her refreshing and loving aura, the mark she's already made within the industry… She is success perfectly packaged and wrapped with a bow."
Just as they're known for their fashion sense, they're also known for being kind, which is incredibly important in a business with a lot of social interaction, like fashion.
"Chandler is one of the most generous, loving and warm people I have ever met," said sophomore Emory Parsons, who is the event planner for SMU Retail Club.
For two people with as much going on as Jan and Helms, the blog is a perfect outlet for them to express themselves and their unique styles.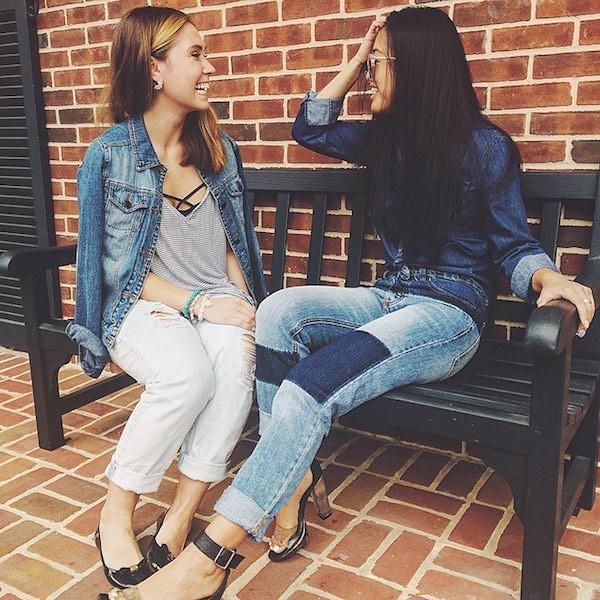 "It allows me to do what I want and not be judged for what I want to put out there," Jan said. "It's a very cool way to express ourselves in pictures or words."
Monetizing their blog is an option for the future, but money isn't what Jan and Helms profit from running "Ramen & Rosé." Instead, they're much more focused on the learning experience they get from starting something of their own.
"I definitely look at things differently now," Helms said. "When I'm shopping, I'm not just shopping. I'm thinking if other people like this and if this is something we should include on the blog."
After their internship opportunities this summer, both girls are ready to take their skills to the fashion industry after graduation. This past summer, Jan was a fashion stylist intern at Moda Operandi, Inc. and Helms was a showroom intern at Rebecca Taylor.
"I've been hesitant about the fashion industry, but after interning this summer I feel like I can mix business, marketing, styling and fashion together," Jan said. "I think I've found what I love to do is in the fashion industry and I shouldn't be scared to do that."