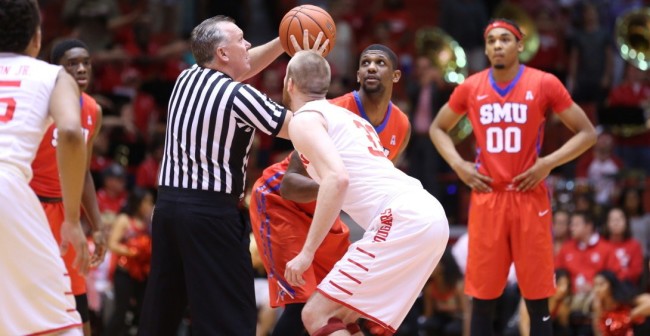 Up by 11 points early in the second half, SMU was in a good place. The Mustangs made nine of their final 12 first-half field goal attempts to erase a sloppy start. Then they scored 10 points in the first 4:02 of the second half to build the 11-point lead.
But it slipped away, and fast. Houston went on a 21-4 run, aided by a six-minute SMU scoring drought, seven second-half offensive rebounds and 16 second-half points from forward Devonta Pollard.
SMU, out-of-sync offensively and porous defensively, couldn't do anything about it, despite Nic Moore's best effort. The lack of energy and urgency was more apparent than Bertrand Nkali's acting (ahem, flopping) talent.
"We had slippage in a lot of areas. In some ways, we are worried about things that are really not important," SMU head coach Larry Brown said. "We win by doing a great job on the boards, and we haven't been doing that recently. I've seen it, but I also understand that every game would be a lot tougher based on how we started the season."
Brown is right that every game is tougher, because of the ranking next to SMU's name and the low number in the loss column. Every rebound is harder to pull down, every shot a little more contested, every pass a little more difficult. Opponents, especially longtime rivals, will give SMU everything they have. They may not admit it, but extra motivation to beat a team like SMU exists. The margin for "slippage" is even smaller, especially in terms effort. Monday's game is a prime example.
"The last 15 minutes of the game, their effort was so much greater than ours," Brown said. "They nearly doubled our rebounds with about five minutes to go. They made every effort play."
SMU is no longer the surprise, the fluke or the up-and-comer. It boasts the reigning conference player of year, the nation's best offensive rebounder and a top-15 ranking. The Mustangs aren't hunting anyone anymore. They're the hunted, the standard of the conference who everyone else wants to be and wants to beat. That carries a lot of high expectations, and meeting them requires energy and effort.
"We just didn't play like ourselves," SMU forward Jordan Tolbert said. "We got out of what we normally do."
SMU normally rebounds, assists on a high percentage of its field goals and plays tough defense. But it also plays with a lot of energy, urgency and effort that allows it to keep winning with the heightened expectations and national spotlight.
"In the second half, we got up 11 and everything just changed," Brown said. "Their effort was just so much greater than ours, and I thought that was the difference."
The Mustangs, like any other team, will meet teams that outplay them. Some of those will beat them. That's life in college basketball. The sport has parity. In last month's Oklahoma-Kansas thriller, no one questioned either team's effort. Kansas just played a little bit better. Outplaying every team on the schedule is extremely hard, even outside the highest-profile conferences. This isn't John Wooden's UCLA dynasty, which posted records that probably will never be broken. But effort has to be the constant when a team is in SMU's position as the hunted.
SMU isn't in danger of a collapse after its second loss in three games. This is a talented team with great leadership, coaching and a unique way of playing for each other. The Mustangs have proven enough that they play with a lot of effort and energy. But, as the standard of the conference, and the hunted in the conference, a slippage in effort can prove costly.