The No. 16 SMU Mustangs beat the Gonzaga Bulldogs 69-60 at Moody Coliseum in arguably their biggest non-conference game of the season. A star-studded crowd was on hand to watch SMU avenge last season's loss, highlighted by former President George W. Bush and Dallas Cowboys Head Coach Jason Garrett.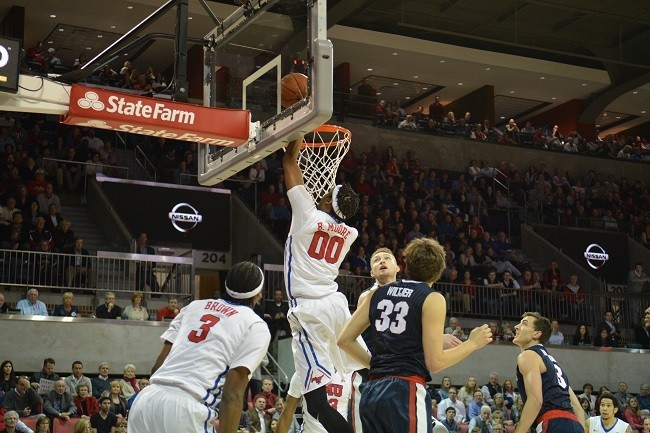 The Bulldogs, preseason No. 9 in the AP Poll, dominated the paint for the opening ten minutes of the first half, jumping out to an eight point lead. They out-rebounded SMU 21-16 but only shot 31 percent from the field.
The Mustangs came out hot with an alley-oop and a some early three-pointers off of the tip. However, they found themselves down by eight late in the first half before going on a 12-1 run into the break. Every player that played for SMU scored at least one basket in the half.
SMU shot 39 percent from the field en route to a 30-27 lead at halftime.
Gonzaga's Domantas Sabonis was a force in the paint in the second half, finishing with 20 points and 15 rebounds. He helped the Zags regain the lead early. Bulldogs' forward Kyle Wiltjer did not play well and was 2-17 from the field including 0-8 from the three-point line. He finished with four points. Silas Melson and Kyle Dranginis added 12 and 11 points respectively.
Senior point guard Nic Moore orchestrated the SMU offense in the second half, pouring in 18 of his 25 points to go along with 11 assists. He, along with Ben Moore, helped the Mustangs build an 11-point lead and they never looked back from there. Ben Moore finished with 16 points.
The Mustangs shot 46 percent from the field in the game compared to Gonzaga's 38 percent. They were 72 percent from the free throw line, making some key free throws late in the game.
SMU Head Coach Larry Brown commented on Nic Moore, saying "it was neat watching him tonight." When asked what makes him so good, Brown replied, "He has a huge heart; he can makes shots; he has a high IQ; he exemplifies everything you want to be around."
With the loss, Gonzaga fell to 20-6. The Bulldogs will host Pacific on Feb. 18.
SMU, now 21-3, will travel to UConn on Feb. 18 for an important American Athletic Conference game.