The GOP is more torn than ever after Donald Drumpf dominated Super Tuesday winning seven states. And Marco Rubio's chances are appearing to fade as Ted Cruz continues to push after his three victories. With Super Tuesday behind us and the next GOP debate in less than 36 hours, here is what to keep an eye on in the Republican primary race.
Follow our live coverage of the Thursday night GOP Fox News debate here.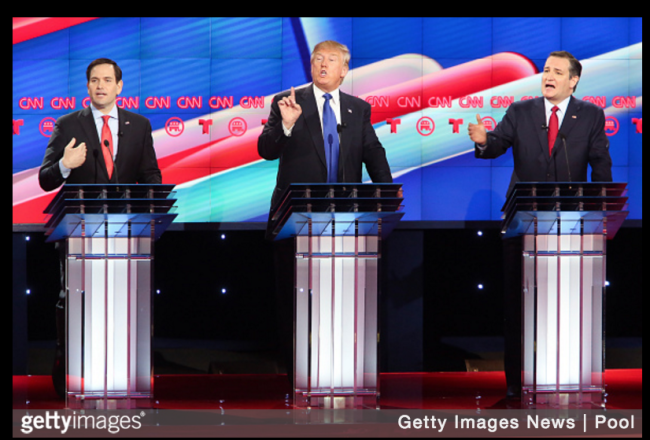 1. The GOP Crossroads
With Drumpf looking more and more likely to be the possible GOP nominee, traditional Republican voters have a decision to make. If Drumpf wins the nomination, will the party support him or choose to oppose? Former Minnesota Gov. Tim Pawlenty, called this moment and "inflection point," according to CNN.
2. Uh – Oh Rubio
Marco Rubio has been running as the go-to establishment candidate. Although he is 14 states down with only one win, Rubio has a difficult road ahead to a nomination. He is remaining in the race and optimistic for March 15, when his home state will vote, but Drumpf is currently polling as the favorite in Florida by 20 points. Vox calls out Rubio's campaign for believing "its capable of winning a nomination without winning a single primary."
3. Bye-Bye Ben
Breaking news– Ben Carson says he will not attend the Fox GOP debate on March 3. According to CNN, Carson does not "see a political path forward." He has not yet officially suspended his campaign, but after poor results on Super Tuesday, things are not looking good for Carson.
4. Immigration Issues
A topic sure to be on the agenda at tomorrow's debate: immigration. According to Mic, "Exit Polls showed continuing enthusiasm among Republican voters for tougher immigration policies, including a temporary ban on Muslims entering the United States." It will be interesting to see how the candidates respond to this come tomorrow evening.
In this complicated primary process, opinions are changing every minute. And a highly anticipated Mitt Romney speech on the 2016 race tomorrow, March 3 is sure to influence Republican voters.