Editor's note, March 22, 10:30 p.m.: This story has been updated throughout.
Carol Moseley Braun, the first and only African-American woman senator, walked out on stage at the 51st Women's Symposium to a cheering crowd. As the crowd started to quiet, Braun started her speech with some encouraging words to the audience. She shared what she believes to be true in the world.
"What you do, what you say, what you think matters, and your actions will make things better or not for more people than you will ever know," said Braun.
Women from all over Dallas-Fort Worth gathered in the Hughes-Trigg ballroom Wednesday, March 2, for the 51st Annual Women's Symposium. The symposium focused on women dealing with stereotypes and limitations.
"It really highlights women leaders who are doing amazing things," said Valerie Erwin, the coordinator of programming.
Braun has served the United States as an ambassador to New Zealand and Samoa, a United States senator from Illinois, an Illinois State Representative and the United States Attorney.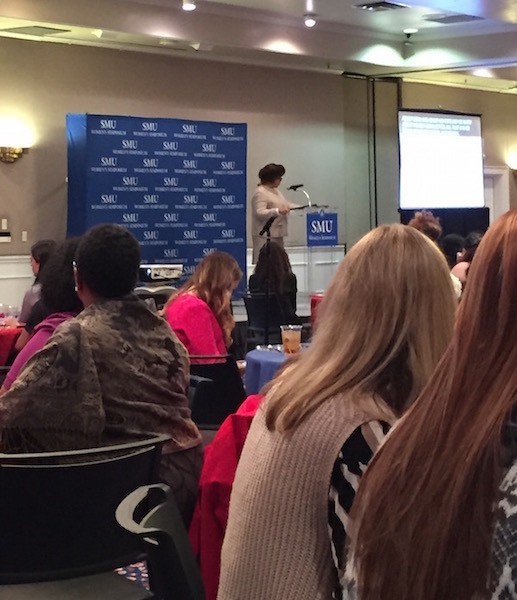 Senior Adé Guobadia attended the Women's Symposium because she was interested in hearing Braun speak. She liked what Braun had to say about young people being the driving force behind a lot of social movements.
"I feel like the role that youths play in a lot of social movements get brushed over in history," said Guobadia.
Braun spoke about a New Zealand tribe's philosophy of time. In our society, we typically think of the past as being behind us and the future as being in front of us, she said. The New Zealand tribe sees time differently, in the way that they view the past as what lies before us and the future as what lies behind us. This change in perspective has an impact on the present.
"If we keep the lessons of the past before us as we make present day decisions, the future we create cannot help but be better than the past we cannot change," said Braun.
Braun emphasized the idea of simple day-to-day conversations. She believes that the impact of a single conversation has been amplified by technology.
"You could be that anonymous person who sets the tone of the conversation and direction of the life of any one person, or a community, or a country, or indeed the world, will take," said Braun.
The reality we enjoy today was brought about by the change in attitude during the Civil Rights Movement, Braun said.
"The change in attitudes, which changed the policy, which changed the law, which created the reality we enjoy today," said Braun.
The Civil Rights Movement was brought about by the activism and courage of young people, she said. Young people created "the climate of opinion" that made racism unpopular.
"The dreamers that began the social inauguration we now have were not much older than the students here at SMU," said Braun.