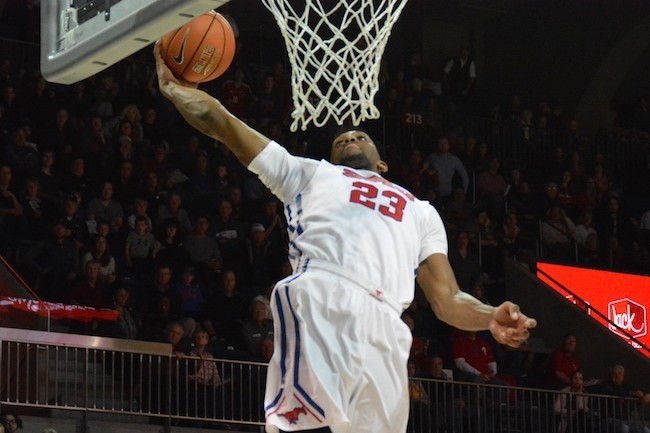 Senior nights are usually full of emotion. SMU's senior night, Thursday vs. Connecticut, figures to be no different. Point guard Nic Moore already admitted he will probably shed tears if his mom starts crying at the pre-game senior day ceremony.
Jordan Tolbert is an exception.
"I just want to win. Nothing besides that. That's the perfect way to top off our season," the SMU forward said. "I want to be happy, I want to be all smiles. But at the same time, we have to get the job done."
That's not to say Tolbert hasn't enjoyed his one season at SMU. He transferred to SMU in the spring of 2014 after three years at Texas Tech. A Fort Worth, Texas native, Tolbert cited the need to be closer to his family and the chance to play for Larry Brown. Before his sophomore season at Texas Tech, his father died. Tolbert played the next two years for the Red Raiders but decided to come home for his final season. In his junior season, his 10.7 points per game ranked second on the team.
Yet the proven post scorer and rebounder had to find a role on a new team. He had to sit out the 2014-15 season due to NCAA transfer rules, but still entered this season seeking that right role.
"I didn't really know how I'd fit in with this team," Tolbert said. "But eventually I'd adapt."
Adapt and find his role, he has. He's the best rebounder on one of the best rebounding teams in the nation. Tolbert has started 22 of SMU's 28 games this season and leads the team with 8.4 rebounds per game, a figure that ranks fifth in the American Athletic Conference. He has the sixth-highest offensive rebounding rate in the nation, grabbing 17.5 percent of opponent's missed shots, per KenPom.com. Tolbert's 3.6 offensive rebounds per game ranks 20th-best nationally. His 23 rebounds vs. Nicholls State on Dec. 16 were the most by an SMU player in a single game since 1975.
"His growth has been amazing," Brown said. "I don't know many better defenders than him."
Tolbert had a three-game stretch in December vs. Michigan, Nicholls State and Hampton in which he totaled 61 points and 51 rebounds. Against Michigan, he had "just" nine rebounds, but slammed home nine dunks in the 82-58 win.
"Averaging four offensive rebounds a game, I don't think I've even seen that," Michigan coach John Beilein said after SMU's Dec. 8 win over the Wolverines. "He just goes and gets the ball. He's like a man among boys out there."
SMU has made a season out of surprising people. The Mustangs, written off by many after the NCAA issued them a postseason ban, won their first 18 games and were the last Division I basketball team to lose a game. They are still in first place in the conference despite playing with seven scholarship players for the entire conference season. Tolbert is among the surprised, but about his own production.
"To be honest, yeah," Tolbert said. "I've never had over 20 rebounds in a game, so that's pretty impressive for myself. That's just setting the mark. If I continue playing, I just want to greater things than that."
For a player who sought to be closer to his family, SMU is an ideal destination. For a player seeking a warm welcome at a new home, it's even better. The team's motto is "Family Over Everything." The Mustangs play for each other, especially in this season when postseason play isn't an option. It's even helped Tolbert show a little emotion.
"It
feels like I've been here forever," Tolbert said. "I hate to see it end. I'm
happy with the decision I made to come here. I never could have imagined it
would go this well."