With SMU's fight song blaring and in front of about 50 fans, family, current and former players watching at Moody Coliseum, SMU ushered in a new era of women's basketball with the introduction of head coach Travis Mays Friday afternoon.
The man known for his bowtie had already updated his neckwear for the occasion. He sported a red and blue bowtie complete with the Peruna logo. He vowed to be active in the SMU and greater Dallas community and to continue the success the program had under former head coach Rhonda Rompola, who held the position for 25 years.
"I want to be a part of the staff that builds on her tradition here. If anyone can work anywhere for 25 years, that's a tremendous thing," Mays said. "I hope I'm here for 25 years. I'm going to say this to the entire community of Dallas: I'm here and I'm planning on being involved," Mays said. "I like to insert myself in the community."
Part of being involved in the community is recruiting. Much like SMU head football coach Chad Morris, Mays is well-known among Texas high school coaches and Texas is full of basketball talent.
"We have to compete in the state of Texas for recruits," SMU Director of Athletics Rick Hart said. "You're looking for someone who you can envision going out and competing for some of the top students and athletes in our state. Travis' ties to Texas, people know who he is. He has credibility, he knows the state," Hart said.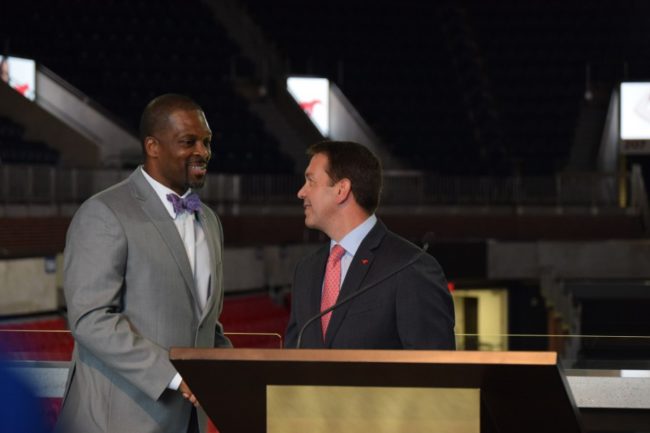 Mays, present with his wife Mirella and children Cherrell and Trevor, described himself as a fun-loving guy who likes to joke a lot, but takes his job seriously and possess unique competitiveness.
"He's going to pour every ounce of himself into this program and into these young women," Hart said. "He challenged me and said that he's the most competitive person around. I told him, 'Maybe next to me,' but he's a competitor."
Mays served as Texas' associate head coach under Karen Aston from 2012-16 and spent the previous four seasons as an assistant at LSU under Hall of Fame coach Van Chancellor. He played at Texas from 1986 to 1990 and was a first-round draft pick of the Sacramento Kings in 1990.
With Mays' accomplished background and his reputation as an outstanding recruiter, SMU wasn't the first school to express interest in Mays as a head coach. He had to be selective in finding the right time and right offer to make the jump.
"I had other opportunities I was offered. It either wasn't the right time or wasn't what SMU had to offer," Mays said. "When I came to campus, I could feel the passion. And I think what the men's basketball program has done and the hiring of coach Morris has generated some excitement. I think the women's program is hungry for that."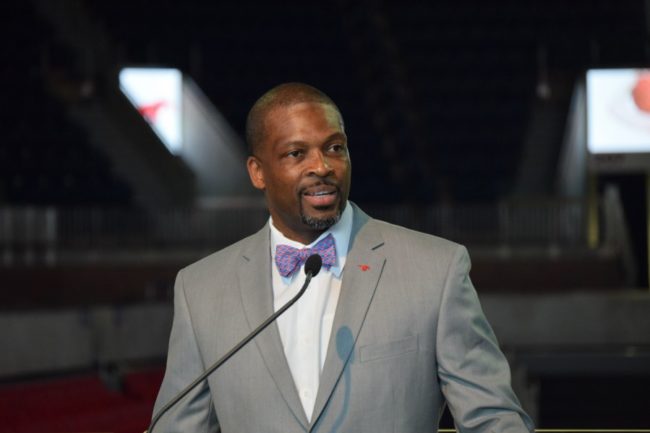 Ironically, SMU's call to Mays wasn't well-timed. Mays had just pulled his family's luggage off the baggage claim after landing in Las Vegas Thursday for vacation when SMU called him.
"Today is like a dream come true," Mays said. "I've prepared my whole life for this. Today was like a dream come true. A whirlwind, a lot going on, many moving parts, but I wouldn't trade it for anything."
Hart gave him the call to reach the agreement, but credited Senior Associate A.D. for Administration Monique Holland with running the search. Holland was the first to speak with Mays at length. She spoke highly of Hart and the rest of the athletic department, which drew Mays in quickly.
"If you light up when you talk about the person you work with as much as she did, I felt that could be something I want be a part of, because I think it's priceless," Mays said. "Once I came to campus and felt the vibe with the staff, it was a no-brainer for me. I just had to convince them that I was the right person."
SMU had a profile it sought in its next head coach. It wanted someone who could leverage the schools assets and build a championship contender. Mays fit the profile. He had already spoken with Holland when Hart got an endorsement of Mays from Connecticut head coach Geno Auriemma.
"A lot of people want him to recommend them for jobs," Hart said. "He didn't call me with three names, five names or seven names, he called me about Travis."
SMU did not disclose Mays' contract terms, but Hart said it is a "long-term" contract. Mays' first task will be to assemble a coaching staff. He said he has about 40 to 50 résumés he is already looking at for staff positions.
— SMU Women's Basketball (@SMUWBB) April 8, 2016
Photos by: Candace Johnson / SMU Campus Weekly