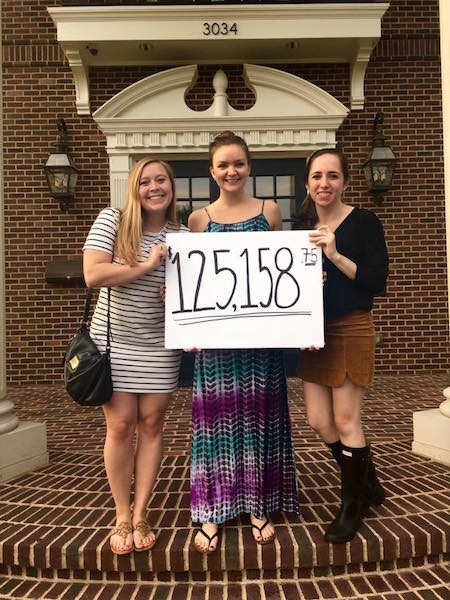 SMU's Chi Omega chapter raised a record-breaking amount of money for Make-A-Wish North Texas during its annual "Bid for Wishes" event.
The $125,158 raised at the silent-auction April 16 will be used to fund and grant 15 wishes for children battling life-threatening illnesses. The event this year almost quadrupled the chapter's previous record at $30,044.
"This amount includes all of the event's expenses taken out, so the full $125,000 will be going to Make-A-Wish North Texas," philanthropy chair McKenna Karnes said.
Karnes said this year the event included a dinner, a live auction and sponsorships. Co-Auction Chair Jordan Clegg said this year was the first year Chi Omega called the event "Bid for Wishes."
Karnes, Clegg and co-auction chair Skylar Jayes began planning and preparing for the event in December. The team gathered donations, reached out to parents, alumni and the community, received ticket sales and finalized donations.
"We used a system called Greater Giving this year which required us to enter every donation, ticket sale, sponsorship, etc.," Clegg said. "Once all the donations were in, we had to pair things and number the physical items so that upon arrival to The Adolphous we would know where to place items and be able to execute set up more efficiently."
The team worked for several hours April 16 to set up the event.
Klegg said this year, two wish families were in attendance at the event. One walked the catwalk during "Work it for Wishes" and the other was the honorary guest at "Bid for Wishes."
For Karnes and Clegg, the event is about more than just fundraising.
"Having the two wish kids there that evening was such an honor and reminded us of why Make-A-Wish is so special," Klegg said. "In my eyes, they are the true rockstars from this event."
Karnes agrees that granting a wish to a child is the best part of the event; it not only lifts the spirits of a sick child, but also provides relief for the entire family.
"In many cases, a child becomes more compliant for treatment after receiving his/her wish," Karnes said. "I cannot express how much of a difference this makes in these kids' lives."