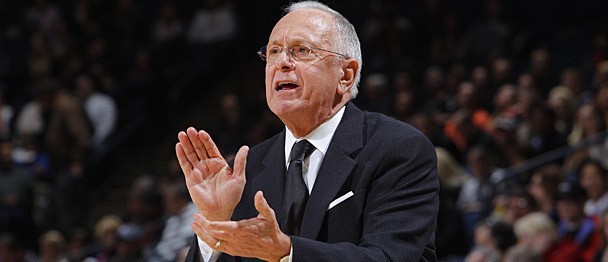 It's July 2016 and once again, everyone is out to get Larry Brown. He's being criticized for how he left a job, which happens, on average, 3.1 years into his tenure.
SMU had to know what it was getting when it hired Brown in 2012: a winner who probably wouldn't stick around too long and has had some trouble with the NCAA. Four years later, that's exactly what SMU got.
It was fun. And then it was ugly. Then it was fun again. It ended on a clumsy note. And it was worth every bit. Turning SMU, a moribund program for 20 years, into a winner was worth the consequences it brought.
Brown inherited a team in Conference-USA that attracted so few fans at its home games that players joked that they used to sit on the bench and count the fans in the upper bowl of Moody Coliseum. Even if that number of fans reached double digits, it was still lower than the number of splinters fans got from Moody's old wooden seats.
Enter Brown in April 2012, then with 1,499 career wins, an NBA and NCAA title and a spot in the basketball Hall of Fame. Never mind that his average time at a job was three seasons and that each of his previous college stops had NCAA sanctions during his tenure. If he could lead the Charlotte Bobcats, then the NBA's equivalent of SMU basketball, to the NBA playoffs in his second season as head coach, he could win at SMU as fast as anyone else.
Four years later, Brown led SMU to one of the most successful stretches in school history. Three straight 25-win seasons for the first time ever. A top-10 ranking for the first time since 1985. An NCAA tournament for the first time since 1993. When Temple snapped SMU's 18-0 start to 2015-16, its fans stormed the court. Anyone storming the court after beating SMU was unfathomable four years ago.
Brown's tenure came with a couple ugly parts. Let's go back to the last time everyone was out to get Brown. It's Sept. 29, 2015, the day the NCAA handed SMU severe sanctions that included a postseason ban. He is getting called every possible name. Cheater. Liar. Corner-cutter. Dick Vitale, one of college basketball's biggest ambassadors, questioned why Brown was allowed to coach at all this year. Columnists thrashed SMU and Brown, one even saying SMU should be kicked out of the NCAA.
The infractions case was SMU's 10th in school history, the most of any Division I school. Brown's winning and fleeting reputation, fair or not, was long established. So was SMU's reputation as a school that cheats a lot. Neither reputation was going to disappear no matter what SMU did on the court.
SMU's losing reputation, though, could change. And it did. Would any SMU fan trade all the success of Brown's SMU tenure to shrink the number of infractions cases from 10 to nine? Would any SMU fan trade the wins with sanctions for mediocrity without sanctions?
For those who think SMU wouldn't have won without giving Keith Frazier improper assistance, the NCAA found he didn't even need the class that was taken for him. He also was hardly a critical piece of the team's success.
Ultimately, by sticking by its contract extension offer to Brown, SMU showed it didn't want to continue to risk any more academic troubles. It's a good decision for the long-term health of the program, even if it meant risking Brown's departure. Immediate troubles to make the program relevant are survivable, but SMU can't continue to risk further issues if it wants to be a consistent winner.
By not meeting Brown's demands, SMU showed confidence in head-coach-in-waiting Tim Jankovich to take SMU from relevant program to consistent winner. During his time as acting head coach in 2015, Jankovich issued SMU's only team disciplinary suspension to a player in the last three years. There is far less risk of him running into NCAA trouble or taking commitments from players who are known academic risks.
In Jankovich's nine-game stint as head coach, he showed he could win too. He also recruited SMU's highest-rated incoming freshman, Harry Froling. His roster for next season and beyond is set up for winning, and he's taking over a program made relevant in large part by Larry Brown.
Doesn't that relevancy feel good? Thought so. If you'd have rather won the imaginary ethics title, you've got a spot on Dick Vitale's team.