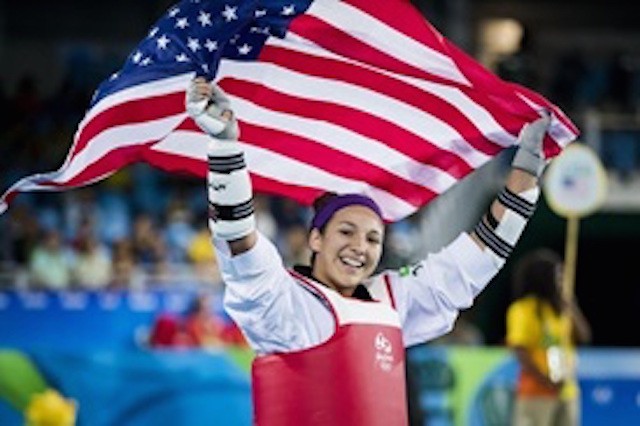 SMU had nine athletes with connections to the school competing in the 2016 Rio Olympic Games: six swimmers, a track runner, a martial artist and a swimming coach.
Jackie Galloway recorded the highest finish of any SMU athlete, finishing third in the taekwondo heavyweight competition for team USA.
Former SMU swimmer Rachel Nicol who represented Canada earned fifth in the finals of the women's 100-meter breaststroke. She also swam in the fifth place 4×100-meter medley team. While at SMU, Nicol set the 200-yard breaststroke record, which still stands.
Lovia Lindh competed for Sweden in women's 800-meter run, placing tenth. She qualified for the semifinals but missed the finals despite running a personal-best 1:59.14 for the two laps.
Coaching for the Bulgarian National Team was SMU Head Swimming Coach, Steve Collins. This was Collin's sixth straight year at the Olympic games. He begins his 31st year coaching at SMU this fall. During his time with the Mustangs, he was named NCAA coach of the year twice.
Isabella Arcila competed in the women's 50-meter freestyle for Colombia. She was a decorated athlete during her time at SMU, setting three conference records along with winning seven individual conference titles.
Also competing for Colombia was Jonathan Gomez, in the men's 200m butterfly. He is a transfer student from Saint Peter's University, who will enter into his junior year at SMU this fall.
Julian Fletcher swam in the men's 100-meter breaststroke competition for his home country of Bermuda. While at SMU, Fletcher set the seventh fastest ever 100-yard breaststroke time in the Mustang's history.
This was the third Olympics for Nina Rangelova, who competed in the women's 100-meter and 200-meter freestyle for Bulgaria. She is currently the volunteer assistant coach for the SMU swimming team.
Junior swimmer Matea Samardzic represented Croatia in the women's 100- and 200-meter backstroke, as well as the women's 400-meter individual medley relay.