The morning of Sept. 15, Dallas Mavericks center and power forward Dirk Nowitzki entered rather unusual territory, stepping into SMU's Turpin Stadium to practice for the upcoming Dirk Nowitzki Pro Celebrity Tennis Classic Match on Sept. 18.
. @swish41 showing off his tennis skills and talk about his celebrity tournament. @thedailycampus @SMU pic.twitter.com/MxM1oWdWgn

— Mollie Mayfield (@mollie_mayfield) September 15, 2016
According to a press release, his practice match with Grand Slam doubles champ Mark Knowles was a prelude to the inaugural Pro Celebrity Tennis Classic that will be held on Sept. 18.
The Dirk Nowitzki Foundation created the charity event where all ticket proceeds will fund annual grants to organizations focusing on children's well-being, health and education.
The tournament competitors will feature a mix of athletes and actors. Entertainers and celebrities include Ben Stiller, John Isner and Boris Kodjoe. Tennis champions Andy Roddick, Benjamin Becker, Mark Knowles and Mitchell Krueger will bring their expertise to the court while Dallas Mavericks' Nowitzki, Harrison Barnes and J.J. Barea will trial their tennis skills.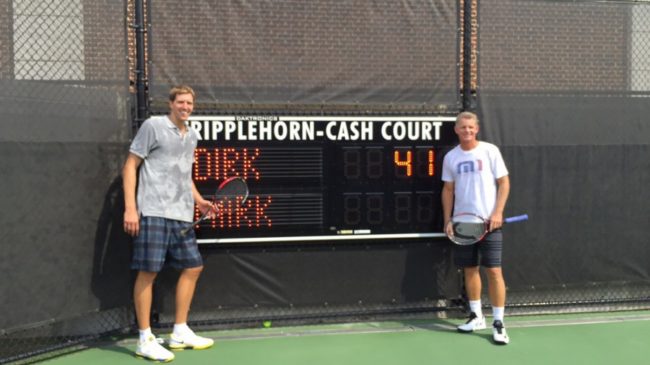 The Pro Celebrity Tennis Classic Match takes place Sept. 18 from 10 a.m.– 2p.m. For more information or for spectator ticket inquiries, check out the Dallas Mavericks event calendar here.