By Eileen Barrett
With Family Weekend starting Sept. 23rd, make sure you do not miss the events SMU is holding this year. We narrowed down to the top six events that your family cannot miss.
Food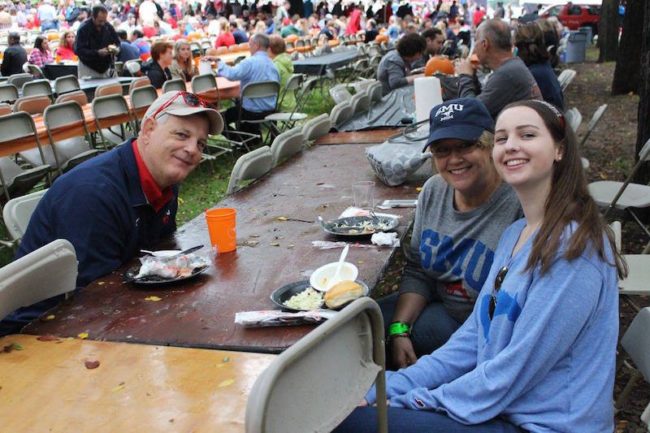 Food that you cannot miss this weekend will be surrounding campus. If you would like an outgoing environment with live country music with food and drinks then the Rustic is for you. If your family likes to get competitive then you might want to roll into Bowl and Barrel. Families that would like a more relaxing, elegant dinner, Hillstone is your place. Do not have time for a long dinner? Then check out Torchy's Tacos or Hopdoddy Burger Bar. Being in Dallas, there are an unlimited amount of places that will fit your family perfectly.
Abroad
Abroad opportunities are increasing at SMU. Help your parents learn more about the great SMU's abroad programs. There will be faculty and students that have gone abroad for students and family members to interact with. If you are interested, this event will be held in Hughes-Trigg Theater at 10:00 a.m. to 11:00 a.m. on Friday, Sept. 23. An SMU Abroad Open House will also be held between 2 p.m. to 3 p.m. on this day as well.
Meet and Greet
Meet the faculty with your parents on Friday, Sept. 23 from 1:00 p.m. to 2:00 p.m. The faculty will be in their respective schools.
Student Ideas
Ideas are being pitched from students in Hughes-Trigg Student Forum from 2:00 p.m. to 5:00 p.m., Friday, Sept. 23 to a panel of judges. The ideas are ways to improve Dallas in a positive way and on a larger global scale. The students have a chance to win $1000.
Luncheon
Each year, SMU hosts a family Luncheon that features talks from current students and school administration. This event is co-sponsored by SMU Students Foundation and the SMU Mothers' and Dads' Club. The event this year is already sold out. There is always tasty food and you get to spend time with your family. This event is held from 12:00 p.m. to 1:30 p.m.
Yell
Yell for both the SMU football team with all that school sprit that you have and during the SMU 41st annual talent show. You do not want to miss all the talented students and groups at SMU Saturday, Sept. 24th at 7:00pm. It is only 10 dollars, and tickets are available online.