By Klara Bradshaw
The George W. Bush Presidential Library and Museum has opened its newest exhibit, this one coming right in time for the holidays. A Season of Merriment and Melody: Christmas at the White House 2004 has taken over the presidential center, opening its wreath-clad doors to the public Nov. 17.
"The thing for me is I never really realized how they decorated the White House and this gives us a good feeling, kind of a comfortable feeling, that we understand how they decorated it and what they went through and the great job they did," visitor Richard Morwood said.
The theme, A Season of Merriment and Melody, was selected by Mrs. Laura Bush as the theme for the White House in 2004, and it has been brought back to life at the presidential center this year.
"This is the fourth Christmas that the museum has been open and so they're on the fourth Christmas of the Bush administration, so these are the ornaments from 2004," docent Carol Farquhar said.
Inside the exhibit, images from the 2004 Christmas at the White House cover the walls from top to bottom with all the classic Christmas tunes playing at every turn, giving visitors a real glimpse at what the season brought to the White House.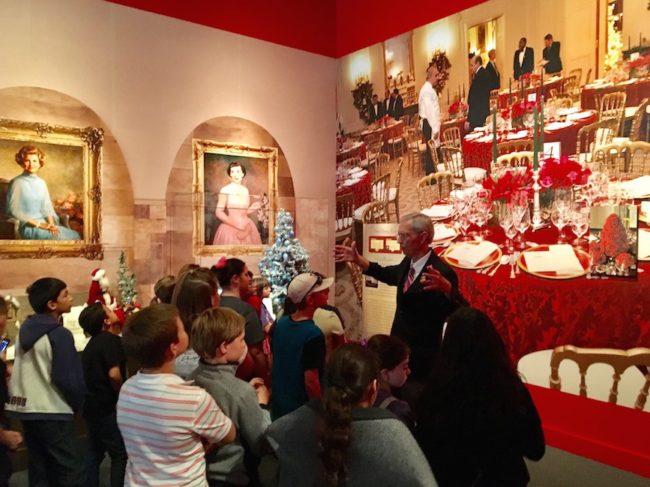 Among the visitors on opening day, the favorite was the replica of the centerpiece that adorns the White House every year, the 18-foot Blue Room Christmas tree. The tree, to go along with this year's theme, was decorated with more than 350 miniature musical instruments. Each of those instruments was hand-painted by members of the Society of Decorative Painters, who represented all 50 states.
"I just feel like they're always trying to unify the country and include people. Like they said, the White House is a people's house, and I just feel like that they live that," Dallas resident Kay Swartzemdruber said.
The presidential center will be having several events as the Christmas season rolls around, starting with a "Deck the Halls" Black Friday Event on Nov. 25 and also three different choir performances throughout the month of December. The seasonal exhibit will stay open until Jan. 8, 2017.