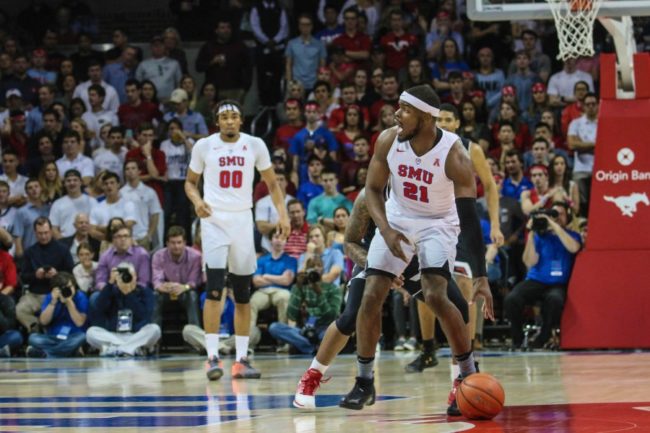 Amid the fury of Moody Coliseum's thunderous yelling was a yell that wasn't heard at all. Not because it was a quiet one, but because the 7,518 fans packed into Moody were too busy yelling themselves.
It belonged to Ben Emelogu II. Who just happened to be the cause of this particular Moody outburst. He had just canned a 3-pointer to give SMU a four-point lead over No. 11 Cincinnati with 11 minutes to go.
Emelogu's burst of emotion was present, but just not heard among all the other madness. Which is a fitting description of his season as well.
The junior is SMU's primary option off the bench as part of SMU's seven-man rotation. yet his contributions are often lost in his shooting inconsistencies. He plays 21 minutes per game, but had only topped 10 points twice all season before Sunday. He shoots 27 percent from 3-point range. In SMU's November trip to New York, Emelogu had more turnovers (three) than points (two). In the first meeting against Cincinnati this season, he didn't score at all. He has, at times, not played well.
But SMU head coach Tim Jankovich doesn't want to hear about that.
Instead, he will mention Emelogu's underappreciated contributions. Like his six-assist game vs. East Carolina on Feb. 1 that went unnoticed because he scored just three of SMU's 86 points. Or the 11 second-half points he provided vs. Houston on Jan. 21 – in place of Jarrey Foster – overshadowed by Shake Milton and Semi Ojeleye's 47 combined points.
"So many times a guy is playing terrific, I mean terrific, and not scoring a lot of points or doesn't have a great scoring night," Jankovich said. "Ben is underappreciated by a lot of people, but not by his teammates and not by our staff. He guards like crazy, he's very smart, he's in the right place, he makes plays for others, he's tough and he's a very good passer."
In Sunday's 60-51 win, though, underappreciated doesn't apply, because he scored. He made both his 3-point tries and scored seven of his points during SMU's 15-0 second-half run that gave the Mustangs the lead for good.
Minutes earlier, Emelogu was on the floor for Cincinnati's 12-0 run at the start of the second half. He gave up a 3 to Jacob Evans when he didn't rotate over in time. The run started when he replaced Sterling Brown after Brown picked up his third foul a minute into the half. SMU's biggest opportunity of the season was slipping away, and someone needed to do something about it.
Then, out of nowhere, Emelogu did just that. For the first time this season, the player whose best games get overlooked stepped into the role that's impossible to overlook.
And then he created the opportunity to yell.
First, a 3-pointer to snap the Cincinnati run. An assist on Semi Ojeleye's 3-pointer to bring SMU within three points. A steal to set up Shake Milton's 3-pointer that tied the score at 40. A free throw that put SMU ahead 41-40. The second 3-pointer that put SMU up by four. And to cap it off, an offensive rebound and assist on Brown's tip-in that forced Cincinnati to call a timeout.
Just like that, SMU led by six points.
"Today, the opportunity really presented itself," Emelogu said. "This was the game where I seized the opportunity."
The obvious question that follows, of course, is how it happened. How did Emelogu go from playing poorly to having perhaps the best stretch of his career, with only a TV timeout separating the two? Milton says there's an obvious answer.
"The thing I love about our team is we're so encouraging to one another," Milton said. "We always have each other's back. Going out there and sticking together during crunch time, it's not that hard."
The underappreciated guy feels that too.
"I give credit to my teammates and coaches," Emelogu said. "I've struggled shooting off and on in games. They've just kept my confidence up. They've pushed me in practice. After practice, I get shots up with the coaches. They really give me confidence."
Jankovich too is, obviously, thrilled that confidence showed up in the form of points. SMU doesn't come back to win without Emelogu's scoring. But he's more thrilled that this time, Emelogu's strong play was obvious enough to warrant attention.
"He's a heck of a player. When he scores, he's a really, really good player," Jankovich said. "I love it when he scores because they start looking at him. He deserves to be looked at."