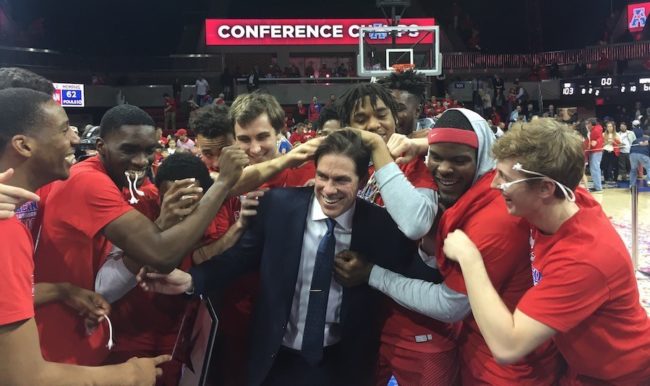 Tim Jankovich was unlike most SMU players and coaches at this time last March – he actually watched the TV coverage and analysis of the NCAA Tournament.
Still, he couldn't avoid feeling left out, like everyone else on SMU's roster and staff. His concern, though, rested with the players missing the chance to play in it due to a postseason ban. His own missed chance to coach in it for the second straight year, then as an assistant under Larry Brown, was of secondary importance.
"I've done this a long time; lots of tournaments, lots of Marches," Jankovich said. "For them, it's just a small little window. When you're a player, your career is so precious."
This year, Jankovich has no need for such concerns. In his first full year as SMU's head coach, his team is 30-4, winners of 26 of its last 27 games and American Athletic Conference regular-season and tournament champions.
Friday will be Jankovich's 13th NCAA Tournament appearance. He's been nine times as an assistant at five different schools. He played in three at Kansas State. But this is his first trip to the NCAA Tournament as a head coach.
He had been so close twice before. During his tenure as Illinois State's head coach, his team played in two Missouri Valley Conference title games. Both times, the Redbirds lost in overtime. The MVC wasn't strong enough to be a multi-bid league, so they were off to the NIT.
This year, he had no close calls. SMU never trailed in the AAC Tournament title game. Even if the Mustangs had lost, an NCAA bid awaited them.
Asked about making that first head coaching appearance in the tournament, Jankovich again brought up his players. Until this season, their collegiate careers had been full of adverse situations: an NCAA Tournament snub, a controversial end to a tournament game, a postseason ban and a sudden coaching change. Each player on the roster has experienced at least one of those. Two of SMU's seniors, Sterling Brown and Ben Moore, have been through all four adversities.
This season, all five starters played at least 29 minutes per game. Four of them have played all 40 minutes of a game at least once. SMU essentially uses a six-man rotation.
"This year has been magical, to do what those guys have done," Jankovich said. "They've been incredible. They've amazed me. I appreciate them so much. I hope people realize that what they've done is not a little accomplishment. It's not something that happens every year or in every program. These guys are special."
Jankovich deserves credit too, although he doesn't seek it. He is, after all, the AAC Coach of the Year. Tuesday, guard Jarrey Foster and forward Semi Ojeleye both referred to him as a "player's coach." It's a cliché phrase, but appropriate and fitting. He trusts his players and he adapts to them. He has preferences for style of play, but adjusts them to the players he has and for a particular opponent.
A noted fan of the 3-pointer, Jankovich is OK with a game plan to shoot less of them, or even a team that shoots less of them; just one example of his. Twice during his tenure at Illinois State, the Redbirds were in the top 25 in percentage of shots from 3-point distance. They also finished outside the top 200 in the same category another year. This season, SMU has shot as few as 13 3s in a win, and as many as 30 in another.
"He really helps us adapt to whatever challenge we face next game," Ojeleye said. "Putting in new offense, new schemes, new plays, trying to attack mismatches. Even during games, he really adapts to what we have coming at us."
This season was a unique test in Jankovich's scheming and adaptation. He has figured out how to make a team of seven scholarship players who have similar skill sets play together. He likes teams that have a smaller, quicker guard who can zip by defenders and create shots for others. He'd like to have a traditional post player. SMU, basically a team of seven wing players, has neither. The roster composition is not his ideal fit, so he decided to put an emphasis on positionless basketball after SMU's 4-3 start to the season. The players' ability to adapt to it, though, is a perfect fit.
"They're so mature, they're so coachable, they're so bright," Jankovich said. "It has allowed us to really advance. They get it."
They get him, as well.
"I just roll with it, because I believe in him, and he believes in us," Foster said. "That helps our relationship grow. As far as we go in the tournament, as long as our relationship keeps growing, as long as we keep believing in him and he keeps believing in us, I feel like we can keep going far."