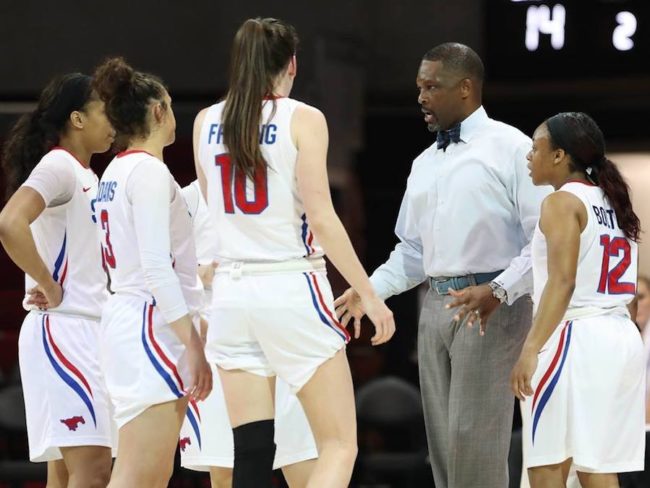 Morgan Bolton walked out onto the Moody Coliseum floor for pregame shootaround and saw the majority of the lower bowl stands full of purple.
Abilene Christian loaded two charter buses of fans and drove three hours to Dallas. Plenty more came on their own. They outnumbered SMU fans in the building, there to watch a team in only its fourth year playing Division I women's basketball.
"We had to have a really great start," said Bolton, SMU's senior point guard. "We didn't want their fans to get excited and out-yell our fans."
SMU did just that. Three days after needing a fourth-quarter comeback to beat Louisiana Tech in overtime, the Mustangs (19-14) scored the game's first seven points and never trailed in a 59-52 win vs. ACU (23-9) Monday night. They advanced to the Women's NIT third round and will play at Indiana on Thursday at 6 p.m.
Bolton led SMU with 15 points. Junior McKenzie Adams added 12. They combined for all five of SMU's 3-pointers. SMU shot 40.4 percent from the field and 47.5 percent through the first three quarters. The Mustangs held ACU to just six points in the second quarter and led 28-16 at halftime.
Junior Alicia Froling had a game-high 10 rebounds and added seven points. She has 330 rebounds this season, breaking the SMU single-season rebound record she set last season.
SMU rebounded 16 of its 31 missed shots and out-rebounded ACU in total, 45-33. Four of the five SMU starters had at least five rebounds. All 11 SMU players who participated contributed at least one rebound.
"We knew they were crashing five people (to the glass), so we made it a point to box out and pursue the ball," Bolton said. "They shoot a lot of 3-pointers, so us guards had to make sure we got the long rebounds."
ACU, which came in shooting 33 percent from 3-point range on more than 800 attempts this season, made just six of its 36 attempts from beyond the arc. In the first half, the Wildcats shot 2-for-19 from deep. They shot 27 percent overall.
"We were expecting them to drive and kick," Bolton said. "We were going to close out hard and depend on our help."
SMU head coach Travis Mays added: "They drive-and-kick, and they live and die by the three ball. Tonight, fortunately, we had a hand close enough to them to get them out of rhythm just enough to where they never felt comfortable shooting 3's."
For three-plus quarters, SMU looked like it would run away with a victory. SMU's lead swelled to 46-20 with 3:53 left in the third quarter, when Adams made back-to-back jumpers.
ACU, though, didn't coast the final quarter-and-a-half. After the Wildcats closed the third quarter on a 10-0 run, they outscored SMU 22-13 in the fourth quarter. SMU committed nine turnovers in the final period and went nearly eight minutes without a point after Adams' two jumpers. After ACU cut SMU's lead to 46-34 with 6:35 left in the game, Mays called a timeout.
"We were getting a little bit lax," Mays said. "We started fouling, we were out of position. I was just trying to get us back to re-focusing. I wrote on the whiteboard, let's go back to discipline. Our discipline on the defensive end is what's going to win us the game."
After the timeout, SMU held ACU to four points in the next five minutes. ACU then scored five points in five seconds to cut SMU's lead to 50-43 with 1:12 left, but SMU scored six of the game's next eight points to take an 11-point lead with 40 seconds remaining.