David G. Smith's worlds collided when he received an email last fall about an art contest. Airbus Helicopters Inc. wanted a piece that honored the people for whom the UH-72A Lakota was named.
Smith, an SMU art student and former Airbus helicopter pilot, took advantage of the opportunity and submitted an oil painting of Lakota warrior Eagle Elk.
"I expected it to be something I was doing just for myself because of the fact that it spun everything together in my world," Smith said.
But then, he won the contest.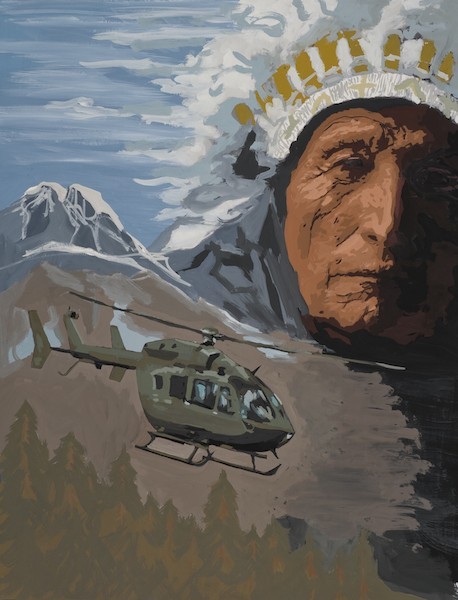 A spokesman for Angus, Senior Airbus Helicopters Inc. Manager of Communications and Media Relations, Bob Cox, described Smith's painting as powerful.
"It's almost a god-like image sitting up there in the mountains," Cox said.
After declaring Smith the winner, Airbus sent the Lakota nation an image of the painting for approval. The Lakota nation then sent it to Eagle Elk's family.
Eagle Elk's descedents flew from South Dakota to meet Smith and attend a ceremony September 2016 at Airbus Helicopter's headquarters in Grand Prairie. The ceremony honored the helicopter and painting.
"This is an honor for our family. We are all deeply touched," great-granddaughter Charleen Eagle Elk said.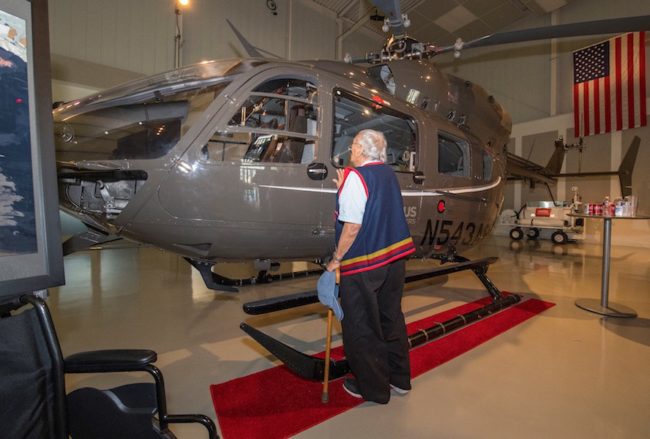 Eagle Elk's grandson, Robert, blessed the Lakota helicopter during the ceremony in his native tongue.
According to Smith, Airbus Helicopters are named after Native Americans out of the high regard for their warrior culture. Other helicopters used in the U.S. Army named after Native American people are the Blackhawk, Apache, Comanche, and Iroquois.
Smith Today:
Smith, 46, spent nine years in the Army and 12 years flying Airbus helicopters in the Coast Guard. After retiring in 2014, he enrolled at SMU to pursue degrees in creative computation and studio art. Rather than continuing to fly helicopters, Smith wanted to use his GI benefits to get out of his comfort zone and study art.
"Life is short and you have to try new things," Smith said. "It didn't sound interesting to me to hang around and do what I'd already been doing for 20 years."
Smith also holds a bachelor's in aeronautical studies with a concentration in computer science and a master of aeronautical science with a dual focus in human factors and aviation education from Embry-Riddle Aeronautical University. He finished his bachelor's in creative computing at SMU last fall and expects to complete his bachelor's in Fine Arts and studio art this spring.
"I have some really great professors," Smith said. "They are here to create opportunities for me so I'm really grateful for that."
Smith's professors encouraged him to participate in the Lakota helicopter art contest. They also encouraged him to teach. Today, Smith is in his first semester of teaching Creative Computing 1 at SMU.
"I think he's the most approachable computer science professor I've had," studio art and business double major Conner O'Hare said.
The veteran, credited with saving 20 lives during his time in the Army and Coast Guard, now paints in his studio in the Owen Art Center and admits to getting emotional over the Lakota peoples' acceptance of his work.
"Robert Eagle Elk even said that he thought Eagle Elk would be watching over me for the rest of my life," Smith said.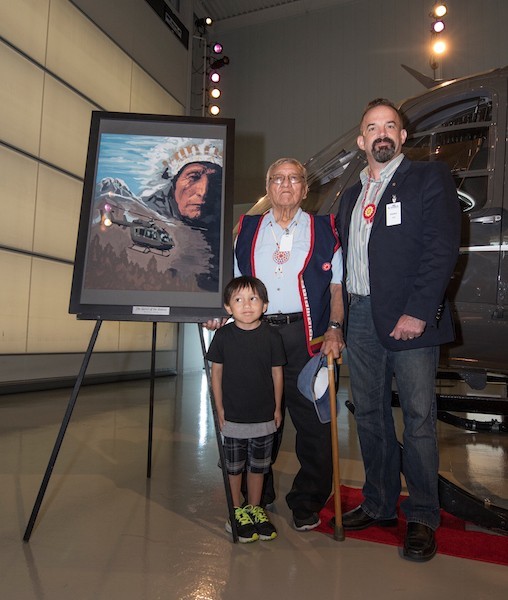 Smith said he and his wife Jennifer are going to South Dakota this summer to attend the Eagle Elk family reunion.
When asked about his next art project, Smith laughed and pointed to a giant, blank canvas that took up most of the space in his studio. He did not have a clear idea of what his work was going to look like yet. He did know, however, he wanted to continue working on very large pieces and possibly paint murals on buildings some day.