For the first time since 2015, the American Athletic Conference is expanding.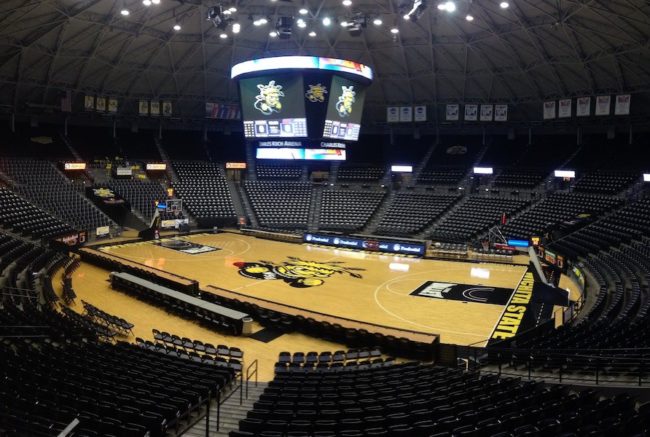 The AAC Board of Directors unanimously voted to offer membership to Wichita State University on Friday morning via teleconference. WSU is the first school to join the AAC since Navy became a football-only member two seasons ago. The addition was first reported by ESPN's Brett McMurphy and others close to the university.
AAC unanimously votes to add Wichita State for 2017-18 season, sources told @ESPN. Official announcement expected at noon ET

— Brett McMurphy (@Brett_McMurphy) April 7, 2017
Having discontinued its football program in 1986, Wichita State will participate alongside other AAC teams in basketball, baseball and other olympic sports.
In case any #SMU fans are wondering what a Shocker is: https://t.co/SspbeMQ8Ji pic.twitter.com/BKs2XZnGR4

— Moonlight Graham 🌙✨ (@ReeceKelleyG) April 7, 2017
The success of WSU's men's basketball program was a major factor in the university's marriage with the AAC. The Shockers have made six straight NCAA Tournaments, including a Final Four appearance as a 1 seed in the 2012-2013 season. Their jump to the AAC positions the Shockers to face more elite teams per season, such as SMU, Cincinnati, Connecticut, Memphis and Houston.
Wichita State finished its 2016-2017 campaign with a 31-5 overall record, falling to Kentucky in the NCAA Tournament's second round. The Shockers finished the season ranked 19th in the AP Top 25 poll and 8th in the KenPom ratings. WSU concluded conference play with a 17-1 record in the Missouri Valley Conference, where the Shockers have resided since 1945.
"We are pleased and proud to welcome Wichita State to the American," AAC Commissioner Mike Aresco said in a written release. "The university has an exceptionally strong tradition of success in men's basketball and baseball. The addition of Wichita State in basketball and olympic sports extends our conference's national footprint, enhances our national profile, and strengthens our position as a leader in intercollegiate athletics."
SMU men's basketball head coach Tim Jankovich has plenty of history facing the Shockers, having coached Illinois State in the MVC for five seasons (2008-2012). During that span, Jankovich amassed a 5-7 record against the Shockers as head coach.