Garrett Gilbert was the High School All-American, 2008 Gatorade player of the year, Mr. Texas Football and Super Bowl XLIX champion, but students who didn't attend SMU during the 2012-2013 season may not know him.
Garrett Gilbert is the last quarterback to win a bowl game with SMU football, but he had his struggles before his success. Gilbert was a highly recruited quarterback from Lake Travis High School in Austin, Texas.
At Lake Travis, he set the Texas state record for most passing yards of all time with 12,534 yards. He also won back-to-back state championships in 2007 and 2008, which earned him a spot in the ESPN Elite 11. Gilbert was a dominant Austin football player, who chose to continue his career in his home city at the University of Texas.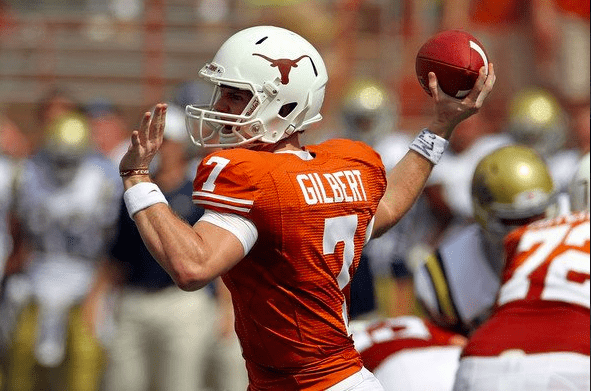 Every sports team knows how brutal fans can be, especially when a team is not succeeding. Gilbert was thrown into a tough role for even the most talented player. In the 2010 BCS National Championship Game, Gilbert trotted on the field to replace injured starting quarterback Colt McCoy. Gilbert was in the presence of big names, including Major Applewhite, Chris Simms and Vince Young.
"None of us could believe it," said Nicolas Medina, who played with Gilbert at Lake Travis High School and is currently an undergraduate assistant for University of Texas-El Paso football. "We all knew he would start one day, but we did not think it would be on the biggest stage in college football."
Medina believes Gilbert had a great showing that game. Besides a few dropped passes, including one in the end zone from sure-handed Jordan Shipley, Gilbert could have won the national championship for the Longhorns. Gilbert ended the game with two touchdown passes, both on late drives to spark a comeback for the Longhorns. Ultimately, the young freshman was not able to pull it out for his team.
Gilbert had a rough follow-up season for the Longhorns; he threw 17 interceptions to just 10 touchdowns and limped UT to a 5-7 record. The UT fans grew impatient with the young quarterback.
"People saw a big, strong quarterback, the local hero leading the hometown team, and their imaginations ran wild," SMU graduate Steven Lansdale said.
Lansdale has been covering SMU football for 30 years. He runs Ponyfans.com and does play-by-play announcements for men's and women's soccer, both basketball teams and the football team.
"Despite the loss in the title game, whatever legend there was around Gilbert only grew to an unrealistic level," Lansdale said.
Gilbert decided he had overstayed his welcome at UT and looked for a new college to call home. He transferred to SMU and played for the only program in NCAA history to receive the death penalty. He gave himself the best opportunity to make it to the next level.
"When he got to SMU, he didn't have to be Superman. He just had to be better than what the Mustangs had, and he was," Lansdale said. "Gilbert showed better mobility than most people realized and thrived in June Jones' offense at SMU."
In 2012, June Jones and Garrett Gilbert clicked from the beginning. Gilbert had a cannon-like arm and extended plays with his feet, matching Jones' run-and-gun offensive mind.
In his first season, Gilbert set an SMU record for points in a game with 72 against Houston. That season, Gilbert led a strong Mustang performance in the Hawaii Bowl. Fresno State was 9-3 on the season and 12-point favorite going into the game. Gilbert threw for 212 yards and a touchdown that game. SMU won 43-10.
SMU fans remember Garrett Gilbert, who is statistically a top 5 quarterback in school history. Gilbert was drafted in 2014 by the Carolina Panthers as the 214th pick. He has been bounced around in the NFL since, but has been a relevant and reliable scout team quarterback. He even won a Super Bowl with the New England Patriots in 2014 as practice squad quarterback.
Gilbert transferred from a sinking University of Texas ship and lifted the Jones offense to a position of relevance. He made SMU fun to watch again.