The 60th Annual Grammy Awards opened last Sunday with Kendrick Lamar, who took home four Grammys, including Best Rap Album for "DAMN." He kicked off the show with a fiery performance of his song "XXX" featuring U2 and a few spoken word pieces by comedian Dave Chapelle.
"The only thing more frightening than watching a black man be honest in America is being an honest black man in America," Chapelle said in the performance. A dark commentary on patriotism and what it means to be black in America, Lamar's passionate performance set the political tone for the night.
Other memorable moments of the night came from Kesha's performance following an emotional introduction by singer Janelle Monae.
"We are also daughters, wives, mothers, sisters and human beings. We come in peace, but we mean business. And to those who would dare try and silence us, we offer you two words: Time's up," Monae said.
The singer called for a reform to the music industry, imploring men and women to work together to change the current culture.
"Just as we have the power to shape culture, we also have the power to undo the culture that does not serve us well. So, let's work together, women and men, as a united music industry committed to creating more safe work environments, equal pay and access for all women," Monae said.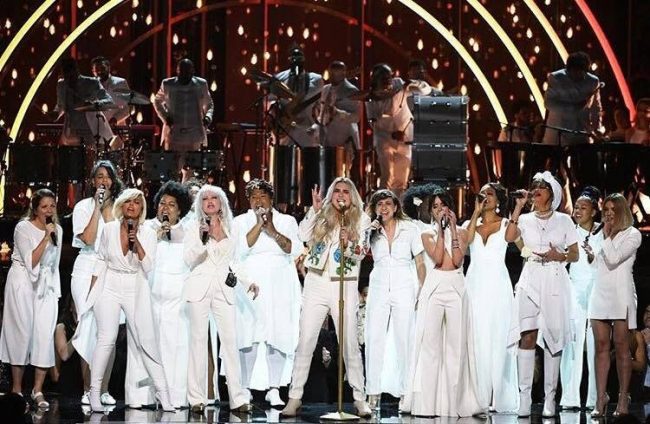 Nominee for Best Pop Vocal Album and Best Pop Vocal Performance Kesha took the stage to perform her nominated song, "Praying." Backed by a white-clad chorus of female vocalists including Cyndi Lauper, Julia Michaels, Andra Day and Camila Cabello, Kesha passionately told her story of redemption and anger stemming from the aftermath of her sexual assault lawsuit against former producer Dr. Luke.
https://twitter.com/rekrohn/status/957807070920654848
Bruno Mars swept the show, coming home with six awards, including Album of the Year, for which he was up against Kendrick Lamar, Lorde, Jay-Z and Childish Gambino. As an award show known for picking "safer" options, this came as no surprise to many.
Last year, Grammys played it safe by picking Adele over Beyonce.

This year, Grammys played it safe by picking Bruno over Kendrick.

Grammys gonna Grammys.

— Aléx Young (@AlexYoung) January 29, 2018
Even though the Time's Up movement was apparent at this year's Grammys, the lack of female representation in the winner pool was noticeable. Before the show began, there was some controversy over Lorde, the only female artist up for Album of the Year, allegedly not being asked to perform a solo act. The singer showed up in a dress with feminist prose from artist Jenny Holzer sewn into the back of her red Valentino dress.
"My version of a white rose — THE APOCALYPSE WILL BLOSSOM — an excerpt from the greatest of all time, jenny holzer 🕊🌹," Lorde said in her Instagram caption on a photo of the prose.
Although she gave a harrowing performance, Kesha was beaten for the Best Pop Vocal Album by British singer-songwriter Ed Sheeran for his album ÷ (Divide). Among others shut out were Jay-Z, who was nominated eight times and came home empty-handed. Newcomer SZA also left without an award, but not before she gave an energetic performance of her single "Broken Clocks."
Other winners included Alessia Cara for Best New Artist and LCD Soundsystem's "Tonite" for Best Dance Recording.
As the show came to a close, Bruno Mars emphasized the purpose of his winning album "24K Magic."
"Those songs were written with nothing but joy and one reason and for one reason only, and that's love," Mars said.