As school is winding down and finals season is upon us, some students are gearing up to finish strong and walk across the stage on May 19. Graduation can bring a wide variety of emotions, but it should be a time you can look back on with fondness. Graduation photos are a special way to commemorate your four years (give or take) at SMU. As a photographer, I have listed my top five tips on planning and taking your graduation photos:
1) Book your session now
Many talented student photographers at SMU take graduation photos for a reasonable price. However, availability for these photographers is quickly filling up with only a week left until graduation. My advice: book now if you haven't already so you don't miss out.
2) Pick out your outfit(s)
Find the most flattering outfit for you that shows off your style and personality. Consider wearing something with red or blue — but then again, white is always a safe bet for graduation photos. Talk to your photographer and see if they allow outfit changes… in that case, you can have both a dressy outfit and a more casual one.
3) Know where you want them taken
Your photographer will make sure to hit all the popular places – Dallas Hall, the Boulevard, a few of the many fountains – but my advice is to have an idea of places that are special to you, maybe in front of your majoring school or inside a classroom. If you're a student athlete, consider taking photos on the court or field. Think of places that will make your photos unique to you and your experience at SMU.
4) Bring props
Some of these are probably a given, but make sure to bring your graduation cap and stole as well as honor cords or pins you want to show off. In addition, some people like to bring other props like balloons, books, glitter or champagne to pop. These options are just another way to make your photos fun and tailored to your personality.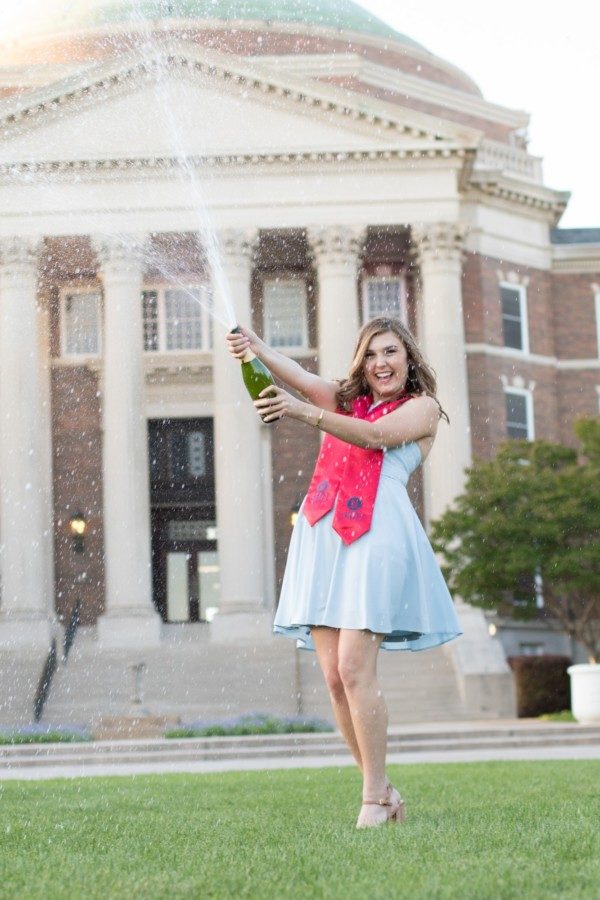 5) Have fun with it
Having your photo taken can be an uncomfortable experience if you tend to be more shy – especially if you are doing solo photos. However, a good photographer will do their best to reassure you and tell you you're looking great. My advice is to try to loosen up and just have fun with it – move around, laugh, use your props, resort to your inner-model. Once you get the finished product back, you'll be glad you opened up.