Balloons, banners and bratwursts brought Oktoberfest to SMU Thursday evening in the Hughes-Trigg Student Center. The German Club hosted their first major event on campus after weeks and weeks of preparation. Students were invited to fill the ballroom and eat traditional German food, decorate cookies, compete in contests, and mingle around.
As the members of German club set up the dazzling blue, silver, and black star-shaped balloons at different tables, Audrey Rockefeller, sophomore math and finance major, gave insight to the behind the scenes of Oktoberfest.
"Basically, since the beginning of the year" the German club prepped for the event. Once the date of the festivities drew closer they "advertised with a flier" and told colleagues in class to join them.
The students waited in line for their bratwursts and to-go bags of German snacks. After the excitement settled, a woman dressed as a pumpkin announced: "The first round of stein holding competition is now!"
Students gathered around a rectangular table, held their arms out straight and grabbed onto the root-beer filled stein for as long as they could. After four minutes, it was down to two boys with sweat dripping from their foreheads and arms quivering. Following a few more moments of cheering and shaky arms, there was a winner.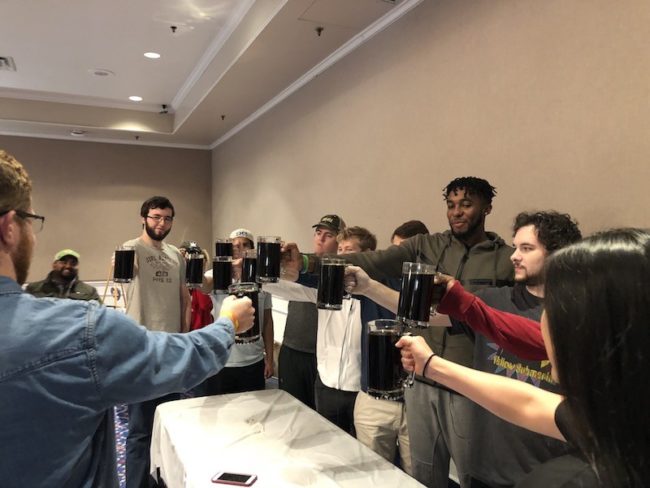 The president of the club, David Newton, counted the next round of competitors. He held a notebook in one hand and his phone in the other. Pacing around the room and speed-walking to each station, Newton was on a mission to make this event run smoothly. Two professors stood next to the decorating table, the stein competition, and the photo booth and advised the German Club students.
Steven Grollman "helped found the German club" and described that "when we first started a lot of it was on my initiative." He looked around and added in a proud tone "this was all done by the students." Grollman summed up Oktoberfest as "a way to get to know German culture in a kind of fun and casual manner."