After about a year into college, days start to seem similar. The route to one class is the same route to two others. Classes are in the same building, possibly in the same classroom, and depending on the major, assignments require little creativity. But the monotony of university life may be remedied if you purchase a plane ticket across the country to take exciting classes.
Each year hundreds of Southern Methodist University students study abroad in programs offered in Asia, Europe, Latin America, Australia and Africa. By studying abroad, students learn more about a country and practice skills through experiential learning opportunities.
Mara Weinstein, a senior majoring in fashion media and art entrepreneurship, traveled to Barcelona in Fall 2022.
When completing assignments in the Barcelona classrooms, Weinstein wrote from a prompt for 20 minutes and shared it with the class. Other days, she went around Barcelona and jotted down her observations.
"It was always fun to get out of the classroom," she said. "Both were pretty fun, and it was something that I had never done before because I don't believe that there are any SMU classes that have this same structure."
Weinstein wrote a fiction story from a flexible prompt for her final assignment, which helped expand her writing skills.
"The class gave me the ability to find my voice as a writer, beyond academic writing, and develop a sense of humor," she said.
For a new academic experience, senior marketing major Olivia Potthoff enrolled in a wine pairing course in Aix-en-Provence, France.
Potthoff's 3-hour class started at 8 a.m. because the teacher wanted to ensure students had a fresh palette. While wine tasting, Potthoff learned about the history of different wines, and she learned how to pair food with the wine afterward.
The class was practical and helpful, Potthoff said.
"This is the only class I subconsciously use now," she said. "I'll go get sushi and think, it's a white wine kind of night."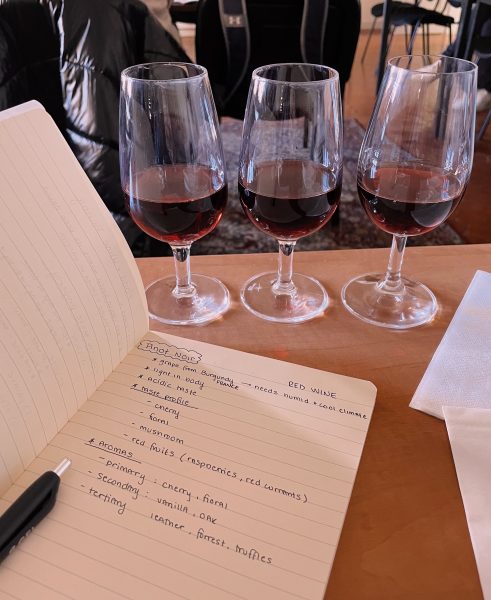 Like Potthoff, junior finance major Kennedy Phillips still uses the skills she acquired in her drawing course through SMU's Italy Arts and Culture Program in Orvieto, Italy in summer 2023.
"I'm a very analytical and mathematical person," she said. "I will draw in my own free time now, and that's something I've never been interested in."
During her drawing course, Phillips sketched different towns and museums, eventually sketching the ceiling of the Vatican City.
She experimented with a variety of art materials, from watercolor to charcoal.
"I think the course opened my eyes to this creative side of me that I have never explored before," she said.
Hope Whitcraft, a senior majoring in art and fashion media, took the same drawing course in Orvieto, Italy in 2022, and she became an art major afterward.
Whitcraft went to grassy areas with views of fields and mountain ranges and turned complex images into simple shapes.
"Not only was our art professor teaching us about drawing, but she was also teaching us what we were drawing," Whitcraft said.
For her final project, Whitcraft sketched the inside of the Duomo of Orvieto, a church in the city. She learned how to measure different areas of the church, which she described as "architectural drawing."
"I was proud of my work in Italy," she said. "My teacher abroad did a really good job of teaching a step-by-step process."
Instead of painting on a sketchpad, Ella Juergens, a senior English major, painted her face before performing a Sudanese dance for her dance class in Bali, Indonesia during her study abroad trip  in summer 2023.
Juergens prepared for a month for the dance with her instructor, a local Sudanese woman. After learning the dance moves, Juergens worked to put the dance in line with the song, and the final performance lasted five minutes.
"It was the best cultural and academic experience ever," Juergens said.
The SMU Abroad Office plays an integral role in students' abroad experience by helping students customize their abroad curriculum. The SMU abroad office offers courses in Barcelona during the semester and courses in the Mediterranean in January.
During the summer, the abroad office offers courses in Italy, France, Japan, and Oxford and offers internship programs in various locations.
"Courses focused on culture that is unique to the location of the abroad program have always been a keystone feature of abroad programs," said Christie Pearson, the director of education abroad.
Students choose study abroad programs with engaging courses to achieve their academic goals. By the end of the program, students are more prepared for life's next endeavors.
"In a globalized economy, employers demand job candidates with intercultural competence," she said. "Students studying, researching, or interning abroad encounter diverse global communities and intellectual traditions that will help prepare them to be engaged global citizens."