Southern Botanical's landscapers are on SMU's campus daily to make sure the campus is in pristine condition.
"We work very well," said Kevin Dilliard, SMU's Landscape Manager and Assistant Director of Maintenance and Grounds. "They are very responsive to what our needs are. If I have any concerns they respond right away. It's been a very good relationship."
Landscaping directly affects the human brain. The appearance of a campus influences both students and professors by encouraging a campus visit or deciding which university to attend.
"One of the researches I did 10+ years ago on my own was why students chose a university," Dilliard said. "Usually, in the top three-five range, it is the appearance of the campus. They know it looks nice, but people normally can't always tell you why. But when they see it, they feel it. It's a feeling of being at home. Sometimes it is a perception that if the university puts this much effort into the appearance of the campus, then they put that much effort into everything else."
SMU does the landscaping for the fraternities as well as East Campus. However, the Boulevard is a never-ending challenge for the SMU landscapers.
With all the foot traffic that comes with the Boulevard festivities, the healthy grass becomes dead and muddy after the pre-game. Southern Botanical has about 2 weeks in between games to plant new grass seed for the next Boulevard.
"The challenge is always trying to get things to look good all the time in the wide range of growing conditions we have out here," Dilliard said.
Shade from the trees is the number one challenge of keeping the Boulevard grass healthy. Southern Botanical uses a variety of grasses for the shade depending on warmer or cooler conditions.
But, do not worry about the trees leaving the Boulevard. They will always be on SMU's campus!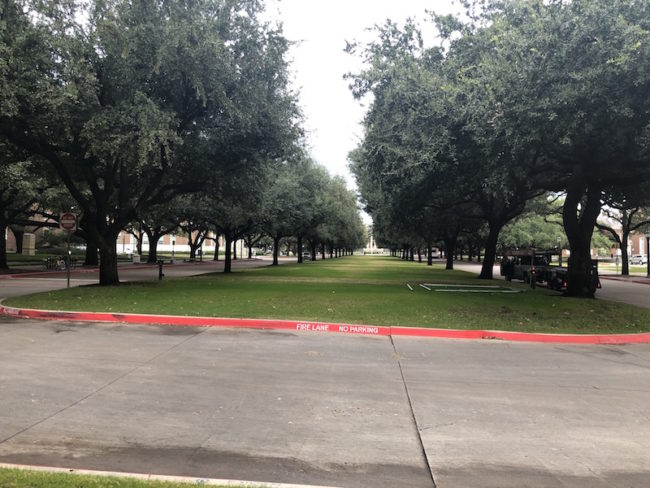 It's a team effort keeping the plants and grasses healthy on campus. Dilliard and Garden Manager Chandler Richmond drive around campus on Mondays and Thursdays to discuss certain issues or adjustments that have to be made. The campus has to look good all day, every day.
"When I got hired my boss at the time told me, 'You never know who and you never know when someone is going to be on campus,'" Dilliard said.
Sometimes, the "who" just happens to be pretty important.
Past Presidents Bill Clinton and George W. Bush were on SMU's campus over the summer. Dilliard only knew that because a picture appeared in the news.
To maintain its year-round looks, SMU is always about 2 seasons ahead.
Southern Botanical sends options and recommendations of what to plant for the season. They have the plants grown-to-order so they can ensure that the plants will be full-grown and full-color by the time they come to SMU.
"Sometimes things work so well in an area, we'll use the same stuff the next year," Dilliard said. "Not everything changes. Like on SMU Blvd coming in by the Bush Library, the plants there have worked great for two years. We may probably do the same thing next year."
SMU's landscapers do other things to help the campus save money and the surrounding land.
All the organic green material, leaves, and tree trimmings go in a 30-yard dumpster, which then goes to Living Earth. Living Earth then composts it to soil and mulch that is reused on campus.
SMU installed an automated irrigation system about 10 years ago. There is a computerized system at the Dawson Service Center with several controllers that run the irrigation around campus. The system can be programed up to two months in advance.
"Our irrigator can program it from his desk or on his phone," Dilliard said. "We have a weather station on campus, so whenever it rains it has an automated shut-off, or if it's too cold, or if it doesn't rain, it can make adjustments."
Each area on campus can be independently controlled depending on the amount of sunlight or shade the area receives. Irrigation can be run as much as twice a day or twice a week.
If there is a disease, infection, or insect problem, SMU uses Integrated Pest Management. This method monitors troublesome areas and uses the least invasive method.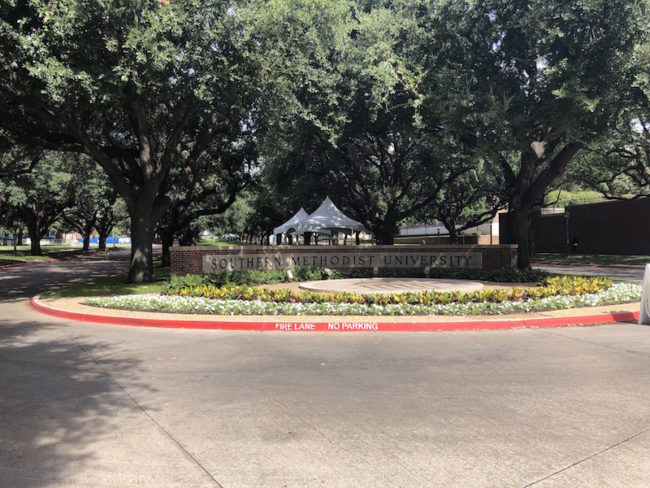 SMU landscapers also are in charge of holiday festivities.
SMU's Christmas tree comes from Michigan, and the process starts months in advance. The local company that SMU works with goes up to Michigan to take pictures so President of SMU Dr. R. Gerald Turner can approve the tree.
"Actually, we had two trees he could pick from this year," Dilliard said. "I think this year is going to be the tallest one we have ever had. It's like 33 feet tall."
Over the years, SMU received 9 awards, both Honor and Grand, from an organization called Professional Grounds Management Society. The process requires an application and PowerPoint presentation with detailed pictures and information.