The "Good Hair" study, conducted in 2016, concluded that one in five black women feels social pressure to straighten their hair for work.
Recent SMU graduate Naomi Samuel created "Business Natural," a photojournalism project designed to help shift this perspective and convey the message that natural hair is not only professional, but also beautiful and powerful.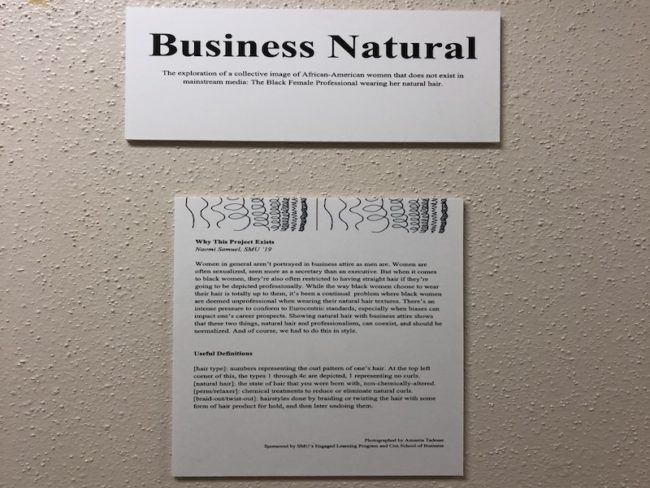 Samuel's project is a collection of black women photographed on campus wearing their natural hair, and is displayed in the Cox School of Business. The photos also include descriptions of their personal experiences with their hair and social pressures they have faced.
"Definitely walking past it I just feel a strong sense of pride. It was a huge privilege because these women are powerful," Samuel said. "Seeing their faces on the wall, seeing all the words, it just makes me feel like we set up camp for black women there."
Samuel got the idea for the project after cutting her own hair the summer before. Her hair had been so damaged after constantly straightening it, so she decided to take the plunge and cut it.
"I remember with every dead piece of hair that fell in the trash can, I had felt lighter and freer," Samuel said. "I just knew I was making the best decision for myself."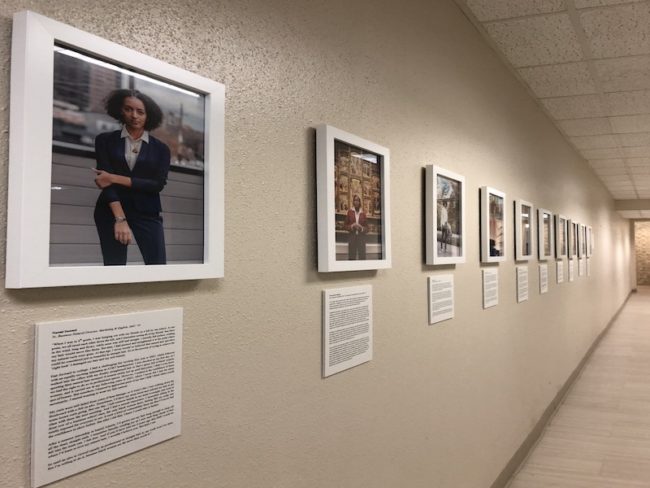 Samuel said that she was inspired by the insecurity she had with her own hair at the time.
"The women who were part of the project had beautiful, luscious natural hair and mine was kind of barely growing back," Samuel said.
Samuel said she was struggling to find confidence in her hair, just as she was also trying to find confidence in a school that was predominantly white.
Samuel worked alongside many people for the project. One of her friends did the photography, a local thrift shop supplied the suits, and she found her models through word of mouth and mutual friends.
"I think I was just lucky enough to have a network of people who had the right skills and were willing to support me and trust me to help style them," Samuel said.
One of her models, India Simmons, said that she hopes both professors and professionals see the display.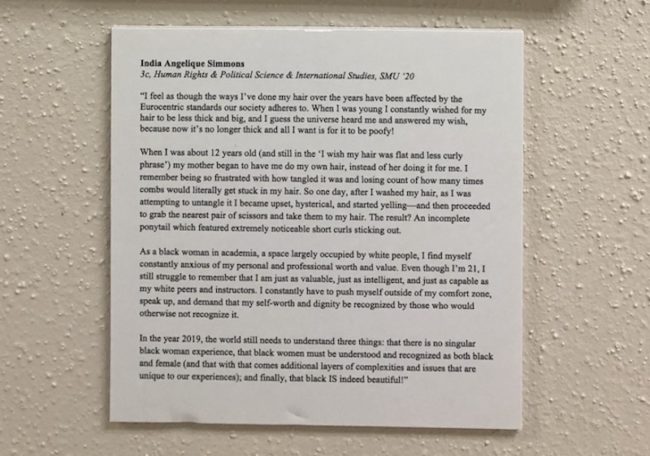 "We can be professional with our hair natural as it is. It doesn't have to fit the status quo, or the standard, or the European model," Simmons said. "For us to show up with our hair natural and with our hair out, it's still as professional, It's still as accepted, and we're still meant to be taken as seriously as our other counterparts."
Upon seeing the final project, Simmons emphasized how empowering taking part in the project was for her.
"It made me want to do it again, be even more powerful. Like I felt like I was holding back the first time," Simmons said. "I saw it and I was like 'I can do more. I can do more than that. I can be more than that.'"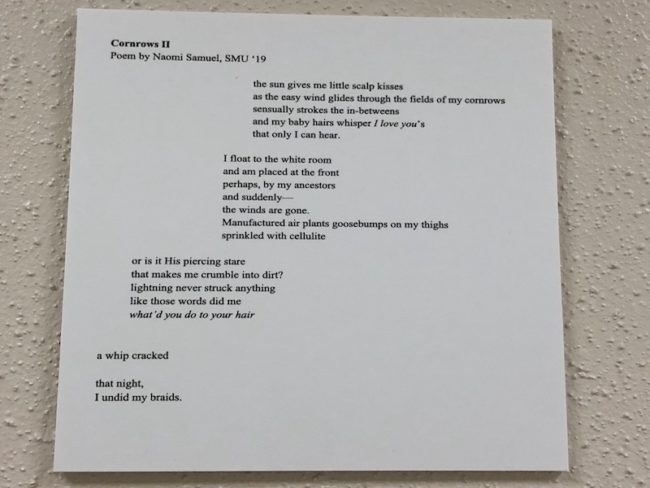 This year-long project inspired Samuel to continue advocating for natural hair, especially in places that are predominantly white, like the Cox School of Business.
"I'll never again question whether or not I belong there because I know that I do," Samuel said. "[The project] really solidified my own anchor at the school."
Editor's Note: Edits have been made for clarification on an earlier version of this article on Feb. 24, 2020.