It's 11 a.m. on the Monday after spring break.
If this were a normal time, students, faculty, and staff would be returning to the rush of school. I would have already attended my first class and started walking to my next with an hour to spare.
But things are not normal. Fondren Library's lights are off, and Southern Methodist University Facilities blocked off at least two entrances. A strip of tape covers the side entrance to Hyer Hall.
Students do not have to watch out for bikes, skateboards or electric scooters as they walk across campus. Cars are not circling Bishop Boulevard. Commuters do not have to fight for parking spots. There is no exchange of students walking in and out of Virginia-Snider Residential Commons. Only a few people are seen walking on SMU's campus amid the loneliness.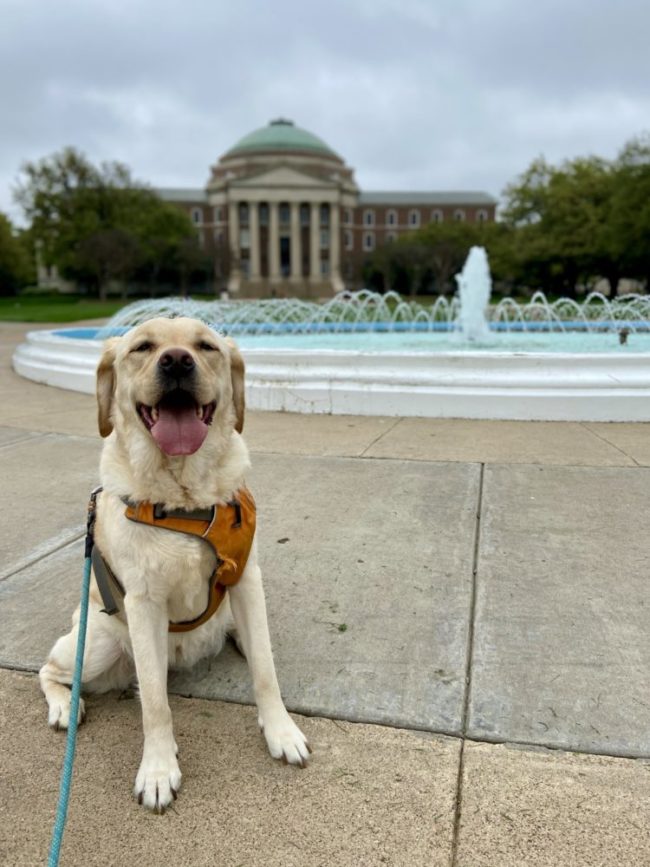 For the next few weeks or possibly months, this will be the new state of normal at college campuses across the country. The Friday of spring break, SMU moved its classes online through the remainder of the spring semester as a precautionary measure to keep students, faculty, and staff safe from the spread of the coronavirus.
The campus is now for students who have returned home from other universities to the Park Cities after their classes moved online. It has become an escape from the pandemic continuing to unfold on their televisions.
Monday morning, everyone was cautious to keep at least six feet among them, which included the lawn crew who was blowing leaves and continuing to maintain the Dallas Hall lawn.
Freshman Virginia Fielder left campus, yet she remained in the Park Cities, returning to her local family home a half-mile away. Fielder was walking six feet away from me in the Quad.
"Most students feel discouraged," Fielder said. "Everyone is bored and misses their friends and routines."
Fielder misses the college experience and wishes it was safe for students, faculty, and staff to return to campus and resume classroom instruction.
Some professors believe recorded lectures, such as Panopto, are the best format for them in which to operate. Other teachers plan on recording lectures directly into a PowerPoint on Canvas, so their students can listen. Though, most professors believe the best format for their class discussions is over Zoom, Slack, Google Hangout, Skype, or the phone.
Sophomore Daniel Jacobs sits across from me in the class I would usually be in at noon. Now, he's taking his courses from his family home in Long Island, NY. For him, the transition to online classes has been relatively smooth.
"Online learning, especially the way we are doing it, is working pretty well," Jacobs said. "Zoom is alleviating concerns of online [classes] and making it easier to connect and learn. There is no replacing being in class, but Zoom does a good job, especially with the share feature."
At this point, SMU reduced the number of people working on campus until April 3 for the welfare and safety of the SMU population and the Dallas community. According to the email President R. Gerald Turner sent Friday, SMU moved to essential personnel-only status, including the athletics department.
"The ability to connect with coworkers on Zoom, FaceTime, and other tools have made the transition easy and efficient, and I am enjoying the extra time with my family," athletics administrator Mariah Chappell said. "I believe we can be very productive and efficient working from home with the help of technology, something I am incredibly appreciative of during this time."
There were eight bikes chained to bike racks throughout campus, symbolizing the hope many students had to return by April 6. The announcement made before spring break was that classes would only be held online for two weeks, so many students had return flights for that weekend. In addition to bikes, students such as Fielder left possessions they wish they had packed before spring break.
"It was very annoying," Fielder said. "I left some textbooks behind. It has not been chaos, but I left necessary [possessions] behind."
To comply with health restrictions, Fielder could not retrieve her belongings until she received guidance from Residence Life and Student Housing (RLSH) Friday.
It is hard not to feel as though the world is closing in on us, but as I walked through the Quad and took in my surroundings, I looked up to the sky and breathed in the familiar Dallas air. The Monday following Spring Break begins the countdown to finals, summer, and for some students, graduation, all of which is likely to take place far away from campus.
To all graduating Mustangs, may you find your way back to the Hilltop one day.