Editor's Note: Updated to reflect the results of the treasurer run-off election.
Results for the 2020 SMU Student Senate elections were announced April 9. Junior Molly Patrick was elected as Student Body President, while sophomore Austin Hickle was elected as Student Body Vice-President. First year Brooke Betik was elected as secretary. Sophomore Greta Felten was elected as treasurer after the run-off election results were announced on April 16.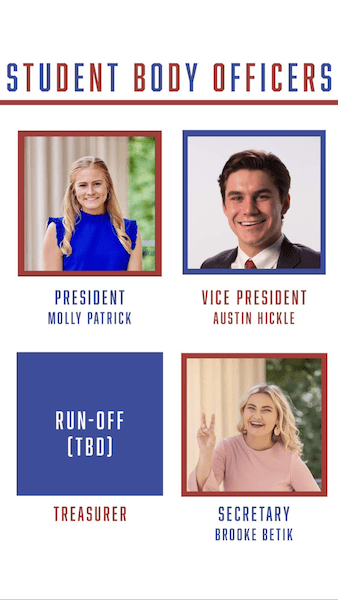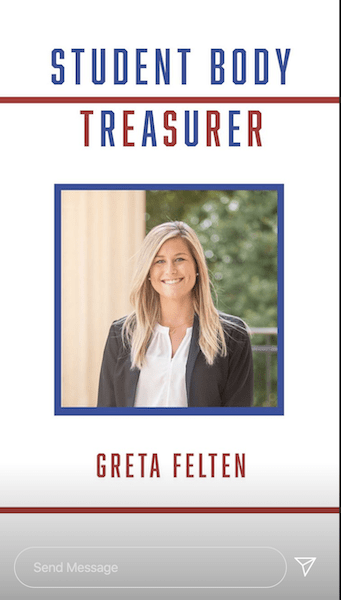 Patrick wants to take the time to thank the student body for helping her realize a dream she had since she stepped onto SMU's campus as a senior in high school.
"I am unbelievably grateful the student body has placed their trust in me. I promise I won't let y'all down," Patrick said. "Pony up and stay safe and healthy during these challenging times. I can't wait to see you all back on our campus come Fall."
Additionally, Betik says she is "beyond excited" to start her new role in the Fall.
"I hope my passion for the SMU student body and my work over this upcoming term proves to you how important this position is to me," Betik said.
Like Patrick, Betik also wants to extend thanks to the student voters. She encourages them to reach out to her on social media, by text, or by phone about issues they are passionate about on campus in order to start conversations early.
"Without the support of all of you incredible people, none of us could have won our campaigns and the same is true for the work done in our positions as student body officers – we can't do any of this without you," Betik said.
For more information, please visit the Student Senate website or follow @studentsenate on Instagram.