Alex Alarcón and Faith Bombito will be SMU's next student body president and vice president after a runoff election vote Tuesday.
Alarcón's campaign for president was built around the slogan of "All in with Alex," where he stressed the importance of restructuring SMU's Student Senate. Alarcón ran on issues that directly affected students such as the need to reform parking, outdoor seating and mental health.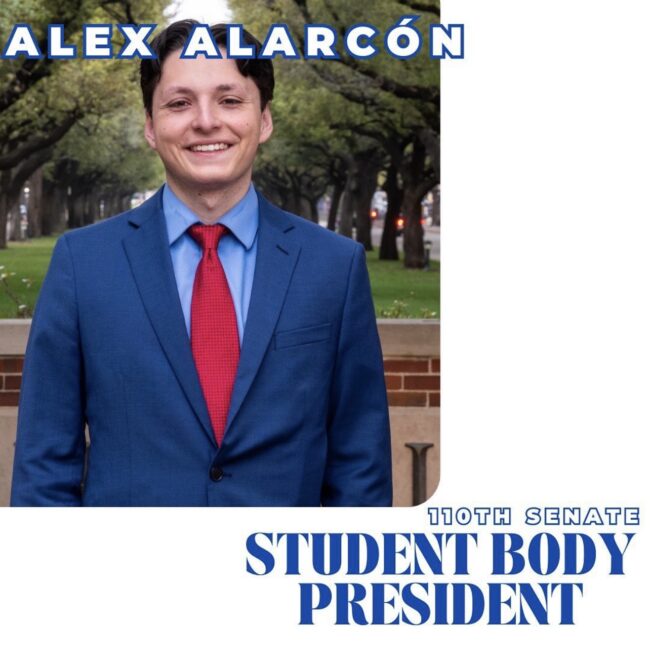 Alarcón defeated Hope Heiden in the runoff. Heiden's campaign, "Our SMU," focused on enhancing the freshman and transfer experience, cultivating conversation between students and Senate and increasing campus sustainability.
Last week, a third student body presidential candidate, Tulsi Lohani, was disqualified due to an election code violation involving expense reports. A runoff between Heiden and Alarcón was announced shortly after.
Alarcón is already looking ahead to the changes he can make on campus as SMU's new student body president. He plans on "reshaping the Senate's structures so our Senators have more flexibility and can efficiently address student concerns," he said.
Alarcón thanked his campaign team, friends, and voters after his win was announced.
"This is not my win but our win," he said. Alarcón acknowledged Heiden and Lohani, saying he has "nothing but respect" for them and their voters.
Bombito's campaign focused on supporting all organizations across campus, counseling reform and bringing attention to underfunded programs. Bombito defeated fellow VP candidate Krish Madhura in the runoff.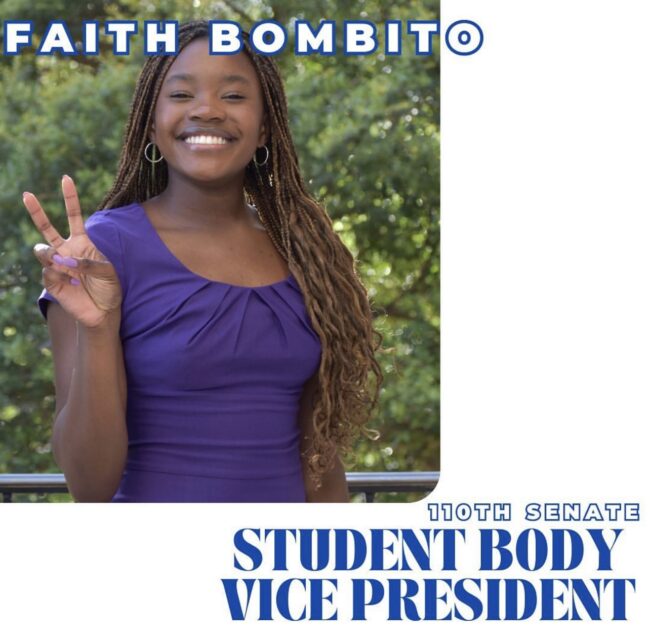 "I'm most looking forward to working with specific organizations and connecting them with other people," Bombito said, referencing a recent collaboration between SMU's Arab Culture Club and Sigma Chi that was facilitated by other Senate members. She hopes to cultivate similar collaborations on campus between student organizations.
Bombito is the first Black woman to be elected student body vice president at SMU.
"I think it shows the direction SMU is going in," she said.
Bombito is also meeting with SMU's new Director of Counseling soon to bring student concerns about counseling to the forefront.
Bombito also noted that she wants to keep in close contact with her opponent, Krish Madhura, to ensure his initiatives are also implemented.
"I really just hope to bring a lot of optimism, light and energy to this chamber," she said.
The remaining 110th Senate Body Officers are Michael Castle, student body secretary and Clayton Meyer, student body treasurer.