As racial tensions continue in the United States, local student leaders have decided to take action in their communities to promote change. SMU Student Senate is working with colleges across the Dallas Fort-Worth area with the hopes to do just that.
Southern Methodist University's student body vice president, Austin Hickle, wanted to use his position on campus to enact change on a larger scale.
"I wanted to bring together student leaders from across DFW," Hickle said, "I felt like this was important because as student leaders, we help represent our generation's voice in this cause."
Hickle reached out to several university student government associations that he hoped would want "to stand together and demand a better present and pathway forward."
As a result, Texas Christian University (TCU,) Dallas Baptist University (DBU,) University of North Texas (UNT,) Texas Woman's University (TWU,) Texas Wesleyan University and Paul Quinn College have partnered with SMU to create the DFW Student Coalition for Justice.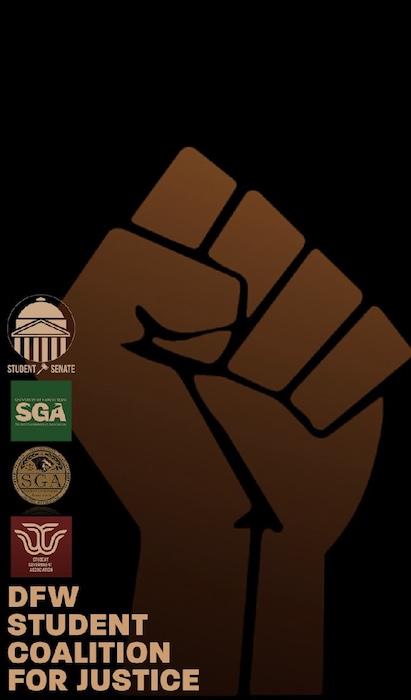 On June 7, the student leaders participated in a Zoom call, interacting with one another for the first time, and began to discuss a plan of action.
"Everyone was so excited," Hickle said, "What was amazing about that call was that everyone was ready to work together, everyone wanted to create change and we wanted to figure out how."
Members of the coalition have established a GoFundMe where all of the donations will be equally distributed to The NAACP Legal Defense and Educational Fund, The Equal Justice Initiative and For Oak Cliff charities.
"[Student Senate's] main goal is to try and support the Black Lives Matter movement, and we want to put our money where our mouth is," Student Body President Molly Patrick said.
Patrick shared that the coalition marks the first time SMU Student Senate has collaborated with other schools in the four years since her initial membership.
"We've never really taken a stance on social issues going on in the world," Patrick said. "It's been good to see Student Senate this semester taking a stance on these issues. It's allowed us to identify issues on our campus."
Several Black members of the SMU Student Senate, such as Maura Mangum, have been actively contributing to the process of bringing the coalition to life. Mangum currently serves as both Vice President of The Association of Black Students (ABS) and Senate's Membership Chair.
"To see how driven my peers are to support myself and my community gives me hope that Student Senate will continue to help us push the University to uphold the demands that our Association of Black Students presented to President Turner," Mangum shared said.
Although the coalition is meant to have a greater impact on the DFW area, student leaders apart of the coalition, such as student president of Paul Quinn College, Ayanna Watkins, feel that the impact can also be more personal.
"[The coalition] is an opportunity to learn from each other and to actually build a coalition that has substance," Watkins said, "Although [Paul Quinn College is] an HBCU, there is never a moment where we can't educate each other."
Several hashtags and trends have been spread throughout social media in an effort to show support and share educational resources about the Black Lives Matter movement. Among them are #Blackouttuesday, #BlackLivesMatter and posting a black square to social media accounts.
In total these trends and hashtags have accumulated over 44 million posts worldwide. ABS Political Action Chair and African American Senator Sparrow Caldwell shared that she acknowledges the social media display of solidarity but more can be done.
"A black square on your social media is an okay first step but now you need to take it a step further and educate yourself and participate in this movement, and one way to do that is through this coalition," Caldwell said.
Since the GoFundMe's creation on June 17, the fundraiser has reached almost $5,000 out of its $10,000 goal. Hickle shared that the fundraiser was only the first step "within itself it is not enough" in the push for change, not only at SMU but the DFW area.
"I want SMU to use this as a stepping point to realize that financial contribution can make a big difference," Caldwell said. "I think this coalition draws attention to the lack of funding for Black events, Black lives and Black initiatives."
The past few months for SMU Senate have been transformative. From COVID-19 to the DFW Student Coalition, Student Senate is taking on a new role with more impact in the culture of the student body.
"In the past, specifically with COVID, Student Senate has realized its importance in bridging that gap of communication between students and administration," ABS President and Student Senate Chief of Staff Lexxi Clinton said.
Looking to the future, the coalition is bringing about an era of change and progress not only within the DFW area, but for SMU.
"Overall I find that I want people to see this fundraiser as a representation of the University saying that change has to happen and it has to happen now," said Mangum.