The SMU Meadows dance department ditched the term 'brown bag' this year and traded it for stage lights as the Student Choreography Showcase was live-streamed for the first time from the Bob Hope Theatre in the Owen Arts Center from October 5 through 9.
Dance students from the Meadows School of the Arts refined their choreographic voices by setting pieces for their fellow classmates for the Student Choreography Showcase, formerly known as the Brown Bag Dance Series.
Junior dance performance major Haley 'beth Cain, enjoyed performing after months of being away from the stage.
"It definitely felt more like a formal performance because we were on the stage with lights, which was, I think, an incredible atmosphere because over the past like few months we've been quarantined and we haven't had that experience," Cain said.
Cain and junior dance performance major Annalise Jackson co-choreographed a contemporary ballet piece titled "Arrival" with music by Jóhann Jóhannsson. For the showcase, the dancers utilized lighting and staging in the Bob Hope theatre instead of setting a piece in the lobby of the Owen Arts Center as in previous years. The dancers were also required to wear masks during all rehearsals and performances.
Although the livestream changed the showcase in many ways, it also provided incredible reach for patrons to enjoy the Meadows students' choreography from anywhere. Sophomore and corporate communications and public affairs major Catie George said that the livestream did just that.
"The digital format of it made it a lot more accessible for people who might admire the arts, but maybe don't have the time to go out and watch it," George said. "Also, the fact that students could work with lighting this time around I think really enhanced the experience and made it a lot more visual."
Before rehearsals started, the dance students had to audition their pieces before an adjudication panel to get approved for the show.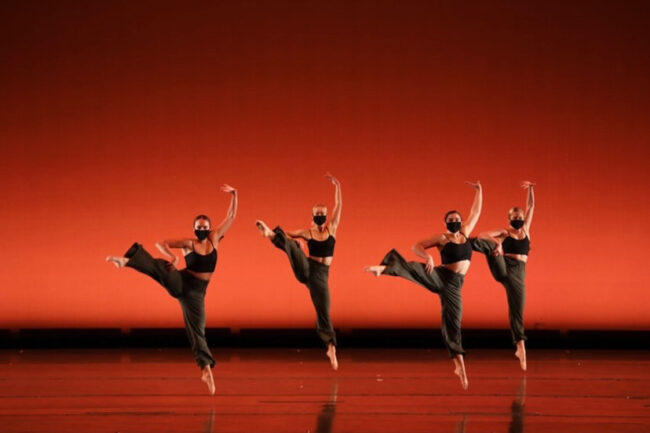 Visiting artist-in-residence in ballet at Meadows School of the Arts and New York City Ballet veteran, Silas Farley, said that the showcase allowed dancers to transition their work as students of dance into teachers and communicators.
"The dimension for those who choreographed on others or who choreographed themselves into larger pieces was just that practice of working with a group of dancers, to communicate clearly, and to really be a teacher," Farley said. "To not just be able to be someone creative who has ideas but then to be able to successfully and effectively communicate those ideas to a group of dancers."
Cain said that it is a vulnerable experience to display her choreographic work for the first time.
"That's always kind of a scary first experience because it's your work, so people are judging what you are doing versus someone else's work that you are dancing," Cain said.
The innovation of dance showcases continues as the Meadows dance department plans to livestream performances for this year. The annual Hope Show will be recorded live from November 11 through November 15.
Farley said choreographers have a unique opportunity for the showcase, as they will be utilizing several cameras for filming.
"They'll get to film with multiple cameras at once, potentially like a multi-camera live shoot, where the choreographer can call specific shots, which is just unprecedented opportunity for the choreographers," Farley said. "Normally, they have a single camera capture of something or a close-up capture, but rarely do they get the opportunity to make television like camera changes."
The dance department continues to be innovative in their approach to this performing arts season. Support the arts this fall for Meadow's first-ever livestream of the Hope Show.