SMU Counseling offers services as more students deal with greater anxiety and stress that has risen from the pandemic.
Drishti Sachadeva is a sophomore at SMU double majoring in business and fashion media. Her dad is in an at-risk population for COVID-19, so she had a stricter lockdown than most students. After SMU moved to online classes in March, she rarely got to leave her home in The Colony, a suburb of Dallas.
It was a special occasion when she got to have friends over for a socially-distanced outdoor gathering.
Most of her interactions were either via phone call or FaceTime. Hanging out, which used to be simple, was complicated under the conditions of her family-imposed lockdown.
Sachadeva noted that she had a lot more time to think, while at home, which she said heightened her anxiety. She no longer had ready access to some of the coping mechanisms that help her process stress.
"Social outings and interactions help me calibrate both school and pandemic stress," Sachadeva said. "To stay in touch with people, it was a lot of phone calls and FaceTiming, and I didn't get to see my parents a lot."
Sachadeva's mental health concerns are hardly unique. An April 2020 survey by the nonprofit Active Minds found that more than 90% of college students reported increased stress or anxiety as a result of the coronavirus, and the quarantine measures that followed.
The survey showed that students are struggling to adapt to the new normal, including isolation and social distancing requirements. According to the survey, 63% of respondents said that they had trouble staying connected with others. More alarmingly, 55% said that they would not know where to go in the event that they needed mental health help right away.
SMU's Dr. Bob Smith Health Center offers help for struggling students, but Cathey Soutter, PhD, LPC, the director of Counseling Services at the health center, said some may not know how to reach out.
"We give out information about the services we provide during orientation, but many students may not keep it handy," Soutter said.
Counseling Services has a link for resources to call during an emergency on its website. When the pandemic hit, the center also sent out email blasts containing information on how students can access counseling services.
The center also used technology to pivot and offer more telehealth options during the pandemic. Officials even integrated greater security to Zoom sessions to make sure that virtual appointments with students were safe and confidential.
Soutter said it has been difficult and confusing for many students to take some or all of their classes online, leading to more mental health concerns.
"It's easy to be disengaged online when you're sitting at a computer all the time," Soutter said, noting that more students are coming to the center compared to this point in 2019. "It's important to reach out when you aren't doing or feeling as well."
A series of tips on caring for your mental health during the pandemic is available on the Mayo Clinic website. Some of the key tips are limiting screen time, getting enough sleep, staying connected with others, and setting aside time for yourself.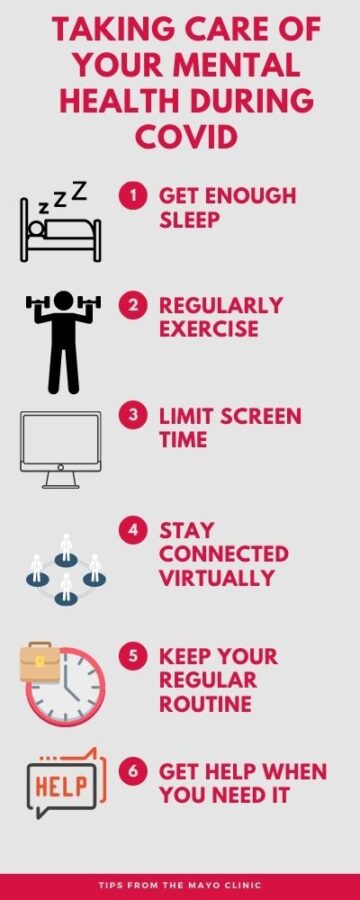 "Start asking 'what is inside my circle of control?'" Janie Stubblefield, MA, LPC-S at Mobile Counseling LLC in Dallas, said. "Then, do something about it."
Stubblefield believes that students should not sit around and do nothing in lockdown. Instead, they should stay connected with their friends and community. She said that the technology to stay connected exists, but it is up to individuals to use it.
Taylor Enslin is a junior at SMU triple majoring in political science, public policy, and history in addition to being a residential assistant and Tower Scholar. She said her mental health worsened while living at home after the university closed in March.
"COVID-19 was a wake-up call," Enslin said. "I was coping well in school, and my coping mechanisms were all taken away when we went online."
Enslin had a well-established routine at school and a circle of control that was suddenly taken away when the university transitioned to fully remote instruction. Previously, her anxiety, which she called "situational," was under control. But she became more anxious in lockdown at her Garland home.
As she noticed her anxiety worsening, Enslin decided to get help. She started seeing her counselor more frequently in an attempt to process her feelings. Enslin said she was ultimately prescribed medication but is thankful that she sought out help because she was beginning to struggle academically.
The Active Minds survey found that 85% of students found it difficult to focus on work and school despite distractions during the stay-at-home orders.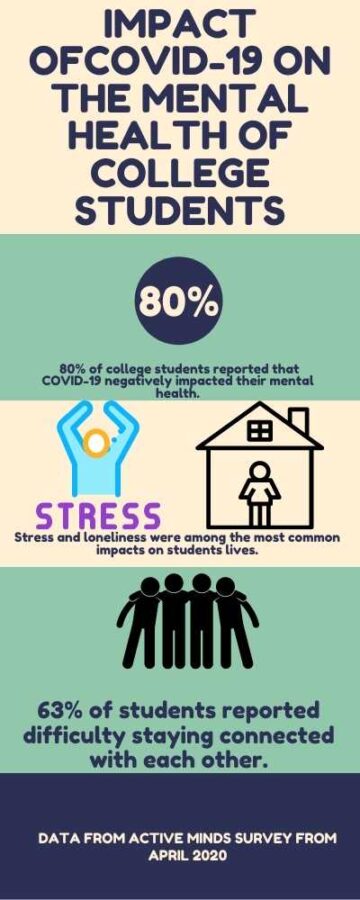 "I genuinely thought I wasn't going to be able to finish the semester," Enslin said.
Now that she is back on campus, she finds that it is easier to focus. She said that if the events of March 2020 were to repeat themselves, she would likely opt to stay on campus or find a place other than her parent's house to live.
"I would hesitate to go back home if SMU went back online, Sachadeva said.
Sachadeva thinks that part of the problem for the rise in stress in March was the scramble to transition classes online. She said that professors seem more prepared to conduct class online this fall and that she's a little more engaged than when she was at home.
At home, engagement is a source of emphasis for Stubblefield. Her company previously offered in office or telehealth options but has now gone exclusively remote as a result of the pandemic.
Stubblefield counsels several patients currently, but when she is not counseling, she is using her free time to research how people coped during previous pandemics.
In her research, Stubblefield found that famous figures engaged in learning new skills or in-person inquiries. She views the lockdown as an opportunity to be creative with time and a time to utilize an opportunity that does not always come around.
She discovered that Sir Isaac Newton was sent home from Oxford during the bubonic plague in 1665. While he was at home, he pursued interests he never could have pursued while in school, and it kindled an interest that led to his theory of gravity and his laws on physics.
Still, students and counselors say there are plenty of barriers to the new normal.
Enslin said there are fewer places to study on campus since study rooms in commons remain unavailable and the library limits capacity.
Sachadeva said there are fewer opportunities to interact and network with professors and run into friends on campus.
"The thing I miss the most is not seeing 20 people every time I walk into Umph," Sachadeva said. "Now, I just get takeout and go back to my room."
Soutter said life just does not feel as normal as it did earlier in the year.
"The predictable nature of wearing a mask everywhere and going into isolation if you test positive for COVID-19 doesn't feel natural," Soutter said. "That's because we're social creatures."