Parents from the Anti-Hazing Coalition (AHC) spoke Wednesday night at McFarlin Auditorium to the SMU Greek community as yet another Greek organization is facing hazing allegations, according to sources familiar with the situation.
SMU's Beta chapter of Pi Beta Phi allegedly hazed their new members which was captured on video earlier this month. Several Daily Campus reporters saw the video, which shows new members in lingerie with writing on their bodies as part of a hazing ritual.
Melinda Sutton, SMU's Associate Vice President for Student Affairs and Dean of Students, said the university takes allegations of hazing seriously and investigates reports consistent with university policy and its obligations under the law.
"The university does not discuss any ongoing investigations," Sutton said.
Pi Beta Phi is the second sorority in recent months to face hazing allegations. Kappa Alpha Theta's SMU chapter is suspended through May 15, 2024 after forcing new members to consume alcohol and adversely affecting their health and safety, according to SMU.
"These violent acts of hazing, we dress them up with words like ritual, tradition and brotherhood or sisterhood. But we need to call them out for the barbaric acts that they are," Kathleen Wiant of AHC said.
Wiant and Evelyn Piazza both lost their sons to fraternity hazing. During their presentation, they shared their sons' stories and urged SMU students to be aware of the dangers of hazing.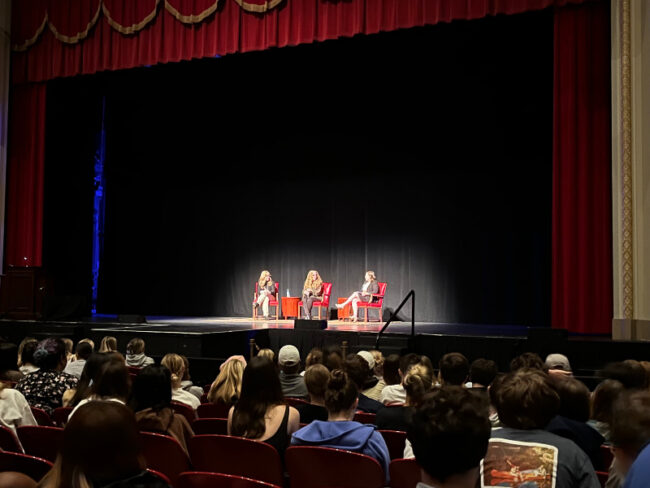 Wiant's son, Collin, died of asphyxiation November 2018 after being forced to consume nitrous oxide by his Sigma Pi brothers at Ohio University. Fraternity members waited 12 minutes to call 911.
Collin was known for his smile and ability to stand up for himself, Wiant said.
"I dug in to understand how someone who didn't seem to fit the stereotype of a hazing victim could die from hazing," she said.
Piazza's son, Tim, died after falling down a flight of stairs during a hazing ritual in February 2017 where he was forced to consume large amounts of alcohol by his Beta Theta Pi brothers at Penn State University. Fraternity members waited 12 hours to call 911, and Tim was pronounced brain dead shortly after.
Piazza urged students to put themselves in her shoes.
"Think about this being your loss. Think about this being your pain," she said.
There has been at least one hazing death every year since 1959, Piazza said. She emphasized that students need to speak up when they see something dangerous in their organizations.
"Think for yourself. Trust your gut. You know when something's wrong," Piazza said. Tim's fraternity brothers waited hours to call 911 while he lay unconscious on a couch. "They knew something was wrong, and they didn't call for help."
Texas gives citizens medical amnesty, Piazza explained.
"This means that if you call for help, both you and the person you call for will be spared from prosecution," she said.
Students should be aware of the repercussions of hazing someone in the state of Texas, Piazza said.
Hazing is a felony in the state of Texas. A person can be found guilty of hazing for hazing, for encouraging hazing, for permitting hazing, for having knowledge of the planning of hazing events and failure to report, Piazza said.
Students need to educate themselves to be able to recognize hazing in early stages, Wiant said.
"Our boys are no different than you all," Piazza said. "They went away to college and wanted to find a home away from home. They wanted a brother when they couldn't be with their own. They wanted to feel safe and like they mattered. Please take these words back to your organizations across campus. Put an end to hazing."
Attendance at the event was mandatory for all members of Greek life.
The university releases a statement on hazing at the beginning of each academic term, Sutton said. If an organization is found responsible for violating the SMU Student Code of Conduct following an investigation, that information is posted on the Student Organization Conduct Status website, she said.
To anonymously report hazing, students can text 205TXT2SMU.