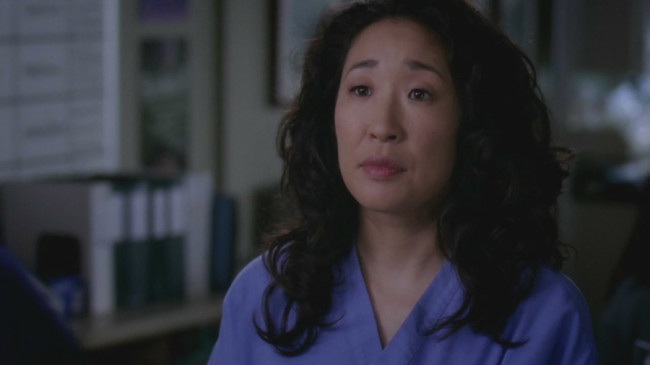 If you've followed "Grey's Anatomy" from the beginning, you'll have gotten to know Christina Yang. You'll understand that she's Meredith's "person" and why. You'll understand that she's changed and how. More importantly, and most recently, you'll understand the pain in saying goodbye to yet another character that has been around since the start.
In recent weeks, there has been a lot of hype leading up to this week's episode, "Farewell to Christina." Social media has taken to sharing things like "favorite" or "best of" Christina moments compiled from over the years. All of this, in preparation for Thursday's episode in which Grey's fans and potentially Grey's characters will see Christina for the last time.
As with any character leaving a show, and particularly one that has been around for so long, questions are bound to circulate in regards to why a beloved character might be leaving. For a moment, I'd like to focus on Christina, not Sandra Oh, the actress that has played Christina Yang for over nine years. So, why is Christina leaving?
While I only know as much as any other Grey's follower, I think my observations are worth considering as reasons for why Christina is leaving the Grey-Sloan Memorial Hospital.
The only connection I'll make between Oh and her character is what Oh told The Hollywood Reporter: "Creatively, I really feel like I gave it my all, and I feel ready to let her go."
Christina, similarly, has truly come full circle since her start as a surgical intern.
From the beginning, Christina has been the surgeon with an incomparable edge––an edge as sharp as the stainless-steel scalpel she loves to hold. This is something that has remained unchanged about Christina; she has always been seemingly the most unwavering, unbreakable of the bunch. However, Christina has proven that there are things that can touch her in soft, more human forms.
Even in her early days, Christina has known what it is to laugh and be witty, despite her steely persona. She has known what it is to let loose, get drunk and dance on a table with "her person," Meredith. She has experienced love and love lost. She has cried and has felt. She has known, and still knows what a heart is, how it functions and when one is too far gone to save. Christina may be a blade of steel, but she also knows what it is to be human.
In last week's episode, after years of hard work being nominated for the prestigious Harper Avery Award, she was robbed of her award. She learned that though she had the votes to win, because of politics, she didn't receive her well-earned award. It's at this moment that she asks, "What's the point?"
This question bears enough weight, but to hear Christina Yang pose that question, then walk out of the hospital and into the Seattle night is more unsettling than usual. It is unsettling because we know that Christina is leaving––for good.
"What's the point" then, after all these years of Christina on the show, why should she leave now?
I think Christina may have reached a point of no return. She has reached her end –– her flatline that cannot be helped in finding a pulse. After all her work, and what she has given to the hospital, to her patients, to the practice of surgery as a whole –– "what's the point" when she can't go any further?
Although Christina has shown her ability to feel and her ability to be human, there is one thing about Christina that has made and still makes Christina, Christina: her drive to be the best. Now, she knows that she has reached her best as a surgeon, being nominated and unrecognizably winning a Harper Avery. And yet, she didn't get what she earned. She was robbed and it's as simple as that. So, to Christina,
"what's the point?"
Christina has nothing left to work toward; there is nothing left for her to achieve. And even when she has been forced to make an "impossible decision," she made it in this last episode: "It was an impossible decision, and I stand by it." Even as a mere human being, she has been forced to make calls as a surgeon that no one would willingly want make. Her choice to leave is an impossible decision, but she made it. And knowing Christina, she'll stand by this decision because she knows what's best, especially for herself.
That's just it, too: Christina is her own person. While Meredith is "her person," and Christina, hers, Christina has also always been her own person, first. How else has she miscarried a child, divorced and yet simultaneously made her way to the top in regards to surgical honors? She has truly done it on her own.
While we have yet to know where Christina will go when she leaves the show Thursday, and while we have yet to know what will become of her, we do know one thing: she is doing it alone and for the best.
It's safe to say that Grey's fans will miss Christina as much as Meredith will miss her; we should bear in mind, however, that Meredith has another person that has also been with her from the beginning: Derek Shepherd. Christina can let Meredith go, and Meredith should know that she can let Christina go.
Though in some respects Christina and Meredith will always be one another's "person," we all know that Christina has always been her own.
Thursday will be a difficult goodbye, but I think Christina Yang will be just fine. She has always known what's best, and she knows when something that can't be saved.
So, "what's the point?" Well, who knows, but Christina knows it's time for her to move on to whatever might be next for her.