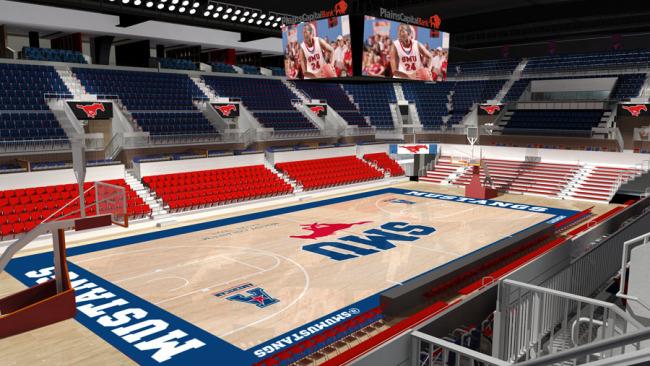 As the weather transitions to fall, the sport season transitions from football to basketball.
And it's been highly anticipated by the SMU community.
The SMU Men's Basketball team is currently ranked No. 22 for preseason.
The team will be lead by Head Coach Larry Brown. This will be his third season working with them.
Last season proved to be the dawn of a new era for the Mustangs.
The Mustangs were ranked in the top 25, the first time since the 1984-85 season. The team went 27-10 and made it to the 2014 NIT championship game. They also received third place in the American Athletic Conference.
This riled up the student body.
Students started to pack the stadium to watch the games. The crowd cheered furiously. People began lining up the night before to get tickets to see the team play.
As the Mustangs began accumulating wins, the passion and support for the Mustangs from the student body grew.
It became the first sport in a long time in which students had an unwavering emotional connection to a school sport.
It was ride or die.
I clearly remember watching the NIT finals last year with a group of friends.
After the unfortunate loss, I remember feeling heartbroken.
It was a bit surprising for me to feel this way. I'm not that knowledgable in sports. The only reason I understand basketball is because my brother has been playing the sport since he was a little kid, and since then I have watched an uncountable number of games.
Yet, I empathized for the team. I was so proud of their progress and was rooting for them to win. I wanted my team to win; moreover, I wanted "my boys" to win.
A connection had been formed and I hadn't even realized it until that moment.
Not only by me, but by a vast majority of the student body.
When we lost, I took my eyes off the TV and looked around the room. My friends were sullen. A few even cried.
I was wondering how did we grow have this much love and support for a team.
Where does it stem from? Was it because we finally started winning? Is it because we finally had a sport to proudly affiliate our school with?
It may be both. It may be neither.
I came to the conclusion that the reason why we had grown so fondly of our Men's Basketball team was because of Moody Magic.
Every time the student body would gather in Moody Coliseum, magical things happened.
Our players played amazing. They couldn't fail us. The atmosphere of watching your team play at home and win ignited a fire in us all.
Moody Magic sparked a connection between us and the team. They were undefeatable at home. They never ceased to amaze us when they played.
We had affection for our team and Head Coach. We are proud to say we are Mustangs, and this season, the magic has only grown stronger.
Come Nov. 14, magic will be back. We're ready to see our Mustangs play, and win, against Lamar.
So get ready and Pony Up, y'all.