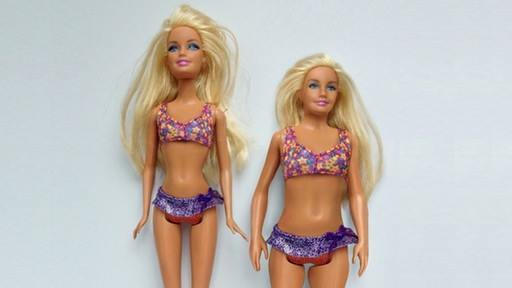 The signature Barbie doll look features long, platinum blonde hair, a killer tan, big boobs, a tiny waist and blue eyes.
While this archetype of beauty has remained popular since its release in 1959, the image the doll conveys has been notorious for promoting an unrealistic and unattainable standard of beauty.
This led designer Nickolay Lamm to create a "normal Barbie," matching the doll's figure in proportion to measurements of a 19-year-old. Lamm named the doll "Lammily."
"Lammily" looks significantly different compared to the typical Barbie doll. She is a head shorter, has a bigger waist, shorter legs and flatter chest. "Lammily" actually looks more human than doll-like.
In addition to realistic measurements of the doll, Lamm decided to include a few stick-on accessories. They include tattoos, cellulite, stretch marks and facial blemishes. Lamm hopes it will emphasize that a variety of body types are beautiful.
Lamm added these stickers because he wanted young girls to have a doll that represents actual experiences women go through such as puberty, playing in the dirt and getting a few other bruises and scrapes along the way.
He has not forgotten about genetic abnormalities either. Other options for stickers include freckles, glasses and moles.
He chose to make these flaws into stickers rather than permanently on the doll so that the children who purchased it could customize it themselves. He wanted to make the dolls relatable to each individual.
So far he has received an overwhelming number of positive responses. He has recorded a test run by second-graders. A few responses are as follows:
"I like her."
"She looks like my sister."
"She looks really unique because I don't have any dolls like this. It looks real."
"She's like a real person."
The ideology behind the idea of "Lammily" warms my heart. Although I am a young adult, I fondly remember playing with dolls as a child. I remember owning a multitude of barbies, but none could ever match my proportions or race.
Though the barbie dolls never directly affected me, in later years, especially living in America, made me realize that the barbie dolls were a prelude to the American stereotype of beauty that I could never genetically fit.
Based on my genetics, I cannot be blonde, have blue eyes or be above average height. Growing up I always noticed and over emphasized my imperfections based off of the barbie doll or a person similar to one.
These unrealistic parallels led me to believe that I could never fit any standard of beauty, and that at most, I could be average for my race and size.
But I grew up.
Like most adolescents, I eventually outgrew my insecurities as I developed throughout high school and grew comfortable in my own skin.
Nonetheless, "Lammily" hits home. It alleviates an unprecedented fear I had for my future children that they would grow up being exposed to unrealistic representations of beauty at much too young an age to understand. And that later on, like me, they would connect the dots and feel inadequate when they shouldn't feel that way at all.
I'm grateful that Lamm created a "real" doll. And I'm overjoyed that children are able to decipher the differences between Barbie and "Lammily." It's a relieving feeling to see children emphasize that "Lammily" looks realistic and embrace her in such a way that promotes beauty in normalcy.