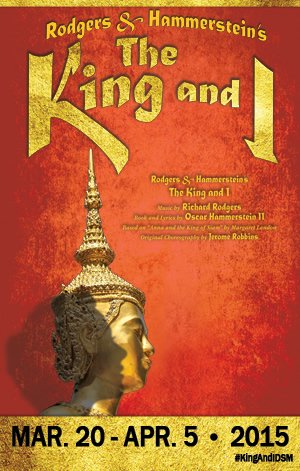 To Dallas Summer Musicals,
We are writing to express our shock and dismay at your decision to cast a Caucasian actor in the role of King Mongkut in your upcoming production of "The King and I." Twenty-four years have passed since the uproar surrounding the casting of Jonathan Pryce as The Engineer in "Miss Saigon" on Broadway, and it seems unfathomable that we must continue to have the same conversation again. While there is a historical precedent for white actors playing this role, this precedent was the product of a long history of yellowface casting that is no longer acceptable today. The perpetuation of this practice is hurtful to Asians and disdainful to many others.
You are very aware that many excellent, trained, Asian actors with Broadway and regional credits exist. Indeed, you recently sent out a casting breakdown specifically seeking Asians (as well as more Caucasians) for supporting and ensemble roles. The optics of your production would suggest that Asian actors are suitable only for smaller roles, to kowtow to the King but not to be the King. Some might even say you seek Asian actors only insofar as our presence on your stage would legitimize a production that has already proven itself uninterested in any semblance of authenticity. Dallas Summer Musical's production of "The King and I" is a glaring example of the continued lack of employment opportunities given to Asian American actors. Our invisibility reinforces how Asian artists are often denied a voice in shaping how Asians are represented, particularly when it comes to the appropriation of Asian cultures and themes.
To be clear, our issue is not with any of the actors cast in the production who all simply want to work. The director of your production, Glenn Casale, cast a Caucasian actor in an Asian role without holding auditions for any actor of Asian descent. This is, then, partly a fight for equal access to opportunity, but we are also addressing the larger social, political, moral and artistic ramifications of yellowface casting and an underlying bias about who has the right to play which roles. We could not find any evidence of an Asian actor who has played a leading role in any previous Dallas Summer Musical production that was not a touring production. It seems that while Caucasian actors can play Asians, the opposite, an Asian actor in a traditionally Caucasian role, does not hold true in equal measure at your institution.
Asian impersonation denies Asians our own subjecthood. It situates all the power within a Caucasian-centric world view. This begs the question, "Who is your production really intended for?" Dallas Summer Musicals touts itself as "bringing the best of Broadway to the Dallas/Ft. Worth area." If that is true, then we expect you to take a cue from the standard that is being set on Broadway with the upcoming revival of "The King and I" directed by Bartlett Sher who has appropriately cast Asian actors in all of the Asian roles. As a Broadway presenter and as an entity that hires professionals out of New York, we hold you to a higher standard. Making a casting decision such as this one calls artistic integrity into question: it is hard to argue that the casting of a white King dramaturgically undermines a story about a clash between Western and Eastern cultures. You pride yourselves on and receive funding for your children's education and outreach program, yet in a city where Asian Americans are one of the fastest growing demographics, you have denied a whole subset of your audience and scores of Asian American children the ability to see themselves as the hero of their own stories.
Ask yourselves this question: Had this been a story of an African monarch or another real-life historical figure such as Martin Luther King Jr., would I have ever conceived of casting a Caucasian actor in the role? We're guessing your answer would be no–at least, not without realizing that there would be long lasting consequences in doing so that would damage your audience outreach, your brand, and your ability to attract corporate sponsors. Michael Jenkins, President and Managing Director of Dallas Summer Musicals, produced the revival of "Flower Drum Song" on Broadway and championed its national tour. Mr. Casale has cast Asians non-traditionally in other productions he has directed. It is doubly disappointing that this injury would come from people we thought were reliable allies. There must be a disconnect of some kind if even well-intentioned allies find no fault in their actions and did not consider it an artistic or social priority to find and cast Asian Americans in a story set in Asia. Perhaps it is because Asians have remained silent on this issue for too long. If so, it is incumbent upon us to say as loudly and as clearly as possible: Yellowface may have been common practice 60 years ago. It may have been excusable to some 25 years ago. But we are telling you that we will not stand for it in 2015. It is not right. It is, in fact, wrong.
We hope you will take this issue seriously. We seek to understand how this decision came to be made and how your institution plans to change underlying casting assumptions moving forward, if at all. We hope you will engage with us and choose to open a dialogue about this issue in your community. Any meaningful attempt to assuage this situation can only begin by publicly acknowledging the pain you have caused. We hope you can start with that.
Sincerely,
The Asian American Performers Action Coalition (AAPAC)