Beto O'Rourke held a town hall Friday at 6 p.m. in south Dallas' historic Good Street Baptist Church to show his commitment to marginalized Texans and inspire voter turnout.
O'Rourke–Senator Ted Cruz's Democratic challenger for the U.S. Senate election–has been on a statewide Get Out the Vote campaign to listen to constituents and encourage voter turnout for the Nov. 6 election.
The El Paso congressman aims to garner bipartisan support. O'Rourke is four points behind Cruz in a new poll by CBS 11 and Dixie Strategies, LLC., despite having a strong progressive platform in a historically red state. A Democrat has not won the Senate election in Texas since 1988.
CBS news reported on the day of that an estimated 1,700 people were expected to attend this town hall. In Good Street Baptist Church, a historically black church known for its role in the Civil Rights Movement, O'Rourke attempted to reach out to the predominantly black audience for their vote.
O'Rourke took a look around the room and exclaimed, "This looks like Texas. This looks like America," referencing the diversity in the crowd.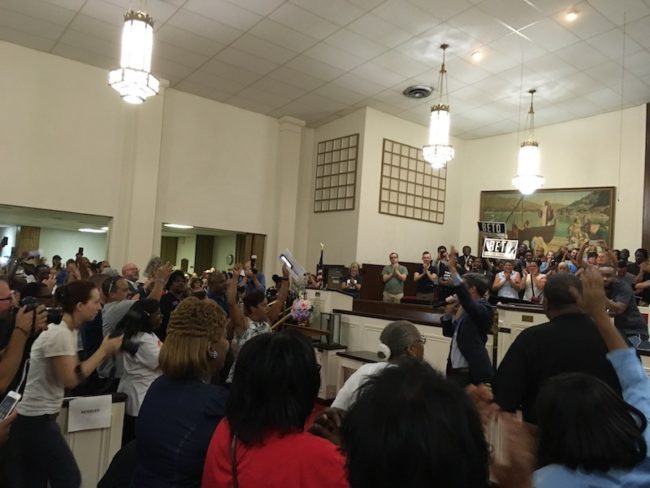 Last week, a young black man named Botham Shem Jean was killed by white Dallas Officer Amber Guyger after she mistook his apartment for hers and shot him in his own home.
"How can it be, in this day and age, in this very year, in this community, that a young man, African-American, in his own apartment, got shot and killed by a police officer?" O'Rourke asked, with the crowd giving a standing ovation."And when we all want justice, and the facts, and the information to make an informed decision, what is released to the public? That he had a small amount of marijuana in his kitchen!"
O'Rourke reiterated, "How can we continue to lose the lives of unarmed black men in the United States of America at the hands of white police officers? That is not justice, that is not us. That can and that must change."
Attendee Rosie Curts, a Dallas school teacher, said, "[Beto]'s willingness to stand up against racism and police brutality" is a major reason she supports him.
Attendee Ethan Skinner, who volunteered for the Beto campaign, said he wanted to see Beto in person. After the event, he said, "Definitely in the wake of the shooting of Botham Jean, I definitely wanted to see him speak on that, and I'm glad it was addressed as well."
O'Rourke also spoke on universal Pre-K, teachers' low wages, healthcare, as well as the sacrifices of police officers and veterans. O'Rourke also spoke about the criminal justice system disproportionately affecting people of color and on America's prison population, the largest in the world.
"How can that prison population be so disproportionately black and brown? One-third there for non-violent drug crimes, and though Americans of all races use and deal illegal drugs at the same rate, only some Americans of some races are arrested and doing the time," O'Rourke said. "We can and we must change that, and we will."
O'Rourke's comments were met with ovation from the entire room. O'Rourke said the effects of mass incarceration and drug convictions on the black community have been rightly referred to as "the new Jim Crow."
He hopes addressing the issue of non-violent drug convictions and expunging those arrest records will help people "get on with their lives, live to their full potential, and contribute to their maximum capacity." He described how many people with previous misdemeanors are disadvantaged in their access to housing, education and work.
O'Rourke said the War on Drugs (a term coined by former President Nixon in 1971) is one of the main reasons America's prison population is large and disproportionately affects people of color.
O'Rourke asked if "…people in California, Colorado, and the Northwest are getting filthy rich legally selling marijuana today, who is going to be the last African-American woman or man to rot behind bars in Texas for something that's legal in almost every other single part of the country?"
"Let's lead the way in reforming our drug laws, let's end that war on drugs right now because it's a war on people," O'Rourke said.
Although O'Rourke hoped to connect with his audience and earn their support, he acknowledged some people may have lost faith in a system that constantly makes it harder for marginalized communities to practice their civic rights and participate in democracy.
Statistically, Texas has low voter turn out, as described in the Houston Chronicle, the Dallas Observer, the Texas Standard and the Texas Tribune.
"When it comes to the issue of being 49th, almost dead last, in voter turn out, these racist voter ID laws that they pass at the state level, this racial and ethnic gerrymandering that is drawing people out of their democracy, we have to make sure that no longer will members of congress be able to choose their voters," O'Rourke said. "We'll remind them that it works the other way around."
Beto O'Rourke will face-off against Ted Cruz in three debates preceding the November election. The first one will be Friday Sept. 21 on SMU campus. Oct. 9 is the last day to register to vote, and early voting begins Oct. 22.