Students crowded Fondren Library's Starbucks area to watch the Texas U.S. Senate debate that was held at 6 p.m.
SMU hosted a debate between candidates O'Rourke and Cruz at McFarlin Auditorium. Since many students could not attend at McFarlin, a debate watch party was held at Fondren Library, hardly a minute's walk from the auditorium.
Fondren Library was going to have just a watch party. Professor Ben Voth, Director of Debate at SMU, was originally going to hold an event including a lecture and discussion at Umphrey Lee. After he heard about Fondren's event, he and the library merged their two events.
Some teachers offered credit for the event. Several attendees indicated they heard many other students talking about this debate all throughout the week.
A first year student, Sidney Sagehorn, noted the turnout at this watch party wasn't indicative of how many people on campus were watching. There's a TV on most floors in the residential commons, and, given that convenience, most students were probably watching there.
Voth gave a pre-debate lecture, which informed students about the candidates, the debate's format and a brief history of televised presidential elections.
"One of the things I think people should think very seriously about–and I didn't put it on a slide tonight–is that Senator Cruz, in the primary in May, got 1.3 million votes. That's a serious, potentially insurmountable problem for Beto O'Rourke and the Democrats," Voth said.
Regarding "the blue wave," Voth also noted this week there was a congressional race in San Antonio, where the Democrats lost a seat they have not lost in a hundred years to the Republicans.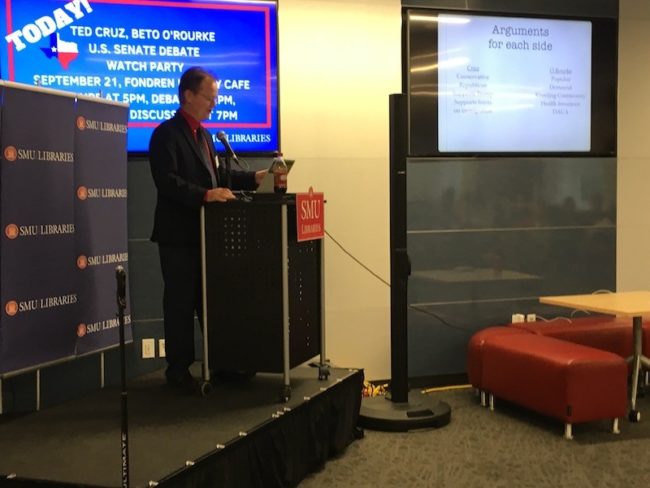 After the debate, students discussed candidates' rhetorical devices and tricks. There were comments on debating style as well as Beto's critique of Cruz's rhetoric throughout the debate. Attendees observed how often Hillary Clinton was brought up, and Voth commented that 2016 is still very present, as shown in tonight's debate.
"There was definitely evidence of Beto trying to connect with the–not only the younger generation–but you can see with Tinder, constantly trying to make modern comments," one student noted.
"'How do you do, fellow kids,'" a debate student at the other end of the room quoted. Students laughed in response.
Another student noted O'Rourke brought up African-Americans several times, while Cruz did not bring up that population at all.
Sagehorn noted in discussion the debate was civil and, for the most part, no one talked over each other.
"Maybe the most difficult thing tonight was the moderators trying to control the people sitting in McFarlin," Voth joked in response to Sagehorn's comment. Though the moderators asked the McFarlin audience to hold their reactions, there were cheers and applause several times from both sides.
Because faculty calculated the costs of health insurance plans in this zip code, Dr. Dayna Oscherwitz said she noticed Cruz overstated the health insurance costs for this zip code.
Regarding the personal questions asked of the candidates, one student said, "I would say both candidates handled it really well. Just from what they spoke, what they said. Beto– he didn't apologize for it, he was just saying it's part of my life now, moving on. And Ted Cruz, he didn't want to get into it, and I think that's healthy."
Attendees also discussed the complexity of the healthcare debate, the manifestation of 2016 fears and the way time constraints forced candidates to drop buzzwords, sometimes without the opportunity to go in depth. It was also observed how Cruz emphasized Texas values, including but not limited to the intentional mention of his truck, while O'Rourke mentioned several times visiting all Texas counties.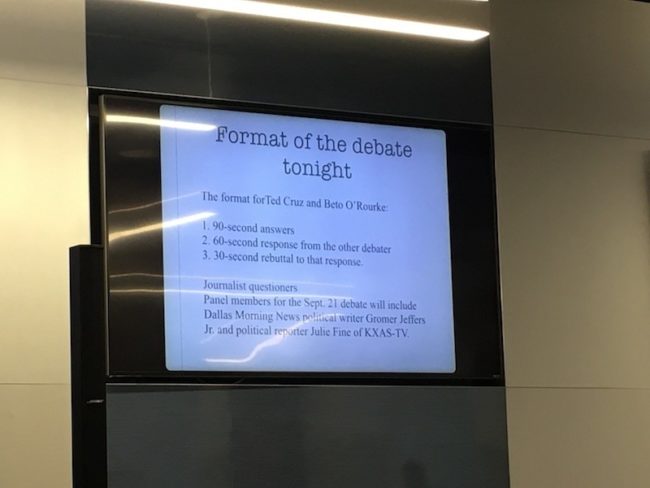 Graduate student Reagan Herbert, who studies business analytics, thought the debate was representative of democracy.
"I thought it was great. I thought it was absolutely democracy working its way, both people getting asked questions, giving their response to their opponent in a great and equal way," Herbert said.
As a voter, Herbert strongly considers candidates' honesty and actions.
"One thing that I look for is someone who is true to form and true to something that they believe. If you say you're going to do something, I absolutely want you to follow through and do it," Herbert said. "Things that I look for: what are you doing for, maybe, people who can't help themselves. But then also, what are you doing to help the economy? Yes, helping others is great, but we also need to help ourselves."
First year Luckett Robinson did not have a high level confidence in the candidates after the debate.
"Initially, I was a little disappointed. Both candidates, just because there were a lot of really charged, very insubstantial comments. I feel like a lot of what said was just attack the other candidate as opposed to advocating for their viewpoint," Robinson said. "It could have been more informational, and less political. But, you know, that's how things are sometimes."
Robinson said, as a college-aged voter, he considers what's best for the community, beyond self interest.
"Personally, I try to take personal issues out of voting. Because, you have to remember, at the end of the day these people are advocating for your community, and their policies are going to impact your financial life and your community's," Robinson said.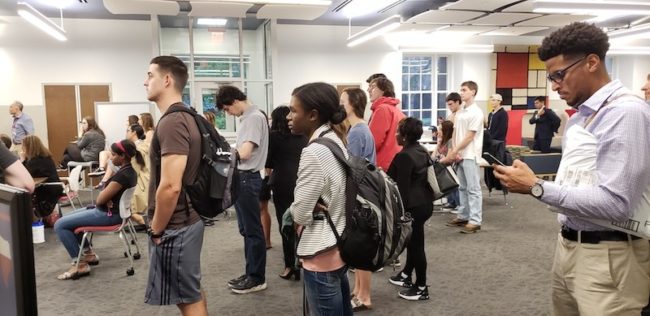 Still, some students felt strongly neutral after the debate.
Student Thomas Park was one such student. Park said he is not party-affiliated in any way, and he noted the rhetorical devices the candidates used.
"It's interesting to see a lot of the techniques Cruz used that has been very common lately, and Beto actually calling him on it," Park said.
Student Stephanie Kiesz agreed with Park.
"I am also on the neutral side. I'm just on the common sense ground. But I see tonight Ted Cruz did not really have the cards, the right cards. Especially in this kind of debate," Kiesz said. "Especially when he had been saying things that Beto had not mentioned, and Beto was too smart to call out on that."
As a college-aged voter, Park's biggest concern is to vote in a way that benefits as many people as possible.
"Honestly, my biggest goal is to make sure as many people as possible have the opportunity to actually succeed. And I'm not sure currently," Park said, in regard to who is serving this goal the best. "Certainly neither of the super extreme parties seem to be doing very much to help that, practically. I feel like Cruz is not doing as good of a job selling that as Beto."
Park also said Cruz's rhetoric tactics have worked in the past, so he wonders how it'll work this time.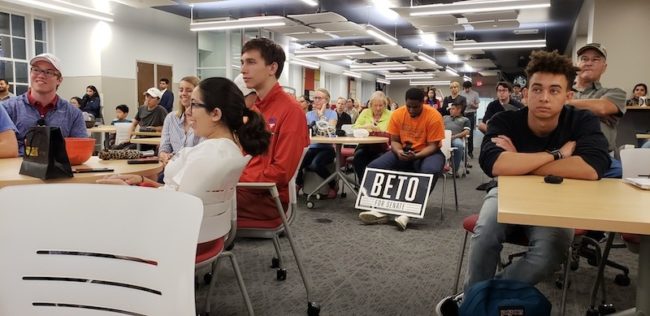 At times, the debate elicited laughter from Fondren onlookers. Students chuckled at O'Rourke's "way before Tinder" remark as well as O'Rourke's quick rebuttal after Cruz claimed O'Rourke supported the legalizing of narcotics.
The entire room reacted with an "Ohhhhhhh" at the moderators' last question, where each candidate had to say what they admired about the other. The watch party's laughed loudest when O'Rourke ended the debate with the quip, "True to form," mirroring Cruz's tone for the last question.
O'Rourke won 17 votes to Cruz's nine in the impromptu, voluntary poll after the post-debate discussion. Unfortunately, the vast majority of watch party attendees left after the debate and did not stay for the discussion and poll. Many debate watchers came midway, during the debate, and possibly did not know of the discussion afterward.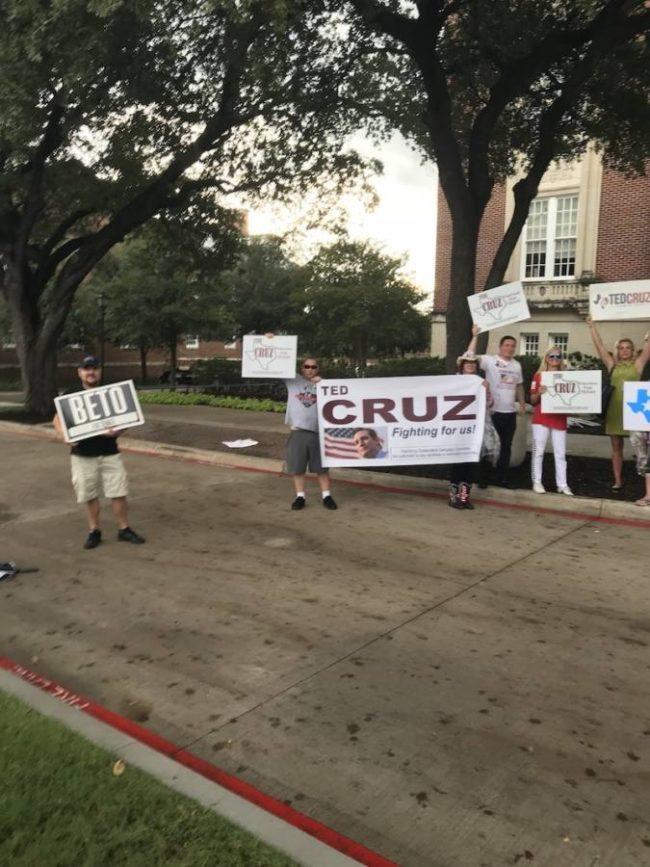 Before the debate, some students predicted immigration would be the most contended issue.
First Year Adelaide Villasana knew she was voting for Beto before the debate. Villasana likes O'Rourke's stance on education and healthcare. Villasana predicted immigration would most likely be the most contentious issue in the debate.
"That issue, as it is: there's no way to avoid it. It will be addressed. I'm excited to see how and what will be said about it," Villasana said.
First year Sydney Sagehorn, a statistical science major, is from Kansas and is registered to vote there. Sagehorn disclosed she is a member of SMU Democrats.
"I can't actually vote in this election, but I think it's very interesting because this is one of the elections that has garnered the most national coverage. And so, for our campus to be a part of it, I think is very interesting," Sagehorn said.
Sagehorn still feels she has a stake in this because this election is for the U.S. Senate. The candidate elected will influence what happens to the nation, not just Texas.
"One of the issues that matters to me personally is gun control," Sagehorn said. "Mainly because–obviously in recent news–that's been a big issue. I feel like that's an issue that also resonates with a lot of other young voters. Granted, I obviously don't know everything about every issue, but that's one of the issues I've done a lot of research on."
Like Villasana, Sagehorn suspected immigration will be a major point of discussion.
"I know that O'Rourke is from El Paso, I believe, and he's been very kind about borders. I know that that's something Ted Cruz is not all about. I've seen in the ads where Ted Cruz will slam Beto for his more open stance on immigration," Sagehorn said. "So I feel like that's going to come up multiple times tonight."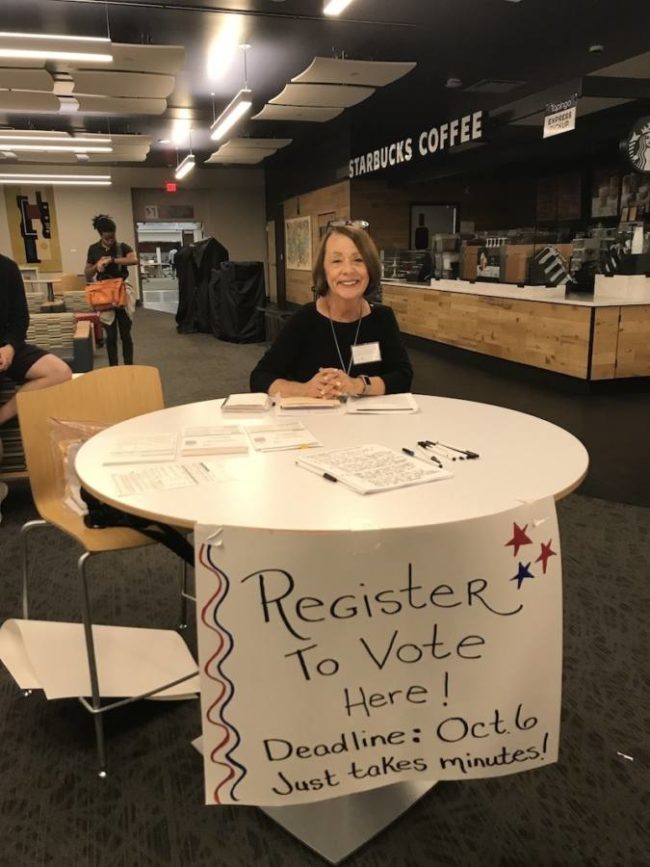 "I know for me, and some of the people who I spend time with who are like-minded, look for progressive candidates that are looking to not their future, but to our future. To the future of us as college students, and the future of us as a country. Not, you know, the next ten years of them as a political candidate," first year Adelaide Villasana said.
"I think it's interesting we were able to have an event like this on campus. Part of why I wanted to come to a campus like SMU is because it's in the middle of the city, and it's very engaged with local and state politics," first year Sidney Sagehorn said.
There was a table at the watch party where students could register to vote. The deadline to register is Oct. 6.