Editor's note: Hannah Miller and Sriya Reddy contributed to this story.
The Dallas County Democratic Party hosted an election night watch party for the midterm elections at the Hyatt Regency Dallas on Nov. 7 that supported Democratic candidates from Texas.
Democratic Watch Party reactions to 74 percent @BetoORourke 25 percent @tedcruz in El Paso County according to NBC News #SMUELEX2018 pic.twitter.com/p2W4qX1SbC

— Sriya Reddy (@SriyaReddy23) November 7, 2018
The most prominent race was the Texas Senate race between Beto O'Rourke and incumbent Ted Cruz. Support for Beto flooded the watch party as attendees wore T-shirts, buttons, and stickers with his name proudly displayed. Handmade Beto artwork was even available for purchase as a future campaign donation.
"I believe all in Beto. He will do it," said Joshua Florenz who was there in support with his family. "Loyalty," he said means everything to him.
"I'm hoping the blue wave does succeed," Florenz said.
Although Cruz won re-election in a close race and thereby maintained the Republican majority in the Senate, many were hopeful that the Democratic party would have a sudden increase in representation. This idea was known as the "blue wave."
The issues attendees were concerned about were health care and immigration policies.
"We are seeing a lot of inhuman things happening," Megan Karimi, who is most concerned about health care and immigration, said.
Having never volunteered politically, Karimi felt this year was different and O'Rourke's campaign needed her voice.
"I have never been involved in politics," Karimi yelled over the cheers as the results from Travis county rolled in (74.3 percent).
"He's amazing," Karimi said of O'Rourke. "All the issues he talks about, it's not about us against them, he wants to improve… I love him!"
Even though the blue wave did not come during the midterm elections, Karimi believes that it will arrive eventually.
"I'm very hopeful," Karimi said. "Especially tonight, because even if we lose — and we all have accepted that fact, we know that we've got to work harder, and we will, we will not give up, by the next election we will turn Texas blue. We will!"
"The way he speaks I feel like he's speaking to me, and to my family," 19-year-old, first-time voter Briana Arias said of O'Rourke. "He is very on point, the way he attacks each issue with such grace and positivity just really speaks to me."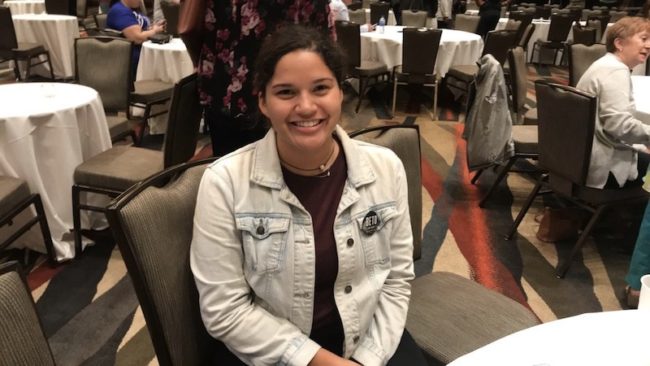 Coming from a family of immigrants, Arias said, "I'm most concerned about immigration because I am Hispanic."
O'Rourke's support for DACA students was also important to the young voter.
"I have some friends that are DACA students so having them be able to stay here would be great for me," Arias said.
The issue of immigration was popular among attendees of the Hyatt watch party. Hope Galvan, 23, said that she thinks it is unfair that people who have been here their whole lives are being punished.
"America is the only home they know," Galvan said.
She believes that O'Rourke had a good chance in tackling this issue and is an avid supporter of DACA
"He says that a wall isn't needed, diplomacy is needed," Galvan said on O'Rourke. "There is no wall between us and Canada. Why should there be one in the South?"
Although an overall feeling of doubt resided in the room all along, hope and the empowerment of being heard this election cycle overrode any early tension. Having a relatable representative seemed a recurring theme and one that was most important to all present.
"I want a person who represents the things that I value most," Joy Chukwvdi said. Chukwvdi voted for O'Rourke to support "sensible gun control," and "the rights of everybody and not just some people." It was important to her that her candidate was LGBT+ Inclusive.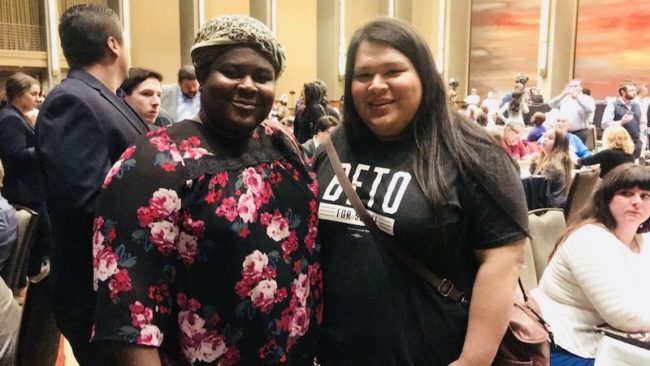 Likewise, Chukwvdi's friend Stacey Monroe stated "Affordable housing, homelessness, safe schools, [and] providing health care for all," are just a few of the key issues she worries about as a Texan. "Universal medical coverage — I want Medicare for all," Monroe said.
Monroe wasn't the only one who sought to change health care this election.
"I see a lot of people just frustrated with an ignorant health care system," Dr. Kara Lewton said.
"Health care and religion should not be involved with each other, it's the same thing as separation of church and state," Lewton reiterated.
Unsure if Texas would see a blue wave so early on in the night, Lewton was hesitant to make a call for Senate but did say she was glad to see Texans caring.
"My peers [didn't] care about politics … I'm finally seeing a change in that … that's exciting," Lewton said.
Speaking just prior to the CNN forecast predicting the Democratic House win, Stacey Monroe said, "I'm very hopeful we are going to have a blue wave come across the US this election."
Hope and positivity vibrated through the room as both CNN and NBC predicted a Democratic House and early polls for Colin Allred showed the Democrat leading long-term House Republican Pete Sessions in the race for Texas' 32nd District.
"We have to keep on working because we must keep on winning," local Democrat, Lela Mays for 283rd Criminal District Court said while addressing the room.
"The state needs us in leadership," Mays said. "We see what way the state goes when we are in minority and we don't like that."
Elba Garcia, Dallas County commissioner for District 4 added to the vibrant call asking voters to not forget, "we are the UNITED States of America!"
We are tired of scare tactics and fake news Garcia said, "We are united … we are going to solve, and we are going to bring real solutions to the table … that bring us all together."
When CNN reported that Allred had won the House seat over Sessions, the room erupted. A small parting of the traditionally "red" sea gave a glimpse of that elusive blue wave.
"We have come a long way," Domingo Garcia, a local attorney, told the room.
"Hope overcomes fear," Garcia said. "And when we work together we can achieve."
Attendee Emily Jackson said that a lot of the candidates that she supports are first-time candidates who wouldn't have even thought about running until something moved them to.
"They are very much in tune with what is going on in the community," Jackson said. "They are people who have been moved because of something to run for office and represent the people that they care about."
To Jackson, first-time candidates have more realistic campaigns that she supports.
As final results for the Senate set trickled in, boos rang out, many shook their heads feeling that sting of confirmation they had feared all along, but hope it seemed lived on, with most optimistic for 2020.
"I'm hopeful based on the house results," Jenifer Davis Lamb said. "The change in Texas is coming."
The Senate loss did not change Jeremy Kisser's feeling of pride for his support of O'Rourke.
"Beto brings great values and ethics to Texas, and his attitude has resonated across the country, [which is] much more important than a Senate seat win," Long time Beto Supporter Jeremy Kieser said. "I'm damn proud to have voted for him!"
For some first-time watch-party attendees, it was just exciting to see their vote in action.
"It's very exciting to see all the people who have supported the Democrats," Tomas Garcia said. "It doesn't matter if we get our main guy in, we get some in to take our state further and that's very exciting."
In a campaign cycle like no other, the Texas race for Senate marginally missed that All-Texas "bluebonnet" mark, remaining instead in the red. But it was not talk of bankruptcy or deficit or decline that dictated rhetoric. Instead, it was those smaller blue wins by Allred and Creuzot that kindled enough hope to keep the idea of a blue wave on the horizon.