The Mustangs faced off against UT Martin in one of the last home equestrian meets of the season on Saturday. Despite the less than ideal weather conditions, the SMU women rode with grace and precision, further solidifying their undefeated record of 5-0 with dominant performances throughout each event.
The stands were filled with people of all ages, some of whom were experiencing equestrian for the first time.
Freshman Josh Leff and Sophomore Kolby Evans came out to support one of their friends on the team.
"This is my first time watching horses, I think it's really cool," Evans said."I'm trying to learn all the things, it's something new for me."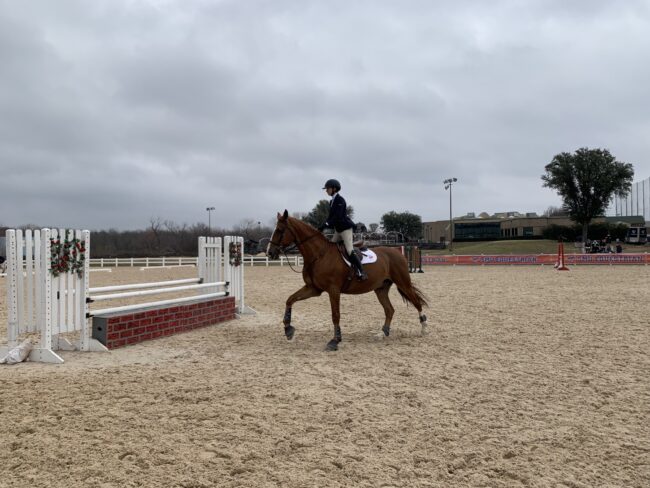 Dr. Charlotte Barner, an SMU adjunct professor, has been coming to SMU home equestrian meets for years, and was a former equestrian herself.
Barner has witnessed multiple coaches from other states come "to watch how [Coach Carol Gwin] coaches because she's renowned in the business. They came in from another university… and they come here whenever they can to watch how she does it and how her team works."
Another SMU adjunct professor, Dr. Robert Barner, was still new to watching equestrian.
"There are still a lot of people who don't know that SMU has an equestrian team," Barner said. SMU's equestrian team is currently ranked in first place in the National Collegiate Equestrian Association.
The SMU Women's Equestrian team's next home meet is on March 11. Tickets are not required to watch the meet at the Dallas Equestrian Center.