Back in 2003, SMU decided to add equestrian to its athletic repertoire. Now, twenty years later, the team has risen to the top of the podium.
SMU equestrian defeated Auburn 11-8 on Saturday to win their first NCEA National Championship, the ninth national championship for SMU Athletics.
SMU finished the season 13-1, eclipsing their school record win total of 11 from last year. They also had nine riders named as All-America selections including four national riders of the month.
"There really aren't words to describe this feeling, but I'm just so grateful to so many people who were a part of today's win," head coach Carol Gwin said in a press release. "This group has been the ultimate dream team and I'm thrilled to see them be rewarded for all of the hard work they've put in this year."
In the reining event, SMU continued its success across the national tournament winning the event for the third straight day. Taylor Zimmerman and Dani Latimer started off the tournament with the team's first two points before Maria Richards and Chalyce Head took home the final two of the round.
"We are all on cloud nine," Taylor Zimmerman said. "I was able to clinch the first point to start us off on our winning streak for the day."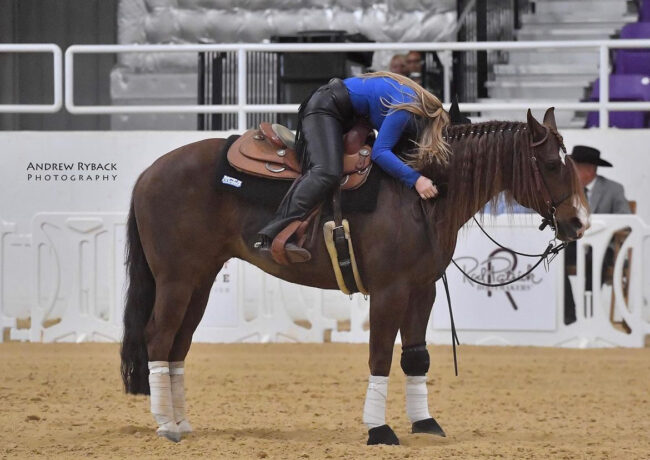 The Mustangs extended their lead in horsemanship. Mallory Vroegh posted the event-high score with Nya Kearns and Megan Waldron also bringing home points to extend.
Similar to their semifinal match on Friday against TCU, the Mustangs jumped out to a sizable lead after the first two events, this time 7-3. This set them up for success in the later rounds.
A split in the flat event meant that SMU just needed a point heading into the fences event. Taylor Madden and Augusta Iwasaki wasted no time and took the first two points of the event securing the championship.
SMU swept the most outstanding players awards for Saturday's event. Those riders were Miranda Seade (flat), Iwasaki (fences), Vroegh (horsemanship) and Latimer (reining).
With this win, SMU becomes the first school outside of the Big 12 or SEC to win an equestrian national championship. This completes the program vision from its inception nearly twenty years ago.
"So many amazing young women have been a part of this program since I came here and they all laid the foundation that helped this team have such a historic season," Gwin said. "When we were recruiting this group, I told them all they could go to another school and copy somebody else's history, or they come here to SMU and create their own history. Now, they'll be national champions for the rest of their lives."