Early in the morning, a potent earthy aroma circles a quaint space. Nishiki Sugawara-Beda slowly dips her intricately decorated sumi stick into the puddle of water that rests on a stone.
A dark tint engulfs the stone as the top of the sumi stick melts into the water. The sumi stick, made with soot and animal glue, turns into ink when combined with a liquid.
"I use the sumi to hopefully put another level of good spirit into the painting," Sugawara-Beda says.
She swirls an ink-stained brush into the mixture and grasps the air as she emphasizes the significance of the materials in her studio at Johnson Square.
The Southern Methodist University art professor teaches painting, drawing and observation. As a Japanese American visual artist, she explores topics about culture and spirituality while using ancient Japanese materials, such as East Asian sumi ink. With the sumi ink, she eloquently illustrates a fundamental artistic technique: mark-making.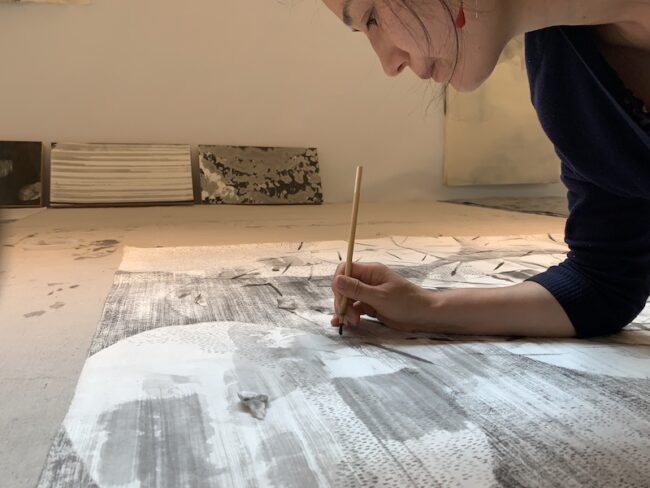 But Sugawara-Beda's creative journey hasn't been simple. Creating intentional paintings requires a keen thought process. She constantly paints forms in a way that portrays meaningful messages, not only to herself but to her audiences. When making these purposeful pieces, she finds time to communicate the importance of art materials and art-making as a teacher at SMU and lecturer.
Born and raised in Yokohama, Japan, Sugawara-Beda learned about Japanese calligraphy, a traditional art that expresses sentences with minimal brush strokes. Through her deep understanding of calligraphy, she recognizes the significance behind other art forms, such as images.
"When you use that word [images], you have to think about the meaning, and then you almost become able to translate the meaning using the shape of the characters," she said. "It's an entry point for me to understand where I'm coming from."
In her early and mid-20s, she traveled around the world, meeting people from different places and backgrounds. After years of traveling, she returned to Japan, ready to share what she had learned about other cultures. She quickly recognized the difficulty of the task. Others could not fully understand her experiences since they had not traveled to those places. The same fate awaited her after she settled in America in the early 2000s. Sugawara-Beda realized that her artwork would need to transcend one's culture in order to bring people together.
"I am trying to find a core of humanity that maybe we all share," she said. "I don't know if it really exists, but in order to get there I need to take my own path."
In a 6×12 inch horizontal painting from her KuroKuroShiro series, which means black-black-white in Japanese, Sugawara-Beda used forms to create a landscape that signifies an imagined, interpretive world. Her art piece employs visually abstract components so that many different observers can psychologically connect with the art.
"I am making a landscape of some sort of spiritual world," she said. "A space that I create becomes a catalyst for viewers."
She uses numbers to title her masterpieces blanketed with ink. Without titles, observers can arrive at their own unique interpretations of the work.
"I do not try to make a message," she said. "In a way, I'm beyond or below."
With a drive to understand art materials as a way to educate, inspire and connect, Sugawara-Beda took the next step. A few years ago, she traveled to Poland to learn how to make one of the substances that constitute the East Asian sumi stick.
"My household culture is Japanese, Polish, and American, so I wanted to see if I could understand Poland and Polish people by being there making soot from the local area," she said.
Sumi sticks consist of animal glue and soot. Of the two ingredients, soot-making requires a more tedious process. Soot for the sumi stick is made by burning natural items, like wood. During her time in Poland, Sugawara-Beda completed this multi-step process. For a total of five hours, she gathered and burned wood, controlled the size of flames, and collected the soot afterward.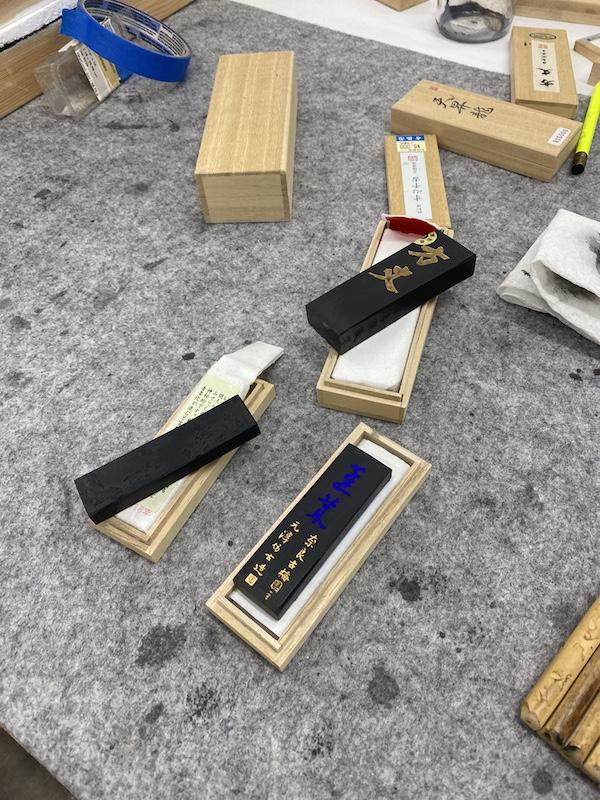 "The more I know about the materials, the truer that I communicate with them and become a good conductor," she said.
Sugawara-Beda shares her knowledge of the sumi during national conferences with groups such as the College Art Association. According to her website, she also gives keynote speeches and workshops to cultural organizations like OCA-Asian Pacific American Advocates, Pilipino American Unity for Progress Inc. and the Dallas Business Council for the Arts.
In a smaller setting, Sugawara-Beda teaches college students at SMU. During a class about observation, she teaches students how to represent the complexity of their surroundings with drawings, paintings, 3-D Modeling and digital simulations.
Students, like SMU studio art major Rhiannon Cottle, have developed useful practices through the class.
"It's really about learning to use all of your senses to create art, instead of just focusing strictly on techniques," she said. "We've definitely learned a lot."
Even though Sugawara-Beda currently teaches in the U.S., she plans to influence people around the world by educating them on the sumi.
"In the back of my mind, it is my mission to bring that sumi culture to Japan," she said.
In her studio, Sugawara-Beda looks over her notes for another important upcoming speech about the sumi. She momentarily peers at an array of sumi sticks on her desk, and one catches her eye.
Sugawara-Beda carefully unboxes a sumi stick embossed with vibrant gold Japanese writing.
"This is one of my favorites," she says.