It's Thursday night in the Oren Auditorium, a theater-style hall with space for hundreds of spectators in the basement of the SMU's Hughes-Trigg Student Center.
Lights are low and anticipation is high for the SMU Film Department's Fall 2023 Student Showcase.
The space feels intimate, almost exclusive. Save for a central blob of supportive film students, people sit in groups of two or three with dozens of seats in between. Many sit alone.
Among these lone sitters is Professor Derek Kompare, Chair of the Division of Film and Media Arts. Kompare rises quietly from his seat and approaches the stage before delivering a short introduction to the showcase.
All 12 films to be shown are the work of current third- and fourth-year SMU film students, selected for their impressive ideation and execution.
No two of these films are alike. Many are minutes-long narratives. Some are thirty-second advertisements. One is a music video.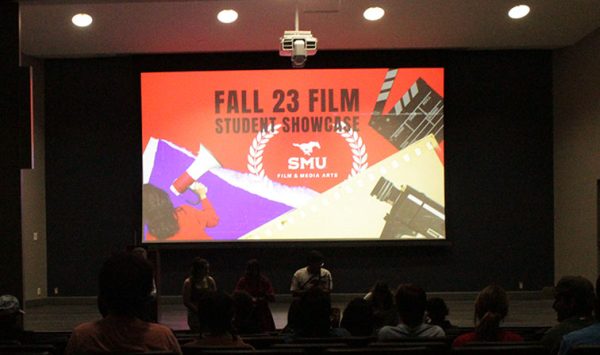 Nearly all are traditional in their composition, lighting and editing, but the films vary widely in theme.
Many of the narratives cover topics especially relevant to today's college students. Substance abuse, sexual violence, identity, mental health, toxic beauty standards and destructive ambition are just some of the issues touched on.
The non-narrative films represent our generation just the same. A fast-paced, colorful ad for Poppi probiotic beverages alludes to our increased health and fitness awareness. An Etsy shop commercial brings together the computer-driven online shopping of today and the television-powered local advertisements of the 20th century. The music video accompanying Alanis Morissette's "You Oughta Know" reflects the nostalgia for past artistic eras so unmissable in our current cultural landscape.
The showcase lasts over an hour. Afterwards, student filmmakers take questions from the audience.
The films are powerful, with a feeling of authenticity absent in most movies today. Discussion quickly turns to the personal nature of many of the works shown.
"We just try to let the actors feel comfortable," said Yvonne Yang, director of "Reflection" and "Ants On a Log". "At the same time, we have a crew meeting beforehand and tell everybody, 'This is emotionally heavy, so no jokes on set.' We just talk with everyone beforehand, and we mention it," she added.
Juan Davalos, writer and director of "Underneath At All," takes another approach to sensitive scenes. 
"I kind of have a different style from Yvonne. I don't like method, I don't like keeping the environment in that zone every time. I just think it's a little unhealthy," Davalos said. 
If you missed this semester's film showing, don't fret. SMU's Film and Media Arts department hosts a showcase of graduating students' films each spring. Be on the lookout next semester for more information.