SMU student fans lined the bleachers at 6 p.m. for a 7 p.m. tip-off. The Mustangs faced off against No.13 seed Texas A&M. Moody Coliseum was packed with students, families, and alumni alike.
Both teams entered Tuesday's game undefeated. After a tough fought 40 minutes, Texas A&M emerged victorious by 13 points. The final score is not a reflection of how close the game had been before the final minutes.
The first two and a half minutes were scoreless with both SMU and A&M missing easy points in the paint. It took about 10 minutes for either team to get hot. The score was only 7-4 in the first six minutes of the game.
Guard Chuck Harris played an outstanding game for the Mustangs. He hit back-to-back threes over the halfway point that had everyone in the coliseum on their feet. He had 21 points for the night.
"I think that what you can expect from this team is we're always going to compete, we're always going to go out there and expect to win," Harris said. "Especially coming off a loss like this where we felt like we were in the game the whole time, we're definitely going to go out there and try to bring home some victories."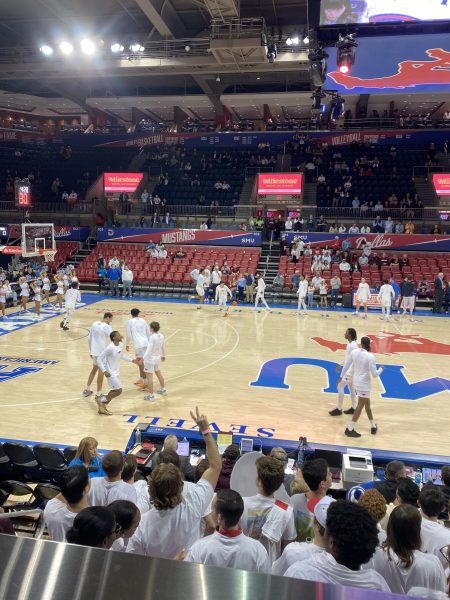 With about seven minutes left in the first, Harris had a step-back three to keep his hot streak alive. On the next possession, guard Jalen Smith hit a big three at the top of the arc to give SMU the first lead of the game, 21-17.
In the eruption of the crowd, the momentum had totally shifted towards the Mustang's favor. The Aggies called a time-out immediately after Smith's three to calm the play.
SMU went into halftime down 39-32 after a buzzer-beater three from the Aggies that continued to separate the lead.
Three minutes into the second, SMU went down by 10. The Mustangs had a hard time getting back over the hump to either tie the game or take back any small lead.
Everyone was back on their feet with eight minutes left to play as forward Tyreek Smith drew the and-1, and made the free throw to draw the Mustangs into their smallest deficit of the half, 54-50.
Texas A&M then blew their four-point lead open to 12 about five minutes later. The Mustangs battled for as long as they could yet, it wouldn't be enough to trump the rolling Aggies that were a full head of steam to the finish.
SMU plays West Virginia on Monday in Fort Myers.