For the sixth consecutive year, The Daily Campus asked you to tell us the best aspects of life on the Hilltop, in the Park Cities and Dallas, and you responded enthusiastically! With nearly 200 responses to our online survey conducted between Dec. 18 – Jan. 27, we're happy to present you the results of our sixth annual "Best of SMU & The Park Cities."
CAMPUS WINNERS
Best Place to Study: My own residence hall room/apartment
Although some people can study anywhere, being in the comforts of your college home is the best place to prepare for a difficult test. People can crawl into bed, sit at a kitchen table, or even lay on the floor while studying without judgment. It would be difficult to find a better place to study, because home is meant for people to be comfortable in. — Matt Sanders
Best Place to Relax: Dorm room
Need a place to get away from drudgery and drama of college? Southern Methodist University has spoken and your own dorm room is the best place to relieve stress and restore passion and joy in your life. — Nickson Chong
Best Commons: Virginia-Snider Commons
Located in the heart of campus, this residence hall provides excellent access to the essentials on campus. A quiet place with a great sense of community, will give you all you expect out of on-campus living.— Ryan Miller
Best Campus Office: Hegi Family Career Development Center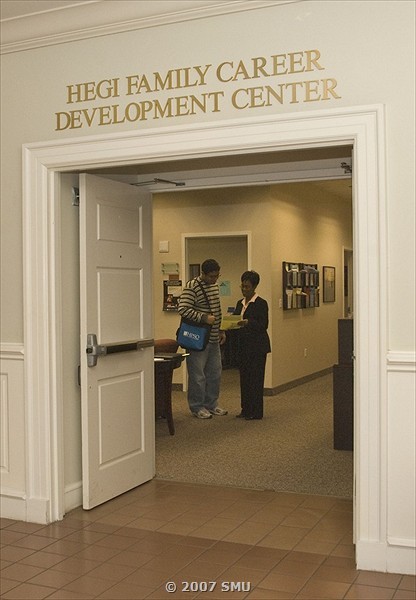 Hegi was not voted Best Campus Office simply for the accommodating and friendly people there. Did you know there's a science behind writing a resume? We didn't either until meeting with one of the office's career advisers. These dedicated counselors are available when needed to not only construct a resume suited for the working world, but also to help get you into the working world. And isn't that the point of college?— Annalee Walton
Best view of campus: Steps of Dallas Hall looking south toward downtown Dallas
Whether you're running to class or meeting up with friends, Dallas Hall has many uses. It's not just another building; it offers one of the best views on campus. From the top step, you can catch a glimpse of the iconic Dallas skyline. Facing south towards downtown, you realize how central our campus really is. We may be in the "SMU bubble," but we're definitely a part of the city of Dallas.— Daily Campus Staff
Best campus building exterior: Dallas Hall
First constructed in 1915, Dallas Hall is the oldest building on campus and is the most iconic. From its well-known dome to the pillars that hold the building up, it is easily one of the most recognizable buildings on campus. Students start their SMU journey through Rotunda Passage and end their adventure passing through the same doors they passed through their first year here. SMU would not be the same without this legendary building.— Daily Campus Staff
Best Place to Take Out-of-towners: Uptown
Bruno Mars sang about it. Dallasites know about it. And SMU students rave about it. Uptown Dallas is known for its scrumptious food, thirst-quenching drinks and hell-raising fun. No matter where you go, you always manage to be completely satisfied and have a memorable (or not so memorable) night.— Olivia Nguyen
Best Place to Meet Girls: In class
It's very convenient and easy to meet potential dates and mates in your classes. In class for a major or minor, you already know they have similar interests to you. Outside classwork and studying can bring even more contact. Getting that number just got easier under the pressure of a group project. You can also break the ice by asking about class material.— Lauren Aguirre
Best Place to Meet Guys: In class
See above.
Best Place to Propose Marriage: Dallas Hall Steps
What is a more elegant place than in front of the historic Dallas Hall? Both of you have walked those steps countless times rushing to lectures and labs. Perhaps you even met on the way to class. So why not start your life together where it began? Propsing on the front steps will be an event neither of you will forget. – Daily Campus Staff
Best Professor(s): (TIE) Rachel Goodman, Engineering; Joseph Kobylka, Political Science; Tony Pederson, Journalism; Gregory Sommers, Accounting
Best Aspect of SMU Football Games: The Boulevard
What's greater than attending a college football game? It's the pregame — or in our case — The Boulevard. Pony up by wearing red, white or blue with your cowboy boots and solo cup in hand. Meet under the big white tents with beautiful people on a beautiful campus. There's nothing better.— Olivia Nguyen
Best SMU sport to watch (other than FB and BB): Men's Soccer
Drawing on America's new-found passion for soccer, this years men's soccer team had a more than respectable showing in the AAC. They provided many exciting goals to complement their competitive home schedule this season.— Ryan Miller
Best SMU Female Athlete: Caroline Young, Volleyball
Caroline Young was named to AVCA All-America Honorable Mention for the second time in her career this season. The senior led the Mustangs in kills for the third straight season, and was named the team's Offensive Player of the Year.— Demetrio Teniente
Best SMU Male Athlete: Nic Moore, Basketball
Short and scrappy is one way to describe the leader of the SMU men's basketball team. Moore is reliable and can make momentum-changing plays, not to mention a 3-pointer to send the Mustangs to New York. As great as he is on the court, he is even nicer in person. There's no question that he's the best male athlete on the Hilltop.— Matt Sanders
Best SMU Tradition: Boulevarding
"We don't tailgate, we boulevard." Fall brings a season of Boulevarding to SMU's campus. Before each home football game, SMU students, faculty, alumni and friends come out to enjoy food, drinks and games all along Bishop Boulevard — the main thoroughfare in the heart of the campus. With tents from one end of the Boulevard all the way to Dallas Hall, there is something for everyone in this beloved SMU tradition.— Daily Campus Staff
Best Fraternity: Sigma Chi / Beta Upsilon Chi (tie)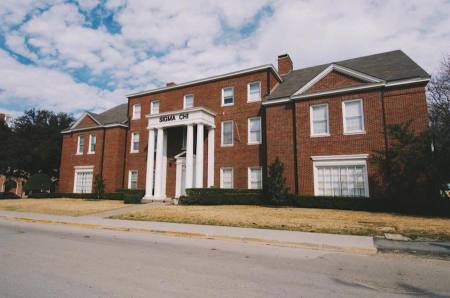 Best Sorority: Chi Omega
Best Overall Student Organization (non-Greek): Student Foundation
Student Foundation is one of the biggest non-Greek organizations on campus. It brings you Mustang Welcome Weeks and several other staple Mustang events. Students who are members work themselves to the bone planning and putting on special and worthwhile events for the entire student body. What's not to love?— Lauren Aguirre
Best On-Campus Eatery: Einstein Bros. Bagels
Business students got lucky. Einstein Bagels is located on the bottom floor of Cox, with nice cafeteria setting and a stock ticker on the wall. Order yourself a bagel with cheese and some bacon, take a seat and chow down while cramming for that midterm. Gotta have that brain food.— Lauren Aguirre
MARKET WINNERS
Best Off-Campus Student Housing: The Lofts at
Mockingbird Station
The Lofts are convenient for several reasons. One, it's affordable off-campus housing. Two, it's just a short walk, drive, or bus ride to campus. Three, the Angelika is literally at your front door as well as other entertainment and shopping available at Mockingbird Station. Four, DART connects you with the rest of Dallas.— Lauren Aguirre
Best women's fashion store: Anthropologie/Urban Outfitters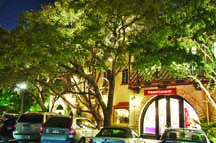 Anthropologie and Urban Outfitters are both SMU favorites because of the BOHO clothing they offer. From ornate clothing and jewelry, to home décor, Anthropologie is sure to have something for everyone's inner-hippie. Urban Outfitters is quirkier and follows more of an urban-BOHO, hipster style. With its gag gifts, clothing, and unique home accessories, Urban Outfitters is sure to impress.— Daily Campus Staff
Best Men's Fashion Store: J. Crew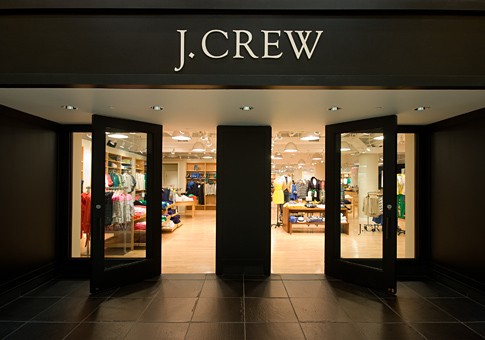 Designing and producing on of the most fashionable clothing on the market, J. Crew aspires to offer the essential clothing of every man's closet. The best suit, the best pants, the best shirts that inspired bold confidence into the men who don their brand.— Nickson Chong
Best Shopping Mall/Center: Northpark Center
Northpark Center (8687 N Central Expressway, Dallas, TX 75225) is 'the mall' for Dallas natives. While many tourists flock to the much grander Galleria, Northpark Center has a chic boutique feel without being too small to offer up mainstream styles that customers want. You can find just about anything you need at a great price.— Daily Campus Staff
Best Shopping Boutique: The Impeccable Pig
The Impeccable Pig (6607 Hillcrest Ave, Dallas, TX 75025) is a family owned and operated. The Hillcrest location offers a great selection of women's fashion and always has something for any SMU occasion, but if you don't feel like in-store shopping your in luck because they offer an online shopping option.— Daily Campus Staff
Best Resale Store: Buffalo Exchange
Buffalo Exchange (3424 Greenville Avenue, Dallas, TX 75206) prides itself on having a superb collection of gently used designer clothing at a fraction of the brand-new cost. While you won't be paying full price, the fashion selection will make you look like you did. Clientele often gush at how much fun it is just peruse the store's unique and trendy collection. Customers come back again and again to look their best on a budget.— Daily Campus Staff
Best Cleaners: Mustang Laundry/Avon Cleaners
Best Hair Salon For Girls: Salon Pompeo
Salon Pompeo (5330 E Mockingbird Ln, Suite 190, Dallas, TX 75205) is a top pick for SMU females when it comes to finding someone trustworthy to handle their locks. Conveniently located across from Mockingbird Station as an extension of the Highland Dallas Hotel. the salon offers a 20 percent discount for SMU students for its quality services and top-notch products, not to mention free bang trims. Greeted by a young, hip staff and a complimentary coffee, spa water or glass of wine, any girl is bound to feel pampered at Salon Pompeo.— Daily Campus Staff
Best Barber Shop for Guys: The Grooming Room
The Grooming Room not only gives you a sharp haircut and a close shave, but you can buy all kinds of apparel at the connected store — Culwell & Sons. Get your suit and a haircut in one convenient location. If you need something a little fancier, tuxedos are also on sale.— Lauren Aguirre
Best Bookstore: SMU Bookstore on Mockingbird
SMU Barnes & Noble Bookstore (3060 Mockingbird Lane, Dallas, TX 75205) is the most popular destination to pick up textbooks. It's conveniently located right by SMU and many students enjoy the discounts offered for used books that many online retailers may not have. Switch classes and need a book fast? SMU Bookstore is the place to go. You can always swing by Starbucks while you're out, too!— Daily Campus Staff
Best Wine/Liquor Store: Spec's
Spec's is SMU's top choice for wine and liquor. It has been owned and operated by the same Houston family since 1962. With over 40,000 alcohol labels, over 900 cigars, and over 100 different coffees, Spec's is sure to have something for everyone's palate. Spec's also has specialty foods including cheeses, breads, pates, and even fresh caviar. So what are you waiting for?— Daily Campus Staff
Best Bike Shop: Bicycles Plus at Snider Plaza
Best Electronics Store: Apple Store
Eve couldn't get enough of it and neither can SMU students. Apple products always guarantee customer satisfactory in addition to its classy, modern style. From laptops to electronic accessories, the Apple store will always have what you're looking for. And if you break something, the Genius Bar has you covered.— Olivia Nguyen
Best Bank: Bank of America
Bank of America (4005 Saint Andrews Drive, Dallas, TX 75205) is not only located near SMU, it offers ATMs on campus. This added convenience makes Bank of America 'the bank' of SMU students. Students enjoy the benefit of having their picture on their ID cards which prevents theft when you accidently leave your wallet in Umphrey Lee or in your lecture hall.— Daily Campus Staff
Best Convenience Store: 7-11 on Hillcrest
When students are looking for a late night snack during study sessions, the 7-11 on Hillcrest is the place to go. It is 24/7 and walking distance from campus. What the store lacks in gas, it more than makes up for in snacks bought by cramming students.— Matt Sanders
Best Place for Your Parents to Stay: Hotel Lumen
Hotel Lumen (6101 Hillcrest Ave, Dallas, TX 75205) rests steps away from SMU and is ideal for parents visiting their kids on campus. Its convenience is only part of the attraction, however. The hotel offers a modern, upscale atmosphere complete with pool, rooftop patio, and restaurant; The Front Room. The friendly service, hardwood floors in the rooms, and fun atmosphere are all highlights for any parents staying – or any of their kids that want to stay with them.— Daily Campus Staff
Best Massage Therapy: Massage Envy
Best Place to Get a Facial: The Crescent Spa
Best Place For Cosmetics: Sephora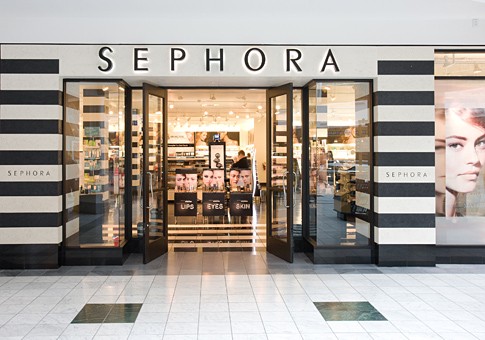 I'm pretty sure at least half of every dollar I've ever had has gone to Sephora. They have everything you could possibly want beauty-wise. Unlike a makeup counter, you are allowed to mix and match with all of the top brands and you don't have to ask anyone to get a product for you because they're all neatly displayed and organized for you. It's an introvert's paradise and a makeup junkie's haven.— Campbell Flemmons
Best Place to Get a Tan: Dedman Center Tanning Pool
With a state-of-the-art tanning pool on campus, it's no wonder SMU students have some of the best tans around. The Dedman Center Tanning Pool is strategically angled to catch the sun during its strongest hours, and partially submerged tanning chairs facilitate achieving the ultimate glow. A therapeutic fountain offers tranquil relaxation for students, which they oftentimes crave after a hard workout at the adjoining gym.— Daily Campus Staff
Best Manicure/Pedicure: Hawaiian Nail Bar
Hawaiian Nail Bar (3024 Mockingbird Ln, University Park, TX 75205) is a popular hang-out for SMU students during their routine mani-pedis or fancy variations on the classic treatment prior to a formal or event. The medium-sized nail salon is walking distance from campus, located next to the SMU bookstore, and offers a whole menu of spa services beyond manicures and pedicures from massages to facials to waxing services. All customers receive a complimentary beverage, and students receive a 10 percent discount.— Daily Campus Staff
Best Local Medical Care: SMU Health Center
The Health Center gives students all the care they need without ever having to leave campus. Need a flu shot? Get one free. Got a broken bone? No problem. The Center has X-ray capabilities and a fully-equipped pharmacy for convenient prescription filling and refilling.— Lauren Aguirre
Best Pharmacy: CVS on Mockingbird
Best Flower Shop: Central Market

Central Market is the hub of healthy eating. But little known is its impressive floral department. With over 100 varieties of fresh flowers and a delivery service, Central Market is sure to provide quality flowers wherever you are. Central Market flowers are grown throughout the US, Texas, and are even flown in from Thailand, Holland, and Ecuador. When you're in need of a unique and personal flower arrangement, Central Market is there to help.— Daily Campus Staff
Best Car Wash: Vintage Car Wash
Vintage Car Wash (6815 Preston Road, Dallas, TX 75205) finds itself voted the best for its combination of quality customer service and delivering on what they promise: a clean car. SMU students are busy running from classes, part time jobs and social functions. So, a quick and effective car wash (both inside and out) are what students need to keep their cars looking fabulous. Vintage Car Wash does the trick. Try their "Wheel Deal" for a great value clean.— Daily Campus Staff
Best Cell Phone Service: AT&T
Best Grocery Store: Central Market @ Lover's Lane and Greenville
Central Market (5750 E Lovers Lane, Dallas, TX 75206) has a way of making the grocery shopping experience feel trendy, fun, glamorous and even wholesome. In other words, it's anything but ordinary. Their selections range from exotic European chocolates to local Texas grown grapefruits. The deli has been reviewed as equating "perfection." The organic selection will make your jaw drop and may even leave you scratching your head with fruits and spices you never knew existed. The flowers are fresh and come in a variety that many competitors can't offer. — Daily Campus Staff
Best Organic Store: Central Market
Central Market (5750 E. Lovers Ln. Dallas, TX 75206) is the ideal grocery store for foodies wanting to eat organically. Buy in bulk or from the shelf; there are a variety of organic options. There is also a wide selection of gluten-free products. If you're into samples, stop by on a Saturday for a tasting at nearly every corner of the store.— Daily Campus Staff
Best Pet Supplies Store: PetSmart
PetSmart is the SMU "go-to" for pet supplies. With products for all types of animals, big or small, PetSmart has many options to offer. It's close location to campus and rewards program are a big help to SMU students because owning a pet is not cheap. With regular sales, grooming services, and in-store adoptions, shoppers are guaranteed to leave with what they want.— Daily Campus Staff
FOOD WINNERS
Best Cookies: Tiff's Treats
Everyone loves cookies, but in particular, SMU loves Tiff's Treats. Tiff's Treats was started in January 1999 by two University of Texas sophomores, Leon and Tiffany. With humble origins, Tiff's started out as strictly a nighttime cookie delivery service for students. As the first warm cookie delivery concept in the nation, Tiff's Treats soon grew. After all, warm, homemade cookies are the best kind of cookies.— Daily Campus Staff
Best Cupcakes: Sprinkles
Sprinkles Cupcakes, located in the Plaza at Preston Center, serves freshly baked cupcakes daily. Sprinkles has a variety of flavors from the traditional red velvet to the more unique salty caramel. The store even offers gluten-free cupcakes. The flavors vary by day, but one thing stays constant: the cupcakes are always fresh, moist and delicious.— Daily Campus Staff
Best Donuts: Mustang Donuts
Only a short walk from campus, Mustang Donuts offers the most delicious donuts in the Dallas area. The establishment is an SMU tradition carrying everything from classic donut holes to bear claws. Be sure to stop by in the early morning for the best selection.— Christina Cox
Best Coffee House: Starbuck's
No other house brews a fresher cup than Starbucks. Whether you sip on their seasonal drinks or stay loyal to their staple ones, all cups from Starbucks are brewed from the heart and represent every coffee lover's heaven.— Nickson Chong
Best Breakfast: Breadwinner's
Breadwinner's is absolutely the best. Go with the banana bread french toast or the BW grilled cheese depending on your mood. Add the Brunch Punch, and you're good to go.— Campbell Flemmons
Best Appetizer: Snuffer's Cheese Fries
Best Salad: Snappy Salads/La Madeleine
Best Brunch: Breadwinner's
As a brunch enthusiast and connoisseur, I can confirm that Breadwinner's is the best. I recommend the banana bread french toast or the BW grilled cheese depending on your mood. Add the Brunch Punch, and you're good to go.— Campbell Flemmons
Best Lunch Deal: Chick-Fil-A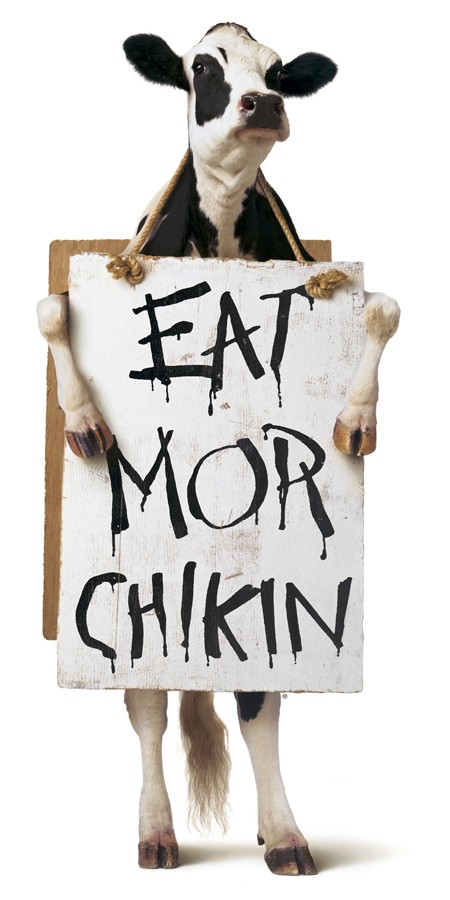 Eat more chicken because Chick-Fil-A sells one of the most satisfying menus across the nation. From their chicken sandwiches to their Chick-N-Strips, across the board no one can deny the zing of Chick-Fil-A's chicken. Don't forget the sauce.— Nickson Chong
Best Food Truck: Ruthie's Rolling Café
Ruthie's Rolling Café (location varies) can be found out by the flagpole on most Thursdays and in various locations in Dallas. Ruthie's offers the best build your own grilled cheese in Texas! When you see them on campus remember to bring your The Campus Coupon Book, because there is a buy one get one free coupon you can use.— Daily Campus Staff
Best Quick Food (15 min or less): Einstein Bros. Bagels
Best New Restaurant: Snap Kitchen
Best Meal Deal: Jimmy John's
Jimmy John's 6411 (Hillcrest Avenue, Dallas, TX 75205) really serves your sub so fast you'll freak. With a large menu and a delivery service, Jimmy John's offers the meal deals for the student on the go. Be sure to check out campus events to see if you can get a free sandwich card, because you never know when those will come in handy.— Daily Campus Staff
Best Sandwich: East Hampton Sandwiches
East Hampton's menu is one to die for. Every sandwich receives high-praise from SMU students and Dallas residents alike. It's hard to pick one favorite off the menu because each choice is unique, fresh and scrumptious.— Christina Cox
Best Place to Eat After Midnight: Whataburger
For the late-night sleeper, and the continuous studier, to the students living the high life, Whataburger is the one-stop fast food restaurant to calm one's nighttime munchies. The Whataburger, the Double Meat Whataburger, the Triple Meat Whataburger, one couldn't ask for more out of meal after midnight.
Best Restaurant to Take Your Parents: Mi Cocina
Best BBQ: Peggy Sue's
Best Burger: Hopdoddy
Best Chicken: Raising Cane's
Raising Cane's was already good, but now that students get buy-one, get-one free when the SMU basketball team wins makes it even better. With late-night hours and the best sauce in town, Raising Cane's is the place to be for chicken.— Matt Sanders
Best Chinese Food: P.F. Chang's
P.F. Changs (8687 North Central Expressway #225, Dallas, TX 75225) provides an excellent array of Asian-inspired dishes that can satisfy even the pickiest of eaters. This restaurant has an excellent ambiance to suit the mood for couples and relaxed family dinners alike.— Ryan Miller
Best Comfort Food: Bubba's
Bubba's (6617 Hillcrest Ave, Dallas, TX 75205) is a vintage diner that has been serving up home-cooked comfort food to Mustangs and Dallasites alike since 1981. As a converted Texaco gas station, Bubba's uses long-standing family recipes to serve up breakfast, lunch, and dinner that are all too good to pass up.— Ryan Miller
Best Pizza: Campisi's
Campisi's is the first place to come to mind when SMU students think of classic Italian pizza. The crisp crust pairs perfectly with various sauces, cheese and toppings. The restaurant is incredibly popular both off-campus and on-, thanks to its newest location in SMU's Hughes-Trigg Student Center.— Christina Cox
Best Italian Food: Maggiano's
Best Mexican Food: Mi Cocina
Best Steak: Nick & Sam's
Best Seafood: Pappadeaux's
Best Sushi: Sushi Kyoto
Sushi Kyoto (6429 Hillcrest Ave, Dallas, TX 75205) is located directly across the street from the SMU campus, and offers a full menu of reasonably priced sushi options and classic Japanese cuisine. Saki bombing is a popular attraction for students prior to going out, and even on weeknights the restaurant is rarely empty. SMU senior Chloe Carabasi describes Sushi Kyoto as "a good way to satisfy your sushi craving quickly and efficiently."— Daily Campus Staff
Best Tacos: Torchy's Tacos
Torchy's "Damn Good" Tacos began with a food trailer and a red vespa scooter. After maxed out credit cards and a mortgaged house, Torchy's made its home in Austin, Texas in 2006. Now it serves many taco lovers across the Texas and the Dallas Metroplex. Menu choices include Mexican-style or Tex-Mex tacos for no more than $10, but their specialty is the Torchy's Diablo Hot Sauce.— Daily Campus Staff
Best Thai Food: Royal Thai Palace
Best Vegetarian Food: Zoe's Kitchen
With soups, salads, hummus and pita, pizza and kabos, Zoe's Kitchen is a vegetarian's heaven on earth. The restaurant chain also offers options for your carnivorous friends so everyone can enjoy delicious Mediterranean food together.— Christina Cox
Best Frozen Yogurt: I Heart Yogurt
I Heart Yogurt has the best location for students – just right across the street from campus. Its neat sliding door is inviting to everyone. Bring your student ID for a discount on the frozen yogurt and toppings of your choice.— Lauren Aguirre
Best Dessert: Sprinkles' Ice Cream
Everyone loves ice cream. Everyone loves Sprinkles' cupcakes. Therefore, Sprinkles' Ice Cream is a win-win for everyone. This hot establishment has numerous flavors of ice cream to choose from and cupcakes to accompany your creamy dessert. Cupcakes AND ice cream? Now that's my kind of dessert.— Blair Croce
SCENES WINNERS
Best Museum: Bush Presidential Library/ Dallas Museum of Art (tie)
No wonder it's a tie. The Bush Presidential Library and Museum is free to students and located right on campus. Who could forget when all of the living presidents visited SMU for the opening ceremony? No one. Meanwhile, the Dallas Museum of Art offers a diverse collection of exhibits in downtown Dallas. Guess what? It is also free of charge. Between these two museum, students will be well versed in the value of art and politics.— Lauren Aguirre
Best Place to Go Jogging/Walking: Katy Trail
On sunny days, the place to be is the Katy Trail. Everyone from toddlers to dogs strut along the trail to enjoy the sunshine and scenery. With water fountains and quarter-mile markers along the way, runners and walkers can stay hydrated and keep track of their progress.— Christina Cox
Best Movie Theater: AMC at Northpark Center
Just a short drive or bus ride from campus, AMC at Northpark Center is big enough to house movies for every viewer. With IMAX, 3D, ETX and some combinations thereof, everyone comes away happy with their movie-going experience. Also, the soda dispensers are pretty fun.— Lauren Aguirre
Best Live Music Venue: House of Blues
This year's winner is perhaps one of the most quintessential spots in all of Dallas. The House of Blues welcomes some of the biggest artists in music, comedy, and performance in a spunky and vibrant historic building. If you are an arts fan at all, you can't miss this spot.— Blair Croce
Best Bar: Homebar/Barley House (tie)
Best Beer Selection: World of Beer
World of Beer (5600 SMU Blvd #101 Dallas, TX, 75206) first opened in December 2012, and since that time has become a favorite SMU watering hole. With more than 400 different types of beer available World of Beer is truly a unique experience every time you go. Located on SMU Boulevard, students are within walking distance of the new "World."— Daily Campus Staff
Best Happy Hour Drink Special: Nightly Reverse Happy Hour at Bandito's
Best Margarita: Bandito's / Mi Cocina (tie)
Best Cocktail: Mi Cocina's Mambo Taxi
Best Club (for over 21): Homebar
Best Movie of the Year: Gone Girl / 22 Jump Street
If you weren't residing under a rock, you heard about these films. Gone Girl shocked us all and made us doubt everything we know about relationships. 22 Jump Street brought us a hilarious display of stupidity that we keep going back to. Basically, these movies are like our college experiences.— Blair Croce
Best Movie of All Time: Forrest Gump (1994)
Whether people want some romance, education, or some comedy, Forrest Gump is the movie to watch. People can travel through time with the most loveable character in movie history as he lives the ultimate life. Be prepared though, as feels will be experienced.— Matt Sanders
Best Music Video of 2014: Taylor Swift – "Blank Space"
Taylor Swift truly takes her lyrics to heart in the "Blank Space" music video. She completely gives into the line: "They'll tell you I'm insane." She smashes a car with a golf club, rips a painting and more. Swift really pushes the envelope in her performance, but it paid off.— Lauren Aguirre
Best Song of 2014: "Blank Space" – Taylor Swift
"Blank Space" changes lives. I thought "All Too Well" was the peak of Taylor Swift's music career, but I was severely mistaken. Don't pretend that you don't love it and don't sing along every time you hear it. You know it's the best song of all time.— Campbell Flemmons
Best Pop Culture Moment of 2014: Ellen Degeneres' selfie @ Oscars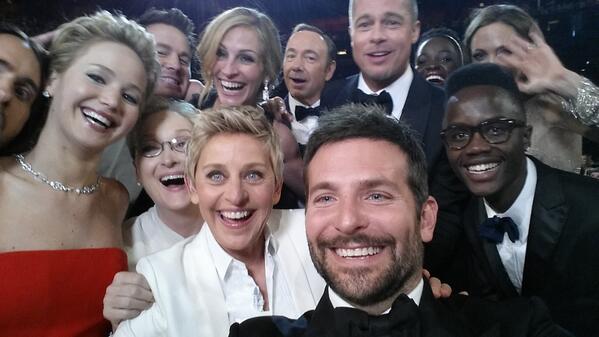 Jared Leto, Jennifer Lawrence, Channing Tatum, Meryl Streep, Kevin Spacey, Julia Roberts, Brad Pitt, Bradley Cooper, Angelina Jolie, the Nyong'os, and good ol' Ellen took a selfie together. At the Oscars. I wonder why this won?— Blair Croce
Best TV Show: Orange is the New Black
"Orange is the New Black" is one of the few shows, Netflix original or not, that displays a diverse cast of women. While it is set in prison, the characters are all very compelling and three-dimensional. If you can't wait until the next season is available, pick up the book it's based on. Just keep in mind you might be spoiling the show for yourself. Tread carefully.— Lauren Aguirre