On Friday night at Westcott Field, both the SMU men and women's soccer team saw 2-1 victories.
The women's soccer team kicked off the evening hosting New Mexico State at 5 p.m.
Junior Blair Thorpe gave the Mustangs an early lead, scoring her second season goal within the first 10 minutes of play.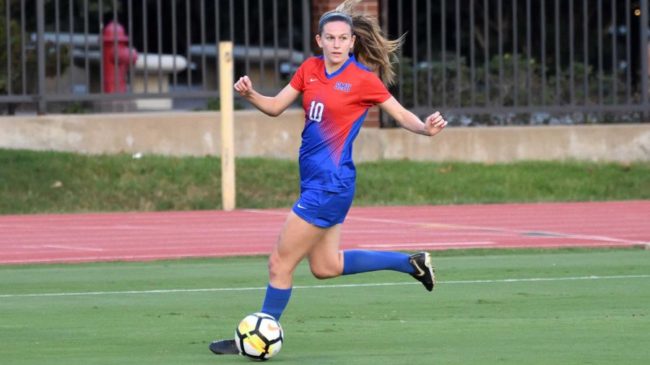 New Mexico tied the score shortly after, but SMU responded with a goal from senior Lauren Harrington. Harrington's first goal of the season became the game-winning shot for the Mustangs.
Overall, the Mustangs outshot New Mexico State 43-1, with 15 shots on goal. This is the third consecutive game SMU has recorded over 20 shots this season. Sophomore Allie Thornton lead the Mustangs with nine shots.
The Mustangs' remaining schedule contains all conference games. This week, SMU hosts USF on Thursday, October 5 at 7 p.m. and UCF on Sunday, October 8 at 1 p.m.
Following the women's victory, SMU men's soccer team opened conference play defeating UCF at Westcott Field at 7:30 p.m.
Initially, the Knights took an early lead with a goal by Matias Pyysalo. Then, SMU's Garrett McLaughlin added his sixth goal of the season to tie the score 1-1 going into halftime.
In the 75th minute, Dwight Williams Jr. recorded his first goal of the season with a header, assisted by Jared Rice, to give the Knights their fourth consecutive loss on the road.
The Mustangs are currently undefeated at home, 7-2-0 overall, and 1-1-0 in The American. This week, SMU will continue conference play when they travel to play Temple on Saturday, October 7 at 6 p.m.