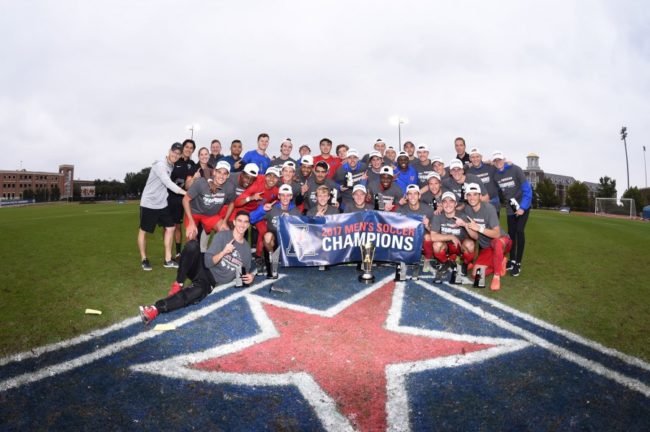 After defeating Temple 4-0, in the semifinals Friday night, the Mustangs secured the American Athletic Conference championship title in overtime against No. 2 UCF Sunday afternoon at Westcott Field.
After a scoreless first half, senior defender Jordan Cano put the Mustangs on the scoreboard. Cano's header goal, assisted by Jared Rice, gave SMU a 1-0 lead.
In the second half, the Mustangs' seven-game shutout streak was broken and the score evened by an own goal just minutes before the clock ran out.
SMU's own goal sent the championship match into overtime. Junior Emil Cuello's golden goal from 30 yards out claimed the Mustangs' first conference title since 2011.
Fans crowded in the bleachers of Westcott Field and atop the Binkley Parking Garage to watch the Mustangs, donned in championship gear, accept the plethora of AAC Tournament awards.
In addition to the ACC Championship trophies, six Mustangs were named to the All-Tournament team: Jordan Cano, Emil Cuello, Jared Rice, Michael Nelson, Bryce Clark and Nicky Hernandez. Cano was named the Most Outstanding Defensive Player, and Cuello was named the Most Outstanding Offensive Player.
With this win, the Mustangs have secured a bid into the NCAA Tournament and will enter post-season play on a 10-game winning streak.