On this Valentine's Day, the U.S. Military Veterans of SMU or SMU MilVets held its 3rd annual Have a Heart for a Vet cupcake sale at the flagpole to support veterans on campus.
The U.S. Military Veterans of SMU was created in the Fall of 2011 by a group of student veterans who desired a safe and unique environment where fellow SMU student veterans could interact with one another and ease the pressure of transitioning back from active service to college life.
SMU MilVet president Nick Lim entered the university and got involved with the club in 2015. He has enjoyed serving both the veterans on campus as well as the SMU community as a whole.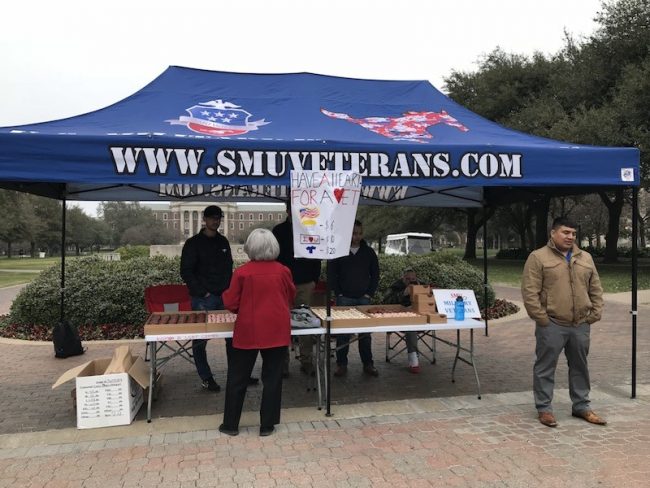 "When I first started here, I actually had a lot of difficulties acclimating to the college life," Lim said. "But the club and the people in it helped me get my bearing on campus, especially at a school like SMU where it's definitely academically more challenging. The organization is pretty near and dear to my heart and I try to give back what I can to the people and the school itself because they've done so much for me."
Currently, over 150 people are receiving benefits and there are about 25 active members at SMU. Among the active members, SMU MilVets' social chair Ben Bradley served in the army for five years and has been personally impacted by the organization since early in its existence.
"The club served its purpose for me when I got here and I didn't know anybody or really have any friends on campus," Bradley said. "It's a rough transition and this is a tough school. But we have a lot of people that are really doing it right within the club and it gives you that mentorship relationship with the others. That's what it's been for me and that's what I hope it is for all the members."
Among the first to buy a cupcake at this year's sale and as a student whose relatives served in the army for many years, SMU sophomore Isabella Panko was happy to contribute to the organization.
"My uncle is a veteran and he's suffering [from PTSD] and I imagine that there are countless others who are the same," Panko said. "My entire family is really really passionate about the veterans of the United States of America and so whenever I see stuff like this for veterans, I always just try and make a point to stop by."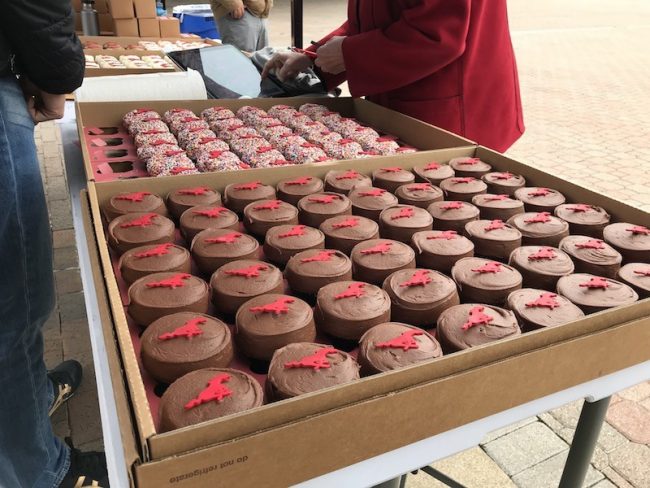 In the past couple years, the SMU MilVets were sold out of cupcakes, and this year was no exception. The sale attracted a considerable crowd of students buying both the cupcakes and proud support T-shirts. The club hopes to continue growing and making its presence clearer across campus.
"Every year, we have more and more veteran students using the GI Bill and things like that so we're working now to set a real solid structure for the group that we can pass on to the new students in the community," Bradley said. "A lot of the students know we have veterans here, but we just want to have a beacon of what we stand for — the values and the work ethic that we have here in school."