The Meadows Symphony Orchestra performed "This Midnight Hour," "Three Meditations from 'Mass,'" and "Symphony No. 5 in C Minor, op. 67" under the direction of Paul Phillips on Friday Sept. 21 and Sunday Sept. 23 in Meadows' Caruth Auditorium.
"This Midnight Hour," by Grammy-nominated composer Anna Clyne, is a composition of cinematic proportions. According to the concert program notes, Clyne's composition was inspired by a poem by Juan Ramon Jiménez and "Harmonie du Soir" by Charles Baudelaire. Despite its scale, "This Midnight Hour" is not intended to depict a narrative.
Cellos and violas paved the opening of "This Midnight Hour," followed by stressful pizzicato. Several minutes in, the woodwinds played strongly, adding another layer of dissent. The song quickly culminated into perfectly orchestrated tumult. The French Horn marked panic. The clarinet's and bassoon's clear melodic lines were like warning flags. Somewhere within the song was a remorseful passage that alleviated the overall calamity. With the almost war-like beating of drums, one would think "This Midnight Hour" portrayed war.
In the end, the entire string section held their notes. And, in case you were lulled into any sort of calm, any sort of safety by this stillness, there's the abrupt beat of the timpani drum. MSO played skillfully, the 13-minute piece acute with emotion.
Leonard Bernstein's 17-minute "Three Meditations from 'Mass'" had a similar spirit of dissonance and distress. According to the program notes, "Three Meditations" are excerpts from the original musical theatre work "Mass." "Mass" was written for the inauguration of the John F. Kennedy Center for the Performing Arts. The work was commissioned by Jackie Kennedy. "Mass" is what you'd think it's about: it's about ritual, Catholicism and the Mass. As expected from Bernstein, "Three Meditations" has both theatrics and scale.
Caruth's organ, a piano and a harp were played for this piece. This Bernstein piece featured Professor of Cello Andres Díaz. Díaz is an internationally acclaimed cellist. Díaz set the caliber of this performance with beautiful, fluid playing. The audience loved his solo.
No. 1 and No. 2 felt different thematically. They were connected by No. 3, which, at times, sounded reflective with its slowed tempo. There was also the recurring frame drum, which helped No. 3 unify "Three Meditations" and continue the prominence of percussion in this concert.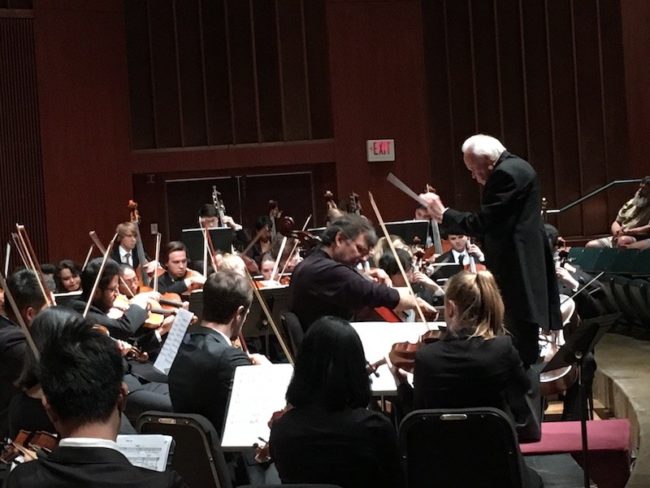 After intermission came Beethoven's famous "Symphony No. 5 in C Minor, op. 67," which needs no comment except that MSO played it brilliantly.
Attendee Krystina Tran went to two MSO concerts before this one.
"Usually these concerts are always perfect in their own way, so I came with the expectation I was going to be wowed, and I did," Tran said.
And, indeed, Sunday's concert ended with a very, very long standing ovation by an enthusiastic, whistling crowd.