The Dallas community reacted positively to new ideas about religion's role in presidential politics during Dr. John Fea's presentation of "Believe Me: The Evangelical Road to Donald Trump" in the McCord Auditorium on Oct. 11.
In the presentation of Fea's newest book, he combined historical references and theological truths to explain Evangelical Christians' reasons for supporting Donald Trump since 2016. Fea, Chair of the History Department at Messiah College, is an Evangelical Christian and a historian. This combination of identities gave Fea the unique perspective that was popular in the auditorium.
"I'm not a very religious person myself," SMU Postdoctoral Fellow Blake Earle said. "I guess that's what I found most interesting. That kind of gave me a perspective into this world that I don't really engage with all that much, though it clearly you know [sic] has a real impact on you know just [sic] American politics."
However, non-religious people like Earle were not the only ones intrigued by a different point of view.
Student Kristy Do identified herself as a religious person who enjoyed shifting her perspective. The presentation allowed her to see "a different side of things through someone else."
For other people in the auditorium, "Believe Me: The Evangelical Road to Donald Trump" solidified their previous beliefs. High school teacher John Yourse appreciated the presentation because it strengthened his religious and political ideas.
"It probably helped me codify some of the things that I kind of thought before," Yourse said. "It made my thoughts on the subject a little clearer because the speaker was quite astute in his delivery."
Most of the auditorium enjoyed the fresh point of view on old topics like religion and politics. They applauded, laughed and shouted things like "That's right!" and "Yes!" throughout the presentation.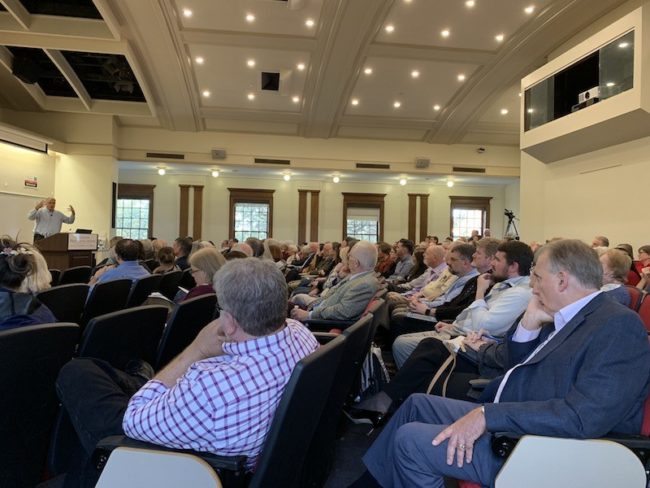 Adults and elderly citizens comprised the majority of Fea's audience. Although the lecture occurred on campus, "Believe Me" had few college students in attendance. This is not the first time Fea has seen this trend.
"There are a lot of older people who seem to me to be a little more invested in the political culture than, surprisingly, young people, even on college campuses," Fea said.
SMU's Center for Presidential History sponsored this event for all members of the Dallas community. CPH Associate Director Brian Franklin thought that the Dallas community needed this event in today's intense political climate.
"What this book is really aiming to do and what this presentation is aiming to do is sort of help multiple sides understand one another," Franklin said.